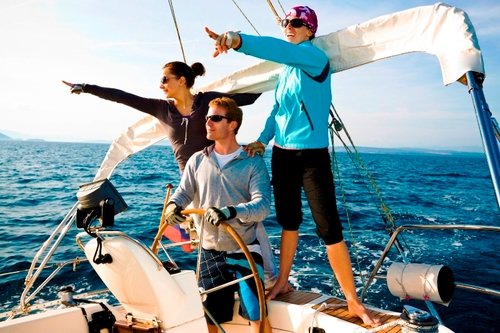 Croatia sailing - unique experience for everyone
9 Croatia sailing tips and some basic facts how to plan your vacation:
1. How to book sailing holidays in Croatia?
Just fill in the inquiry form below one of our packages (activity holidays, eco sailing, skippered yacht charter Croatia,..). Your seat aboard is guaranteed after you make a deposit of 50% of the whole amount. The rest you can pay one (1) month before embarkation. Do not be afraid to ask us anything. We will be glad to answer as soon as possible. If you plan to rent a sailing boat to explore on your own, feel free to check out our bareboat Croatia sailing charter.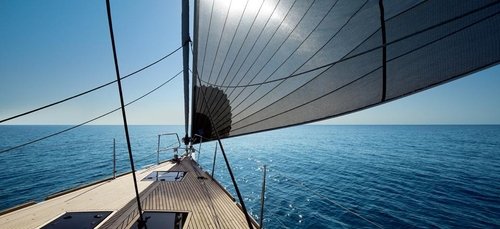 Smooth Sailing in Croatia
2. What personal luggage to bring?
The climate on the Adriatic is all through the sailing season (April-October) quite mild and has the plenty of sun. In the summer time you just bring bathing suite, extra swimming towels, and your personal wardrobe(not too much). In case of bad weather you need to bring some warm clothes, maybe a sweater, water resistant wind jacket and a pair of sneakers with rubber sole.
It is highly recommended to bring your hand bag or knapsack instead of a plastic suitcase (to gain more space in your cabin). Make sure to check the Croatia weather before going sailing.
You can find some general information about Croatia HERE.
Don't forget!
-sun lotion
-sunglasses for UV protection
-a hat for the sun protection
-your passport or personal ID
-extra swimming towels
-your personal items(prescription pills, medicine for allergy...)
-positive vibes (leave your problems at home)
3. What is the maximum number of people on a sailing boat?
Maximum number of people aboard is 12. But we recommended less to gain more commodity aboard.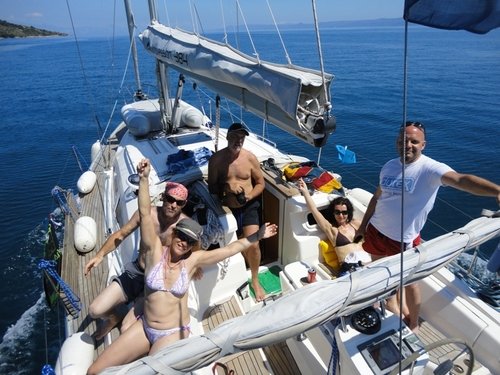 Sailing in Croatia is always - Fun
4. What is the deposit for the yacht?
Deposit is the insurance(assurance), that you will return the yacht back in its previous condition. The crew is responsible for damage caused by their neglegance.The deposit is charger at the embarkation and it is refundable, if the boat is returned undamaged. The deposit amount is set by the charter policy (from 1000-3500€ payable by VISA, AMEX, EUROCARD, DINERS or cash). You can also insure(cover) your deposit with non-refundable fee. Usually 10% of the deposit.
In our sailing with skipper offer we already have the deposit 50% covered.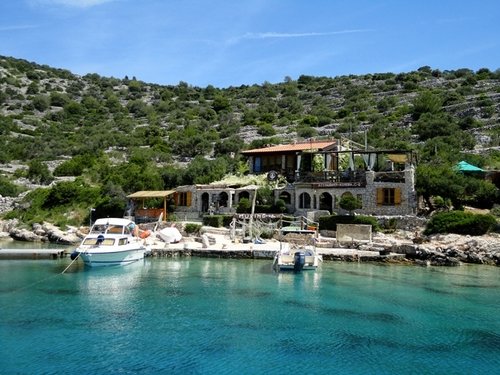 On our route we will stop for some domestic gournment experience
5. How to get to the marina?
It all depends upon where your point of departure is. We will inform you beforehand, where your charter boat is moored and when is the embarkation. Then we will give you the specific directions, how to get to the marina where you will embark. If you're coming by plane there is always enough transfers and taxis to take you to the marina. If you travel by car, you can always find free space in marina.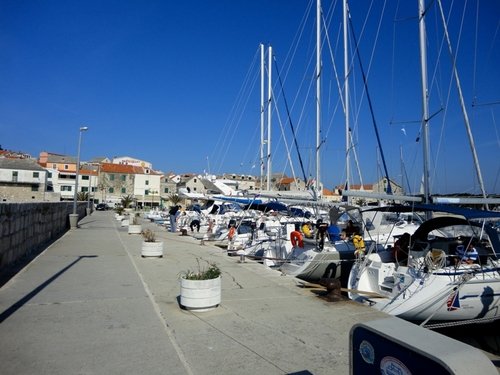 Typical Dalmatian port village
6. How is the sleeping accommodation?
You'll sleep aboard the sailing boat. Each sailing boat has spacious cabins for 2 persons, with double beds from 4-12 berths(depends on the boat capacity and length). There is also plenty of space in the salon, but we don't recommend to sleep there, especilally if you want to have more space and privacy. One bed belongs to the skipper.
Don't bring your bed linen, pillows and blankets, because they are already on the boat!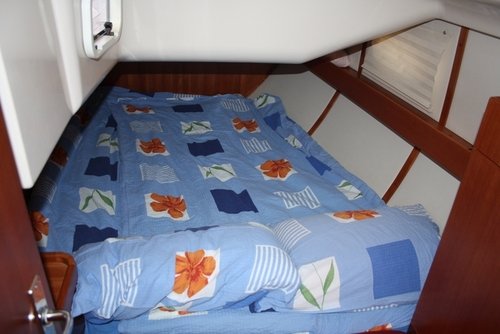 Double cabins aboard the vessel are conforatble and bright
7. Where and what to eat?
You can make your supplies and buy the provisions at the embarkation. Every marina in Croatia has its own supermarket, where you can buy as much as you need for one week.
There will be plenty of stopping in different marinas and villages along the sailing route. You can always buy fresh bread from the market, fresh vegetables, fruit, meat and fish.
The crew usually cooks aboard, where there is always a double gas cooker with oven installed. If the crew decides, we can visit typical restaurants, and seaside taverns that our skippers can recommend. You won't regreat it...the prices in restaurants are favorable from 20 to 40€/person average. Do not miss the oportunity to taste the local vines.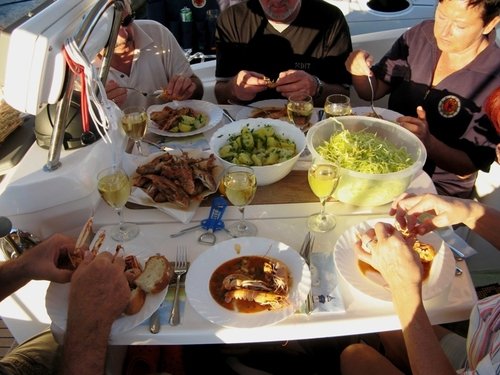 Cooking and eating aboard is always a unique experience
8. What are the extra expenses and what is included?
Even though Croatia is now (from July 2013) a member of the EU, the official currency is still Kuna. But you can (almost) everywhere pay in Euros. Usually in the restaurants, marinas, for port fees, gas stations...but not in grocery shops, super markets and 24/7s. ATMs are available in every marina and port in Croatia.
The current exchange rate: 1€ = 1.2$ = 7.5 Kuna.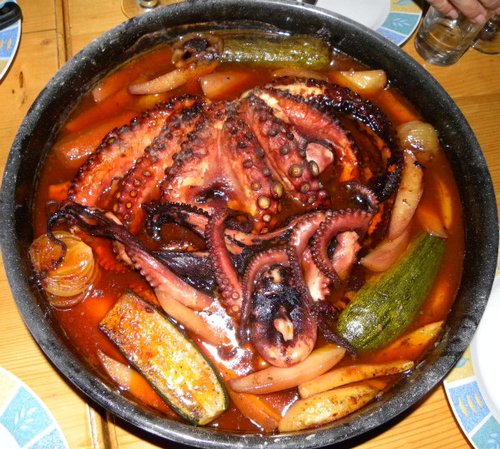 Octopus "under the bell" is a Dalmatian local specialty. Do not forget to try it.
9. What about the insurance?
It is highly recommended to arrange the travel insurance policy. Every person is sailing at their own risk. Our booking company Odjadraj Janez Rupik S.P. does not carry any further responsibilities for injuries or accidents of the crew members during sailing - prior and after the embarkation.
IMPORTANT:
-Due to the general charter conditions, the advance payment of 50% is nonrefundable.
-If you rent a bareboat yacht charter in Croatia, you need a valid skipper's licence that is issued by the state authority of the country that you are coming from. For sailing in the Croatian teritorial waters you also need a VHF radio licence. To check out what kind of a licence you need when renting a yacht charter in Croatia, click here.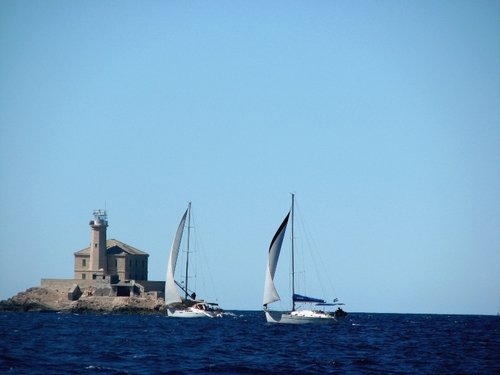 Sailing Croatia