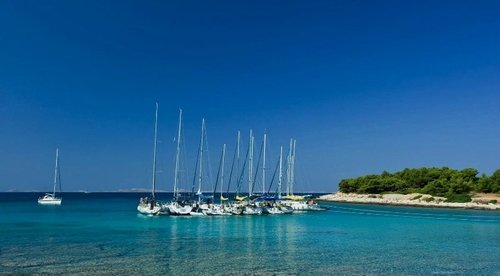 We will anchor in isolated coves
Join "Eco Sailing Adventure" and contribute to sustain the "green policy" of croatia's coast.
On our route we will tend to keep the awareness of keeping the sea and coast clean, separate the garbage, visit local eco farms, taste mainly home produced food and wine to support local agriculture and try to stay under the sails most of the time to let the forces of nature carry our sailing boat.
You will have the unique chance to
• Discover the Croatian coastline beauties from the sea

• Tase the local cuisine, and genuine home products
• Feel and taste how the genuine food tastes like
• Add the signifficent contribution to the essence of sailing culture

• Help support the advance of local community and ecological production

• Vistit 2 local eco farms on our route

• Activity sailing Croatia experience - learn how to sail
• Experience the feeling of how Adriatic one was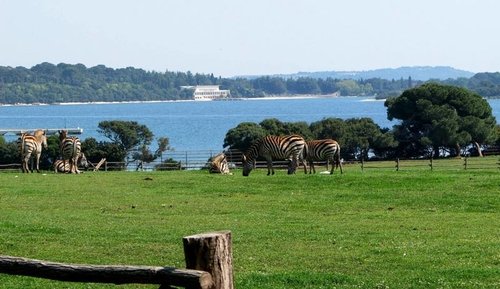 Visit wildlife park on Brioni island
Where? We have 2 route options (Istria and North Dalmatia)
Starting from marina Zadar, marina Sukošan and Biograd in north Dalmatia region.
And starting from Rovinj in Funtana marina or Pula from marina Veruda in Istria.
When? Departures from Dalmatia or Istria in off season in April, May and October.
From 22.04. till 29.04.2017
From 29.04. till 06.05.2017
From 06.05. till 13.05.2017
From 13.05. till 20.05.2017
From 30.09. till 07.10.2017
From 07.10. till 14.10.2017
What are the prces?
The price stars from 399€/person in case of a fully booked sailing yacht (min. 6 people).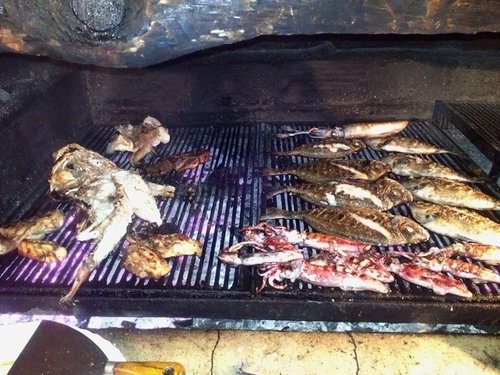 Taste freshly caught fish from local fisherman
What is included?
-fully equipped sailing yacht (Mp3 player, speakers in cockpit, GPS, dinghy, outboard engine..)
-a competent skipper and organisation of the trip
-transit log (final cleaning of the boat)
-all the taxes
-7 nights and 8 days of unforgettable adventure
-welcome eco pack (paper towels, fresh bottled water, toilet paper, sponge, garbage bags...)
- two visits of "eco farms"
- deposit for the sailing yacht
EXTRAS:
-berths and marina fees on the route, national park fee
-food for the crew and skipper aboard the yacht(prepared by the crew)
Wine is one of the most popular Croatian products
It is essential to bring a positive impact and responsible attitude towards our natural habitat and promote local products in order to sustain and give an opportunity to the regional development.
Eco sailing in Croatia has the potential of becoming a chain reaction along the Adriatic coast and with the likeminded people can and will develop on a global level.
In the case our legacy is preserved and sustained to the next generations in all its beauty. And together we can actively create a long-term synergy that will blossom through the generations to come.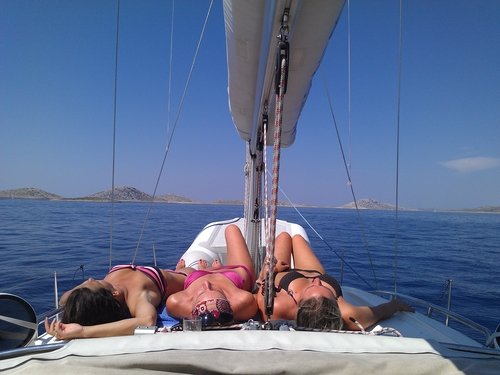 Sailing in Croatia is a relaxation for your body and soul
Some helpful information regarding your tour:
How do I get there?
You can fly directly to Zadar or Pula airport. On airport you can always take a taxi or a bus transfer to the port. It takes 15-20 minutes and app. 25€. Or you can come by car. There is always enough space to park in the marina. Besides, our skippers will give you full instructions how to get to the spot. Embarkation is on Saturday at 15:00, disembarkation next Saurday until 09:00. Before check-out, you are required to remove your luggage.
Do I need any sailing experience?
No, we have a professional skippers to take care of your comfort and safety. Our "house" skippers know the local waters in Croatia and their sailing responsibilities. They are insured and fully skilled to navigate the yacht. Checking the weather conditions and to sail safely through the local waters is their main occupation. They have all the information where to navigate the yacht and where to anchor. However, our sailors are always welcome to participate in sailing.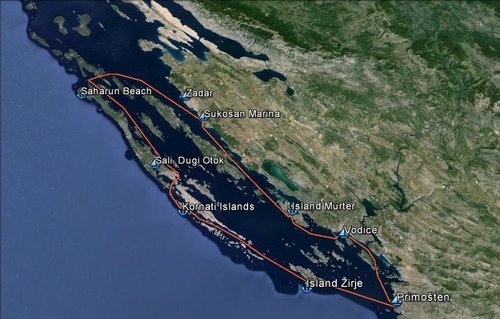 Our Dalmatian Route
How does a sailing yacht look?
Our top-quality sailing yachts can accommodate from four to twelve people with double and bunk beds. Each cabin is for two persons. One bed belongs to the skipper. There is also plenty of space in the salon, but we don't recommend to sleep in the boat's salon, especially if you want to have more space and privacy. You can also book the whole cabin as a single, a couple or with a friend. Here you can check how the sailing yacht looks like.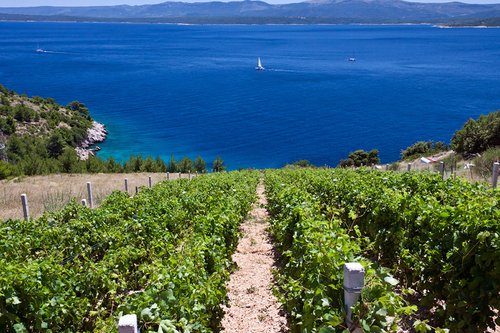 On our route we will visit seside wineyards and tate local wine
What do I bring?
Pack mainly soft bags rather than hard suitcases which are more difficult to stow away in lockers onboard, so that and you will have more space in your rooms. During the day is quite warm, but in the evenings can become cooler, so bring a swater or a wind jacket. Don't take high heels, you won't need them. Just take a pair of sneakers and flip flops, couple of t-shirts, towels and a swimming suit.
In case you are on a Euro trip or coming from far away carrying a big hard suitcase, you can leave it in a locker in the home marina during the week.
Don't forget!!!
-sun lotion, extra swimming towels
-bikinis, shorts, swimsuit
-snorkeling equipment
-sunglasses and a hat for the sun protection
-your passport or personal ID
-your personal items(prescription pills, medicine for allergy...)
-positive vibes
Don't bring your bed linen, pillows and blankets, because they are already on the boat!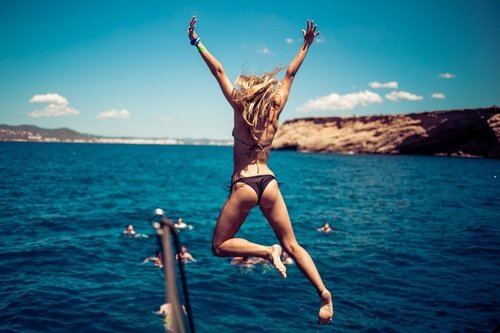 Combination of the wind, the sea and the sun offers a complete freedom