Sailing in Kornati Islands
Join us in this authentic sailing in Dalmatia and experience:
-8 days of unlimited fun on a private "owner's" version sailing yacht in Dalmatia
-every day another island, another cove, another town
-active sailing, snorkeling, fishing or just chilling during the day
-romantic seaside taverns and local specialties of meet, fish and wine every day
-having best time in the world with you family or friends aboard
Where? Starting from marina Primošten, Šibenik or Trogir.
When? August 2017 (Embarkation Saturday at 13:00 - Disembarkation Saturday at 09:00).
- 05.08. till 12.08.2017 price 2850€ (- 10%) = 2565€
- 12.08. till 19.08.2017 price 2700€ (FULLY BOOKED)
- 19.08. till 26.08.2017 price 2500€ (- 10%) = 2250€
- 26.08. till 02.09.2017 price 2500€ (- 10%) = 2250€
Feel free to send us the INQUIRY by selecting one of the upper discounted dates.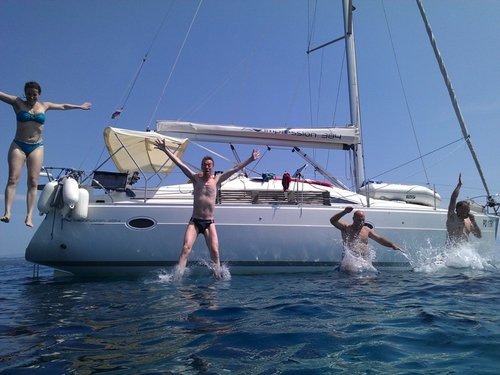 The essence of sailing is always - fun
What sailing yacht are we sailing with?
Our "owner's vesion" sailing yacht disposes with 3 spacious cabins with fresh clean bedding and sheets, 2 bathrooms with electric toilets, cockpit cushions and Wi-Fi connection. The yacht can accommodate up to 6 guests. It is perfect for 3 pairs, 6 friends or a large family with kids. The bow cabin in front can easily accommodate 3 small kids. Our skilled skipper is most sociable and will take care of your comfort aboard the yacht and recommend the highlights in the area you are sailing.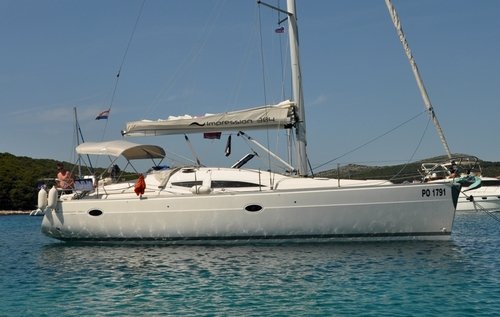 Our private sailing yacht Elan 384 Impression
What area are we sailing?
From the starting marina Primošten near Šibenik one of our routes will lead us through the magical Kornati islands national park. It is one of the most vivid and spectacular areas in the Adriatic. It has been claimed protected wildlife and vegetation reserve since 1980. More then 100 uninhabited small islands and reefs are a home to numerous animal species and unique flora. The only way to visit this island chain - to fully enjoy in ist authenticity - is with a sailing yacht.On our tour we will also visit colorful Dalmatian villages, try local food specialties, snorkel and swim in the intact coves and enjoy in most beautiful romantic sunsets.
Here is the tip for our roundabout sailing tour: Sailing Kornati Islands.
Is this the only possible route?
No, we can also turn our route to the south and visit the southern Dalmatian island Hvar, Vis, Brač,...The route option for alternative tour find HERE. Starting marina in this case is in Trogir.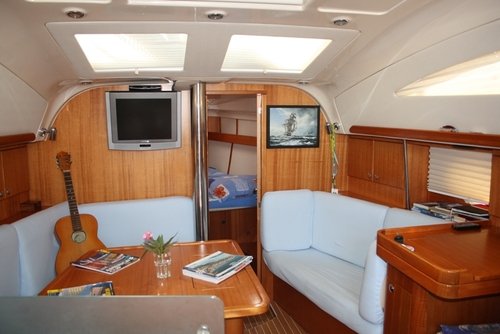 The interior on our yacht is spacy and bright
The package price includes:
-a competent and open-minded skipper
-fully equipped luxury 3-cabin sailing yacht
-dinghy and outboarder
-full deposit insurance for the yacht
-1 berth per person in a cabin with clean bed linen
-gratis Wi-Fi on board
-welcome drink
-final cleaning of the boat and tourist tax
Extras:
-marina and port fees, national park fees, taxis, water shuttles and land transfer to marina
-food and beverages aboard and off board for the crew and skipper
-200€ refundable deposit (in case of damage of the vessel due to crew's negligence)
-fuel for the boat
Max. number of passengers is 6.
Sailing in Dalmatia
Croatia sailing holidays with our sociable and friendly skipper during the summer season, is perfect for your relaxing sailing vacation with your family or friends. The weather and the climate are perfect, the sea water can reach over 25 degrees, the air up to 35 - and there is always enough wind to cool you down. It is a pure pleasure for the people, that expect more from their vacation.
Please, send us the inquiry and questions HERE
*The skipper can change the route due to weather conditions from safety reasons.
We will visit pristine beaches and coves