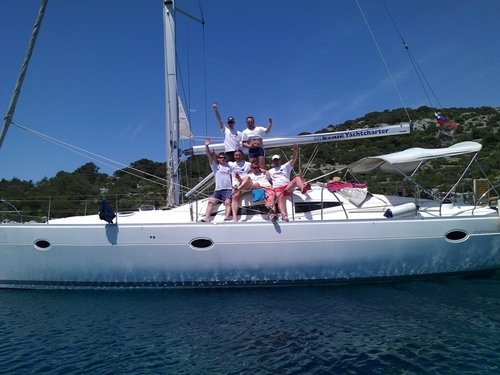 Zadar sailing trips on our private sailboats
Are you searching for authentic sailing in Zadar, Croatia?
Experience unique sailing holidays in Zadar and Kornati national park. We will embark on a sailing boat or a catamaran from marinas in Zadar or Biograd to visit the scenic central Dalmatian islands.
In a one-week Zadar sailing tour on a private sailing yacht, we will experience some of the highlights in Croatia. Sailing through hundred Kornati islands, and exploring wildlife parks of Krka and Telaščica, our tour will go through the most vivid archipelagio in the Adriatic.
You can choose between leisure itinerary, party itinerary, gastronomy sailing and family sailing
Sailing in Zadar with our skipper, can be a 100% relaxed vacation for everyone
When and where do we embark/disembark?
Zadar sailing trips and tours are available during spring, summer and autumn in weekly or short 3-5 day periods. Embarking and disembarking Saturdays in the marinas near Zadar airport - Sukošan, Murter, Šibenik, Primošten or Biograd.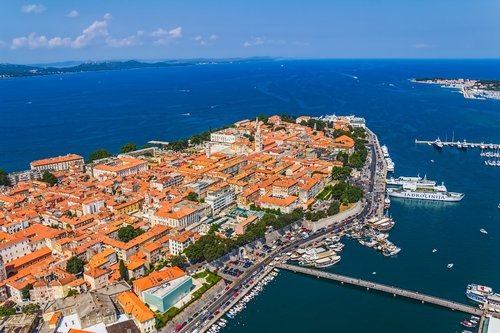 Zadar - One of the most visited Adriatiac cities
What about our skippers?
Our skippers are mainly local boys and girls that know Croatian waters and local weather conditions as the back of their pocket. They are friendly and social, so do not be afraid to ask them anything, they will be happy to give you itinerary tips, restaurant recommendations and share some amazing stories.
Skipper will take care of the commodities and safety, so you can leave all your worries at home.
All you need is a little bit of adventurous spirit. If you wish, you can also participate in sailing dynamics try some sport activities on the route and learn how to sail.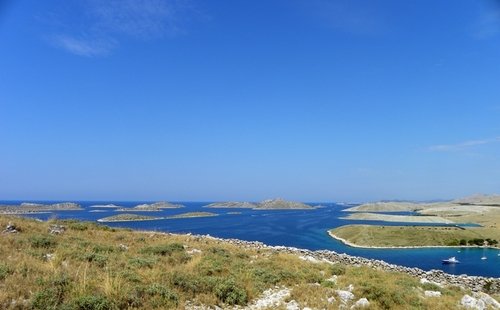 Our route itinerary is also sailing to Kornati islands national park
What is included?
• fully equipped private sailing yacht (Mp3 player, Wi-Fi, dinghy, outboarder)
• professional and open-minded skipper
• 7 nights and 8 days of sailing and fun
• end cleaning, bed linen, gas, permit
• deposit for the boat
• fuel for the boat
• tourist tax 1.1€/person/day
• a lifetime adventure
Extras?
• deposit insurance 50€/person in case of any damages - completelly refundable
• port fees and national parks (40-60€/night for a 40 ft. boat), anchoring is free
• food and beverages for the crew and the skipper
• for app. 25€/person, we can arrange authentic dinner in a local tavern (Konoba).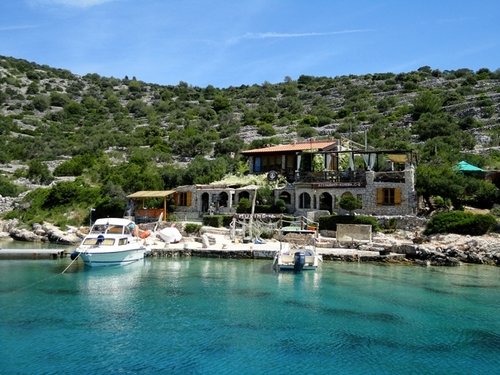 On our private sailing trips from Zadar we will visit domestic seaside restaurants
Zadar sailing trips - the hilights:
The central route brings you the beauties of 3 Dalmatian national parks (Kornati, Krka, Telaščica) and their picturesque and unspoiled nature. Our skippered tours start from the marinas in Biograd, Zadar, Murter or Sukošan. These ports are a perfect starting point to sail through 100 Kornati islands.
In the evenings you can take a walk on the vivid streets of typical Mediterranean towns Zadar, Vodice, Šibenik or Primošten, where you can enjoy in unique Dalmatian food, hang out in beach bars, or just enjoy in a perfect sunset over the blue Adriatic. Sailing from Zadar area gives you many possibilities. Short distances between hundrets of pristine islands gives you the opportunity to make more stops for swiming, snorkeling or just to have a lunch in a cove, surrounded with turquise sea and tranquility.
Crystal clear seas of Adriatic are perfect for swimming and snorkeling
Every day we will visit another island, another cove for swimming, taste local food and have the best fun in the world. Sailing to Kornati islands from Zadar on a private sailing yacht is unique experience that you can share with your family or friends.