Our "beauty" Elan Impresion 384
Authentic getaway sailing trips in Croatia. Unique experience for your friends or family:
• 3 - 7 days of unlimited fun on a 40-foot private sailing yacht
• every day another island, another cove, another town
• active sailing, snorkeling, fishing or just chilling during the day
• romantic seaside taverns and local specialties of meet, fish and wine every day
• having best time in the world with you family or friends aboard our yacht
Where to Embark? Weekly or short sailing trips from Pula, Rovinj, Primošten or Zadar
When? Check the available dates below, or contact us with your preferable Date inquiry
Sailing in Kornati Islands
Available dates with 5% season discount on our Elan Impression 384 yacht:
• 14.05. till 18.05. Istria (Rovinj) 4 - day price 1290€ from Istria (Rovinj)
• 24.06. till 29.06. Istria (Rovinj) 6 - day price 2080€ (-5%)
• 03.07. till 07.07. Istria (Rovinj) 4 days - 1580€ (-5%)
• 13.07. till 20.07. Primošten, near Split, Weekly price 2480€ (-5%)
• 20.07. till 27.07. Primošten, near Split, Weekly price 2580€ (-5%)
• 27.07. till 03.08. Primošten, near Split, Weekly price 2680€ (-5%)
• 03.08. till 10.08. Primošten, near Split, Weekly price 2680€ (-5%)
• 10.08. till 17.08. Primošten, near Split, Weekly price 2680€ (-5%)
• 17.08. till 24.08. Primošten, near Split, Weekly price 2580€ (-5%)
• 24.08. till 31.08. Primošten, near Split, Weekly price 2480€ (-5%)
• 31.08. till 07.09. Primošten, near Split, Weekly price 2380€ (-5%)
• 07.09. till 14.09. Primošten, near Split, Weekly price 2280€ (-5%)
Also 3 to 7 day charter possible and embarkation Mondays.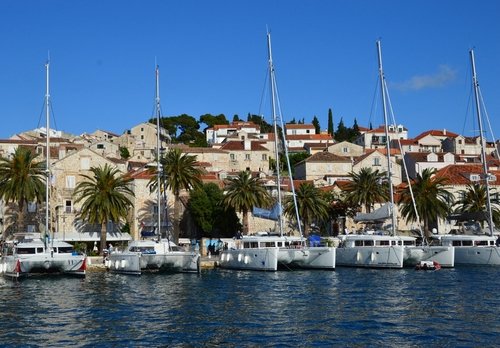 Sailing in Croatia for 3 days is a perfect gateway
What boat are we sailing on?
Elan Impression 384 (TONKA) disposes with 3 spacious cabins with fresh clean bedding. It has two bathrooms with electric toilets, cockpit cushions, solar pannels, full deck teak and 3 showers. It can accommodate up to 6 guests. It is perfect for 2-3 couples, 6 friends or family with kids. A large bow cabin can easily accommodate 3 small kids. Our skipper will take care of your comfort aboard, suggest the best itinerary and recommend the highlights along your sailing route.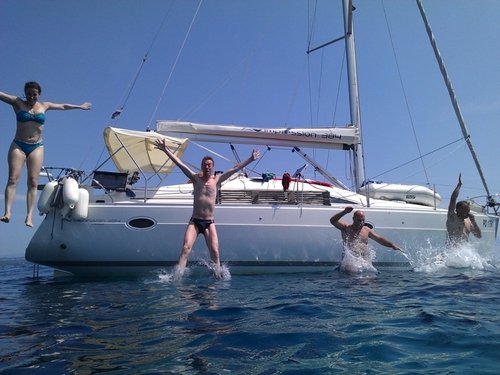 Sailing should always be pure and simple - FUN
Sailing tours in Croatia from Primošten (Split) or Istria - Rovinj - norhern or southern route.
Starting in marina Primošten, our route will lead us through the magical Kornati islands national park -one of the most vivid and spectacular areas in the Adriatic. It has been claimed protected wildlife and vegetation reserve since 1980. Over 100 uninhabited small islands and reefs are a home to numerous animal species and unique flora. It really is another Planet. And the only way to visit this island chain is with a sailing yacht. You will get to visit colorful villages, taste local food, swim and snorkel inside the scenic coves and enjoy in the most beautiful romantic sunsets.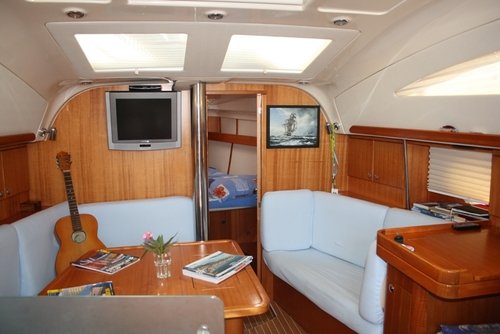 The interior on our yacht is spacy and bright
What is included in our packages?
• a competent and open-minded skipper
• fully equipped luxury 3-cabin sailing yacht
• dinghy and outboard engine
• full deposit insurance for the yacht
• 2- person cabin with clean bed linen
• welcome drink
• final cleaning of the boat and tourist tax
• fuel for the boat
Extras:
• marina and port fees, national park fees, taxis, water shuttles and land transfer to marina
• food and beverages aboard and off board for the crew and skipper
• 200€ refundable deposit (in case of damage of the vessel due to crew's negligence)
Max. number of passengers aboard our Elan Impression 384 yacht is 6.
Sailing tours in Croatia can be arranged from April till late October
Croatia sailing holidays with our sociable and friendly skipper during the sailing season, is perfect for your relaxing sailing vacation with your family or friends. The weather and the climate are perfect, the sea water can reach over 25 degrees, the air up to 35.And there is always enough wind to cool you down. We also have the possibility for a 3 - 5 day sailing packages (the offer above).
Please, send us the inquiry and questions HERE
*The skipper can change the route due to weather conditions from safety reasons.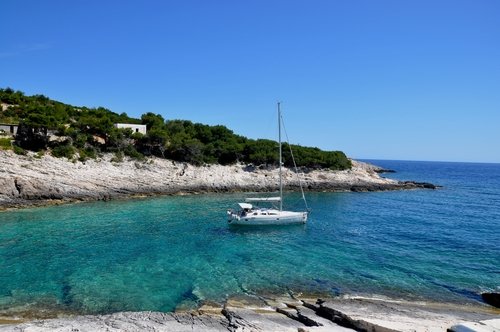 Visiting one of the secluded coves on our route