The benefits on private catamaran charters
explore Croatian coast in the most comfortable and exclusive way

sailing itinerary is 100% flexible and can be adjusted with your skipper

catamarans guarantee abundance of private cushioned corners

move around the deck easier and safer

multi-hull assures more stability at sea

relax and enjoy in constant 360o views from indoors and outdoors
Crewed catamaran charters in Croatia include a professional Croatian skipper - you can't beat the local knowledge
take the advantage of most popular Adriatic routes and set sail from Split or follow best Dubrovnik sailing itinerary
Hire best sailing catamarans in Croatia
The highlights on our catamarans
Croatia catamaran holidays is an adventure beyond anything you ever imagined. When Renting a catamaran in Croatia you can expect an exciting and indulgent cruising holiday with a unique and flexible sailing itinerary. Abundance of cushioned lounging areas, exceptional bright cabins, open spaces and en-suite bedrooms assure full privacy and a pleasant accommodation aboard.
Stylishly designed saloon absorbing plenty of natural light opens to the bow and aft cockpit with alfresco dining area. Bow terrace ends with a large safety trampoline net, that should bring extra joy for your young ones. Luxurious area in front is perfect place to sunbathe or enjoy in a quet evening within your best company.
You can easily relax and have your favorite drink with your friends on cat's wide flybridge and make your Croatia yacht charter vacation a one-of-a-kind experience.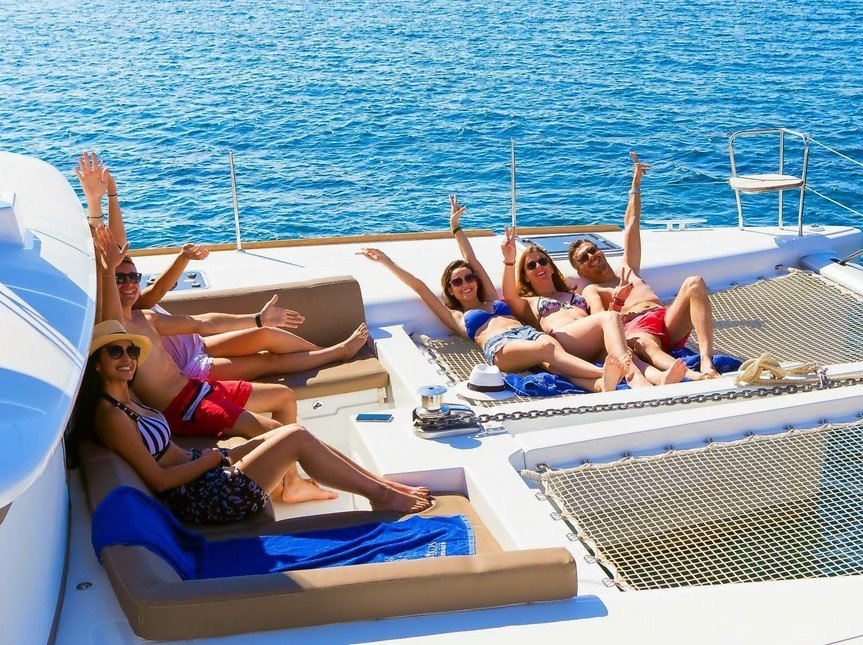 The cockpit - large table and place to socialise
Wide and spacious loft cockpit guarantes all the comfort you need. Cosy cockpit table easily accommodates up to 10 guests at breakfast or lunch.
This wide area is extra welcomming for kids, very safe to move around assuring the constant 360o views. The impressive volumes on a multi hull automatically assures more space, private areas to chill and places for extra activities or relaxation.
For its stability and width is also much easier and safer to walk between the stern and a bow.
These facts are the main reason for families to prefer catamarans from sailboats.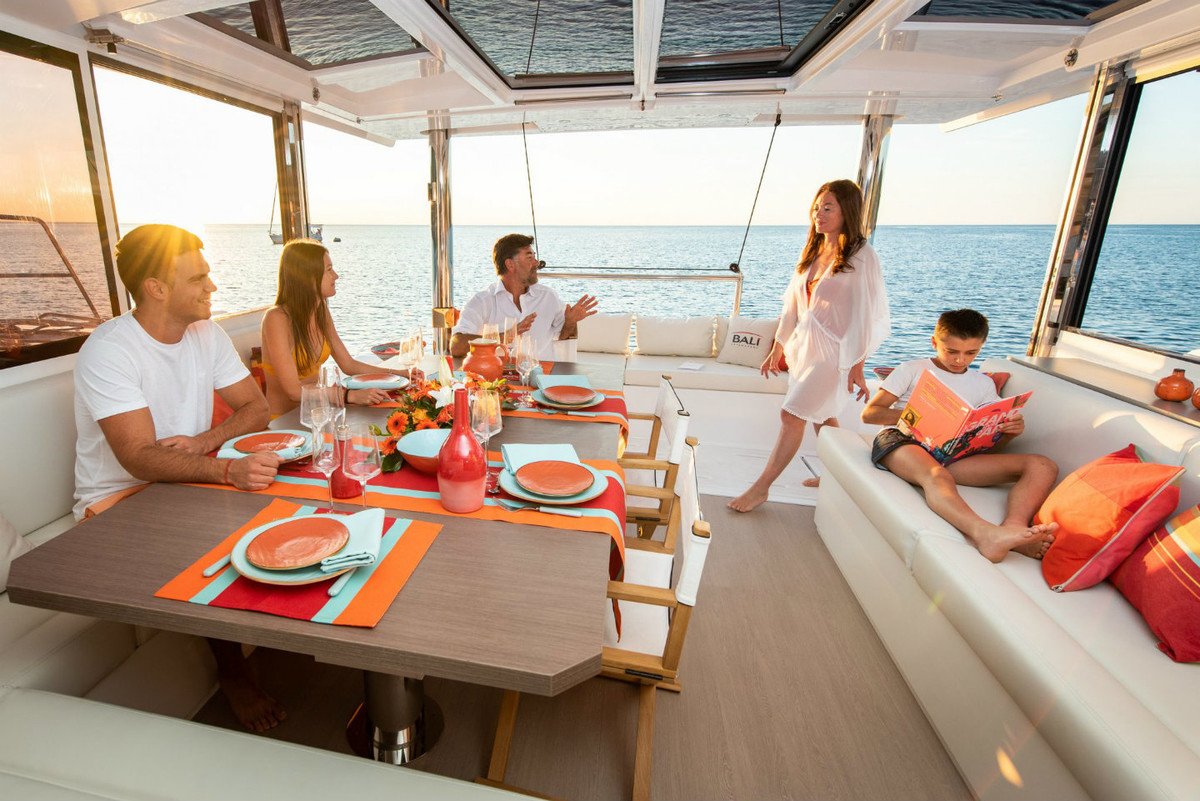 Comfortable en suite bedrooms
Vast lounge salon with separate galley assures constant views through the windows.
En-suite double bed bedrooms with separate toilets and private bathroom will you give the impression that you are in a large apartment or a hotel room.
A glance through panoramic side windows when you wake up in the morning is priceless.
You are welcome to settle into large bedrooms, soaked with abundance of sunlight. Your crew (skipper or hostess) can accommodate into two single bedroom compartments in the bow.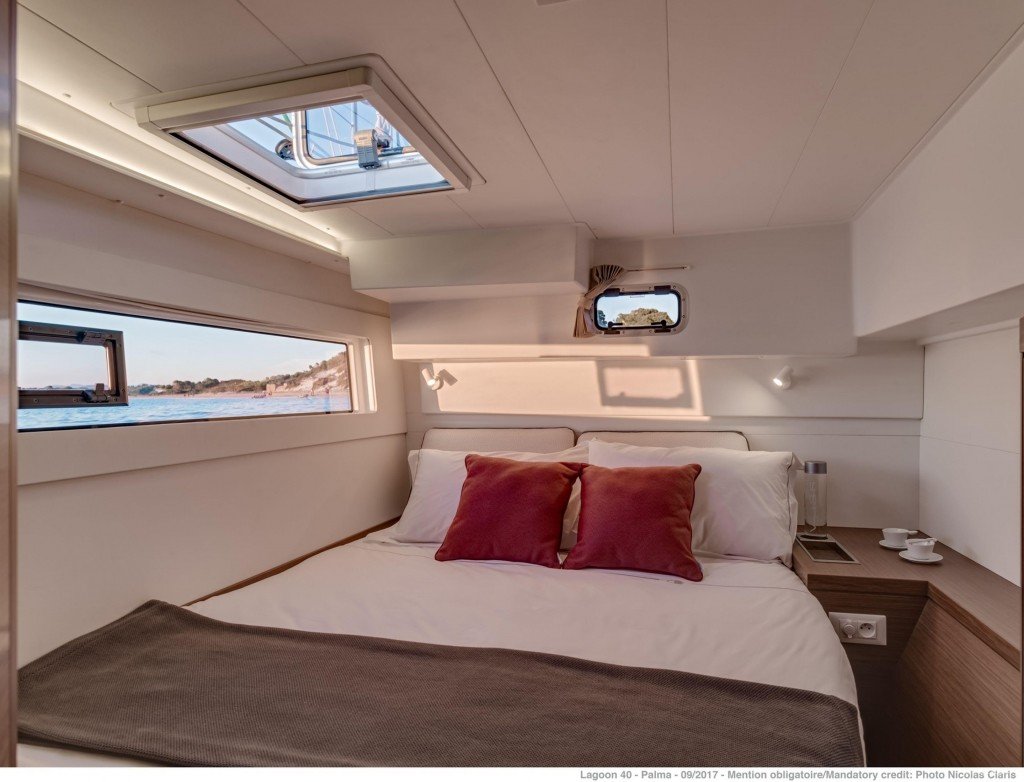 Flybridge at top and spacious cockpit for socialising
The rear area on catamarans is brilliantly designed for an easy approach ashore or a fast dip in the water
You can use the large rear steps as a sundeck or a swimming platform. It comes in handy when you go for a swim
Catamaran's flybridge is usually the place from where you skipper operates and navigates the boat. However, everyone is invitied to share these amazing views while sailing.
Most of our Croatia catamaran charters are covered in sun beds, sofas and giant cushions on leisure areas, perfect to bask in the sun, have a midday lunch or simply rest.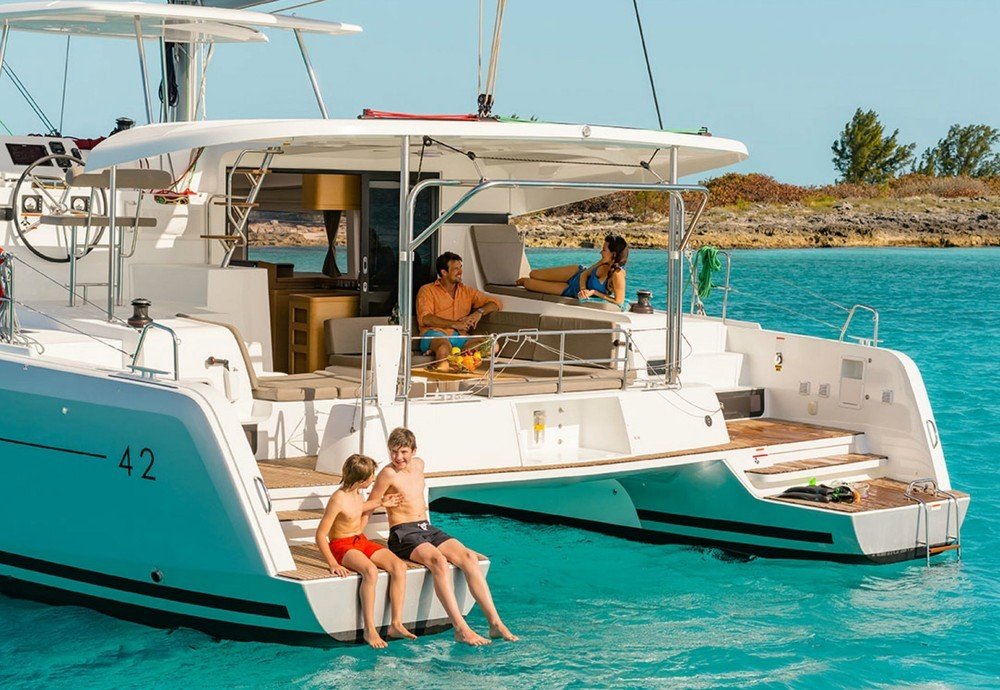 Private Croatia Catamaran Sailing Trip FAQ's
Fill the inquiry form below