As a unique blend of laid-back Mediterranean ambience, warm hospitality, topmost gastronomy and idyllic destinations, Dalmatian islands truly are a paradise for a relaxing cruising adventure. Calm Adriatic sea, sheltered with myriad of alluring islands is simply irresistible to anyone who wants to take a different and a unique holiday.
An indulgent week-long sailing vacation on a private sailing yacht, gives you an excellent chance to explore the hidden gems of southern Croatian coast on your very own private yacht charter.
Split can thank its popularity to the fact, that it is one of the largest Croatia's yacht charter destinations with an impressive range of private yachts and boats available for rental. Fair winds, pleasant weather, abundance of sun, crystal clear waters of the Adriatic sea and superb natural ambience create the perfect fusion for ideal yachting destination. Whether you are a beginner or experienced sailor, get ready for a genuine sailing experience.
Rent bareboat, skippered or crewed yacht charter in Split or Trogir
Booking the right yacht for your group, is essential before your departure. Sailing from Split gives you multitude of options for sailing boat rentals from marinas near Split airport. Book private yachts from marina bases in Trogir, Kastela or city of Split and choose a suitable vessel among the wide range of bareboat yachts, luxury crewed catamarans or skippered charters.
Renting a sailing yacht with skipper is the most hassle-free, authentic and original way to explore Dalmatian coast. With personalized itineraries, endless route options and a knowledegable Croatian skipper, get ready for a sailing cruise beyond anything you ever imagined.
Discover myriad of stunning destinations on a 7-day sailing vacation
A private Split sailing trip is a unique opportunity to join the promenades of the world-known island of Hvar. Have a drink in one of the beach bars or simply blend into the buzzing nightlife and explore some of the best restaurants in nearby Pakleni Islands.
Set your course towards the historic Stari Grad town and taste selected island wines, set sail to the legendary island Vis, walk the crisscrossed vivid streets of Marco Polo's birthplace Korcula, snorkel and swim in crystalline waters of Solta and admire the secluded pearly beaches on Brac. Before you board, don't forget to visit the UNESCO protected site Trogir and monumental Diocletian Palace in a magnificent city of Split.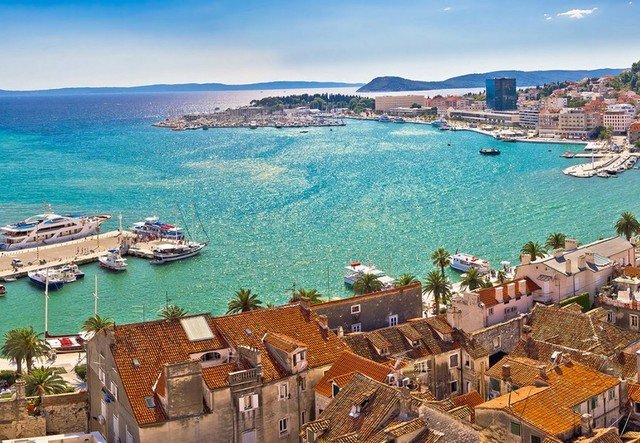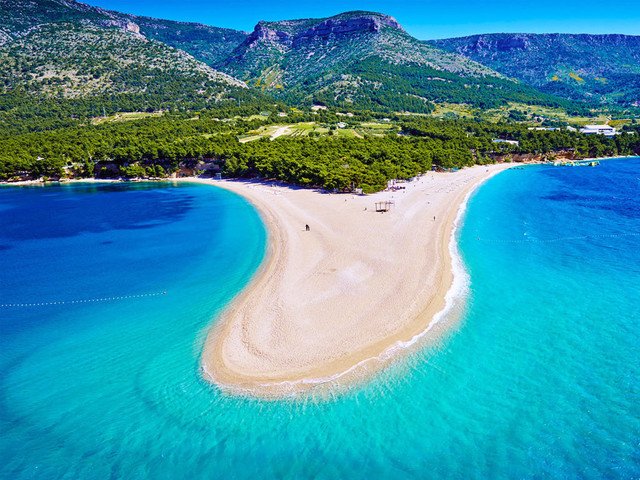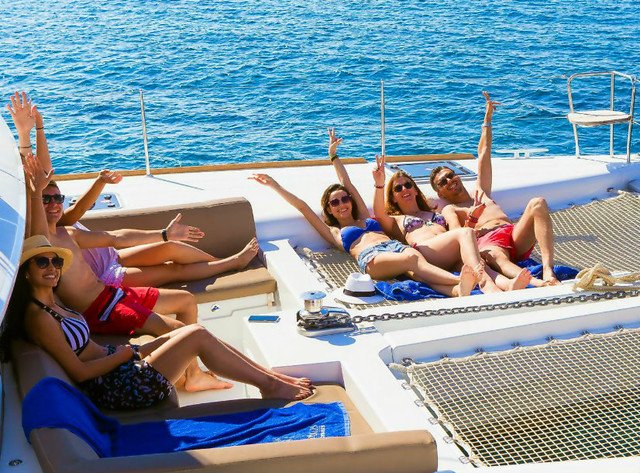 Hire our private yachts in Split or Trogir below
Seize the benefits on our sailing cruises in Split
sail to the enchanting island Vis and fishing town Komiža

taste the gastronomy wonders on island Šolta or Lastovo

visit Biševo isle and the magnificent "Blue Cave"

discover the nightlife of the famous town of Hvar

have a romantic dinner anchoring in secluded cove on island Brač

swim, snorkel and dive emerald waters of Vis and Lastovo

try well-known vintage wines Grk or Pošip on island Korčula

traditionally prepared grilled meat or fish is a must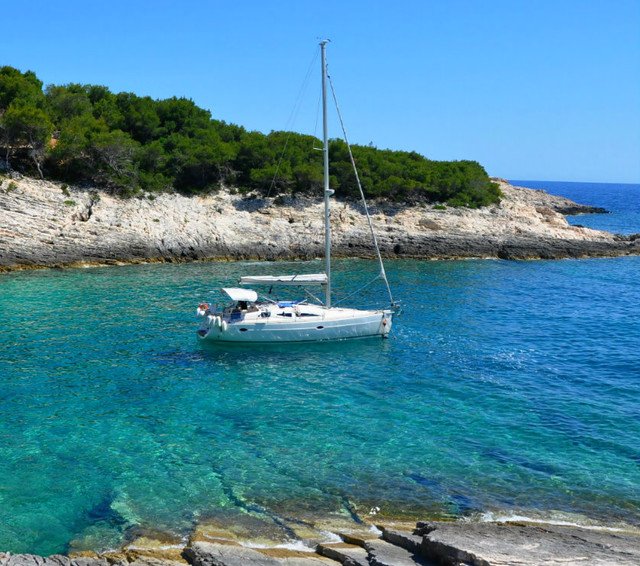 Recommended Sailing Itinerary
Day 1
Saturday (Split - Brač, overnight)
Welcome to the second largest city in Croatia! If you arrive earlier take a walk along the Split promenade and visit well-known UNSECO world heritage site, the impressive Diocletian palace.
If you feel like shopping, there are numerous shops nearby to fill boats lockers with food provisions. Your skipper will be expecting you at the pier to help you board. Departure is usually around 16:00.
Leaving marina in Split behind, we set sail towards the island Brač, the largest and Dalmatian island, also known of a unique white marble.
In a gentle swing of our yacht overnight in a beautiful cove near Milna town, surrounded with fragrant pine forest and amazing beaches. Perfect evening to have a romantic dinner couple of feet from the sea in a relaxing ambience and a gentle swing of your private yacht.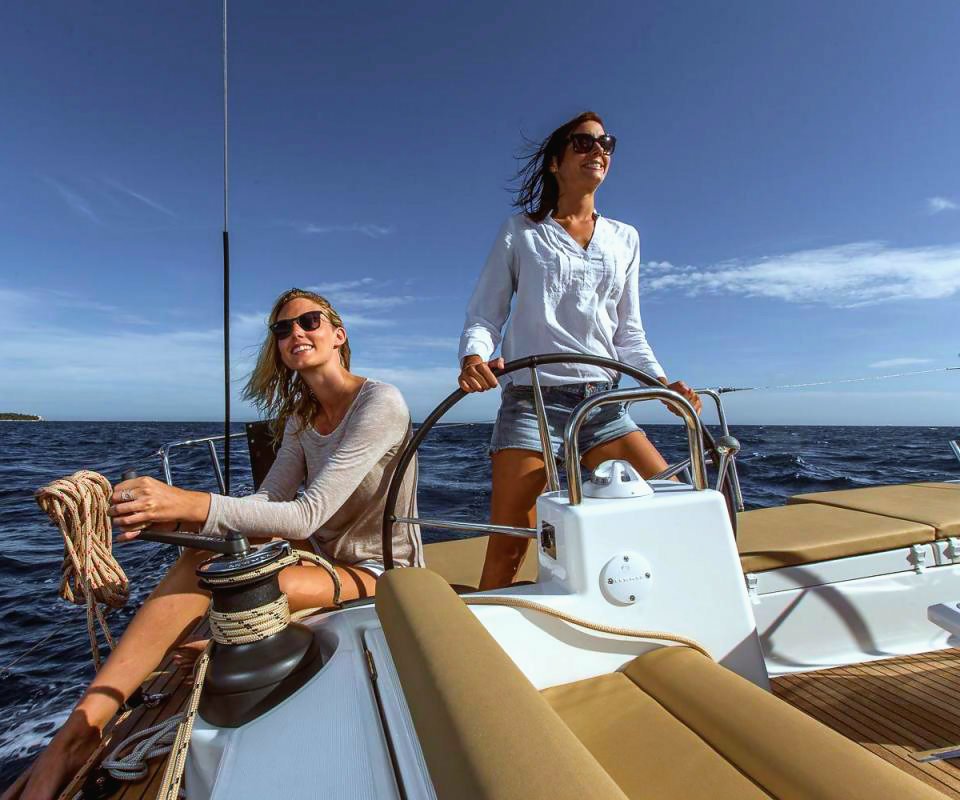 Day 2
Sunday (Hvar - Pakleni Islands overnight)
The Croatian "queen of beaches"- the golden horn" on island Brac, is an idyllic spot to take a soothing morning swim. The scent of lavender will soon welcome your senses as we sail along Hvar, the longest and the sunniest island in Croatia. We drop the anchor in one of the well sheltered bays of Pakleni islands near sun-soaked Hvar riviera.
You will soon get a chance to walk along one of the most vivacious waterfronts in Croatia. This jet-set town is known for its buzzing nightlife and vivid streets where various world celebrities often come across.
A spectacular view from the Splanjola fortress guarding the city is rewarding after a short ascend over the town. Just let yourself be embraced by this jewel where old and new shine in perfect harmony. Abundance of dance clubs and bars will keep you partying until dawn.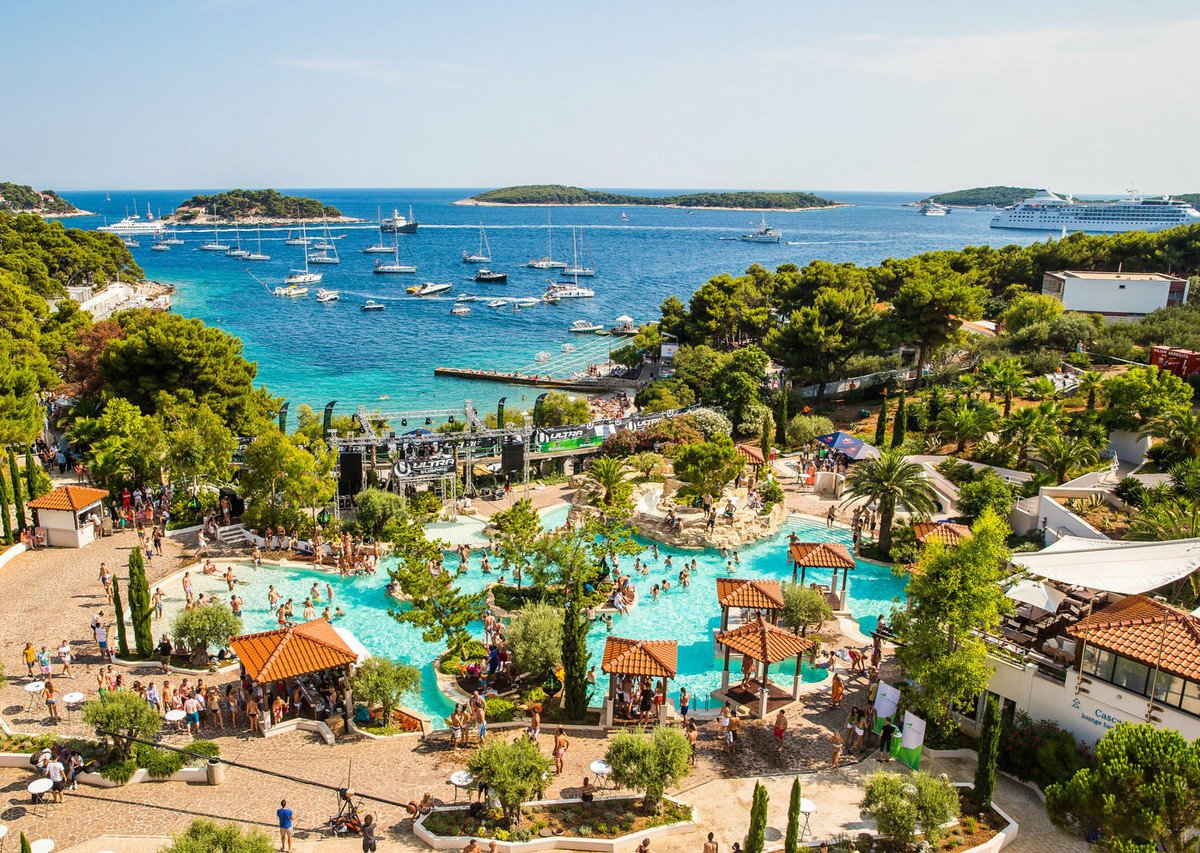 Day 3
Monday (Korčula - overnight)
Navigating towards the island Korčula, the birthplace of Marco Polo is a one-of-a-kind adventure. To spend the night in a town Korčula, a charming laid-back small-town embedded in dense green forest and fig trees, is a must. Venetian architecture, medieval fortresses and defense walls and its unsurpassable Mediterranean pulse almost resemble to Dubrovnik town.
"Dubrovnik in small" as sometimes called, fuses monumental architecture, abundance of museums, impressive cultural heritage, stylish beach bars at its best.
The island's sunny position is in fact the main reason that the local community tries to promote their eco oriented agriculture and sustainable local production. Numerous farms and wineries in the area are tempting enough to unwind and taste selected local wines and home-grown food products.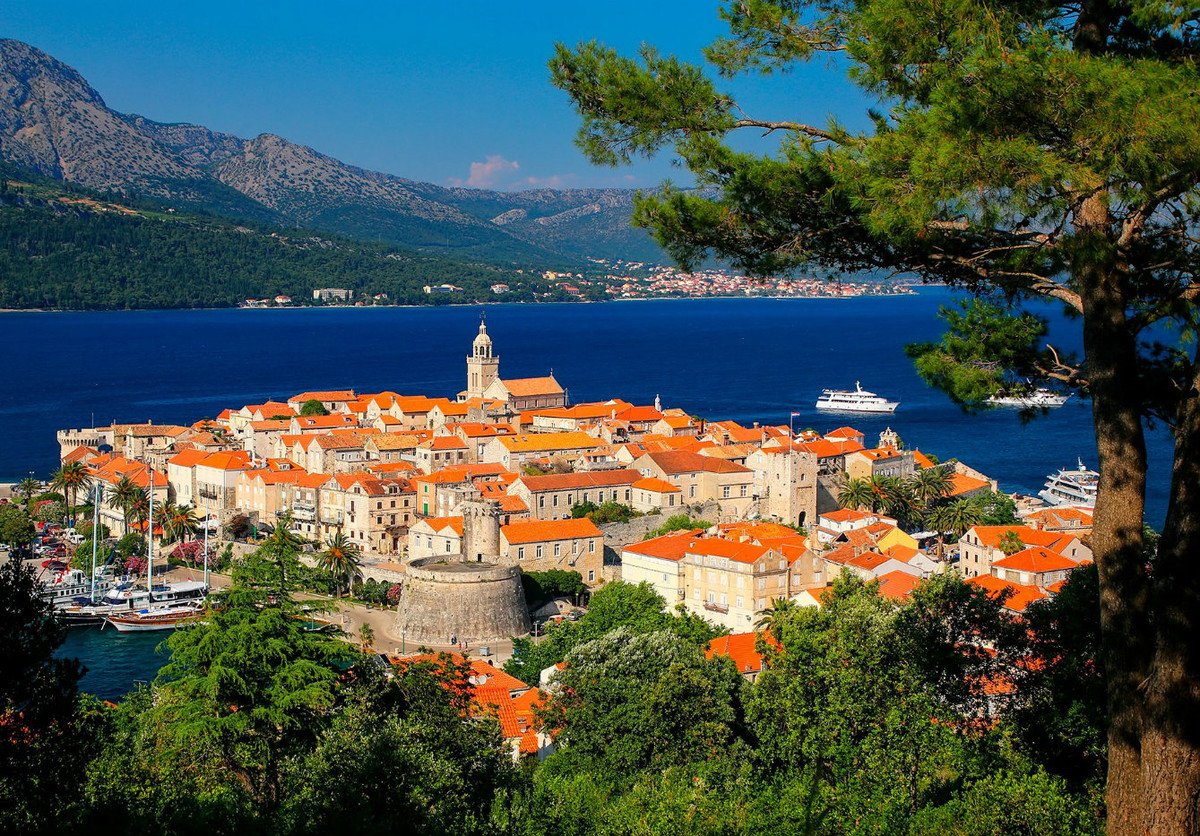 Day 4
Tuseday (Lastovo - overnight)
Morning cruise will take us around the scenic peninsula, densely sown by vineyards in the southern part of Korčula. Our destination today is Lastovo island, which was recently declared a wildlife park. We overnight at anchor in a quiet, naturally carved cove Zaklopatica, a remarkable bay, where you can first-hand experience the essence of the locally run traditional Dalmatian cuisine.
Because its isolation, the waters around Lastovo are swarming with various fish. Grilled John dory, Scorpio fish, bream, lobster or scampi, delicately prepared in a rustic tavern called »Konoba« is worth tasting. Sitting on a lovely terrace with a »million-dollar view, taking a glimpse across a yacht mast at the sun falling into sea, will take you to another dimension...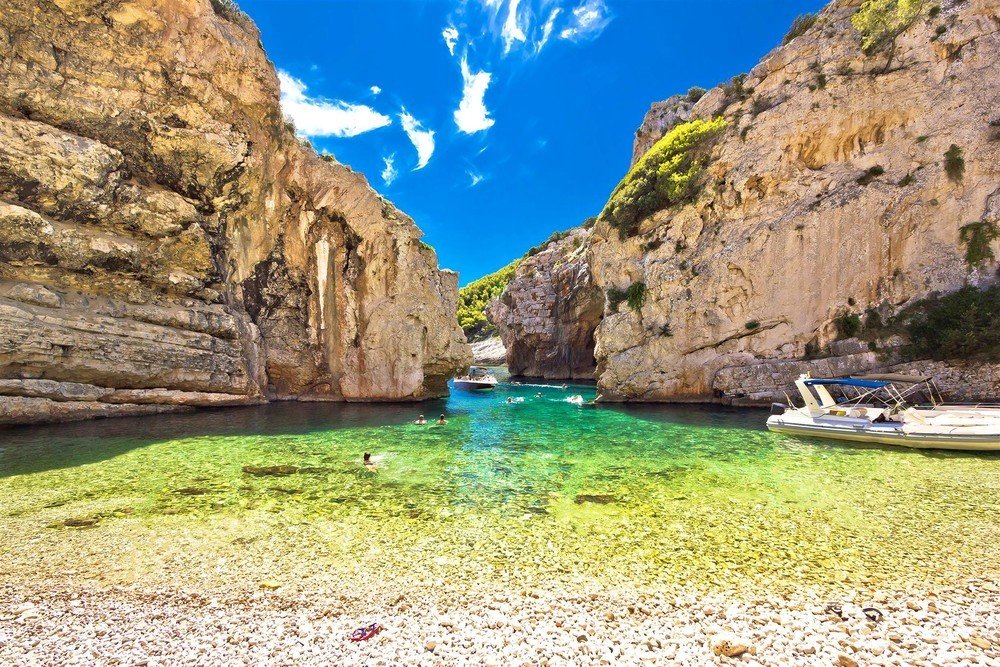 Day 5
Wednesday (Vis or Komižža - overnight)
In the morning take a 1-mile walk up to town and check the medieval stone houses with unique chimney tops of Lastovo village. Seize this opportunity and buy some food supplies for our next destination - the mystic island Vis. Until recently the whole archipelago was forbidden area due to its military purpose. With only 2 towns of altogether 5000 inhabitants and no industry miles around, this is the place to go snorkeling and explore the underwater habitat.
Island was all through its war history a natural impregnable fortress. Set almost in the middle of Adriatic, this island was strategically best natural defense location in Mediterranean. On a fair sunny day, you can see all the way to Italy from the hilltop above Komiža town. Overnight in Vis / Komiža. Characteristic local fishermen, typical wooden vessels in town port, narrow streets and exhibiting local artists, are completing the charm of this old fishing village. For its scenic setting, many movies are lately being filmed on the island. Renting a beetle or a scooter is a great way to get around the island...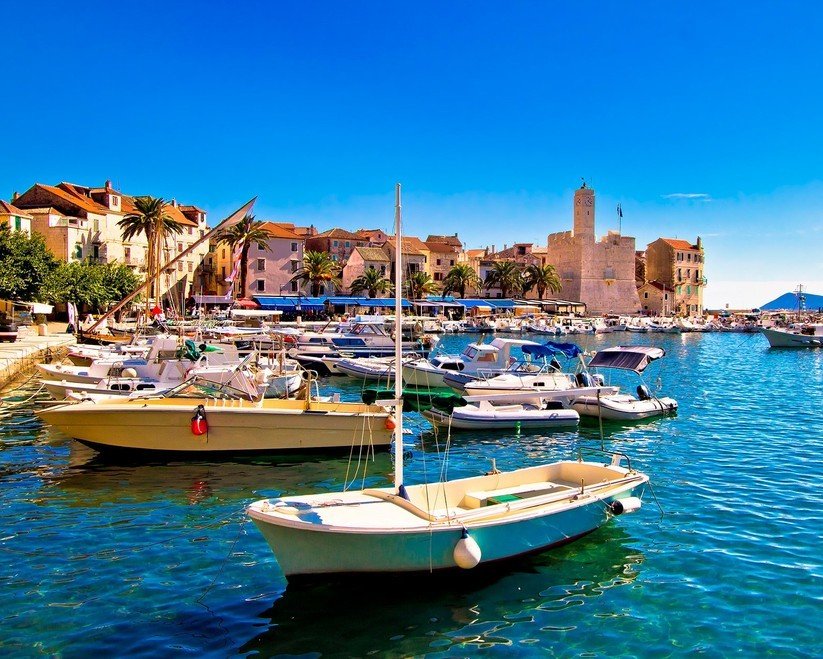 Day 6
Thursday (Šolta - overnight)
Following morning you might want to take a shuttle boat and visit remarkable »Blue cave« on Biševo island. In this naturally formed cavity you can witness colorful game between the sun and the sea, which generates a unique blue light. The tour usually takes 1 hour. Instead of an early lunch taste the local specialty "Komiza cake".
Early afternoon sailing towards the "green island" Šolta, might give us a close encounter with a swarm of playful dolphins or tuna. Šolta is claimed to be the isle with most dense forests in this part of Dalmatia. This small agricultural community's efforts and passion for farming was recognized by Austria-Hungarian empress nearly 200 years ago. Whatever you do here, think green and eat local. Overnight in a small port Rogač or Stomorska. If you don't feel like cooking aboard, visit traditional "Konoba" with unmatchable family-run cuisine...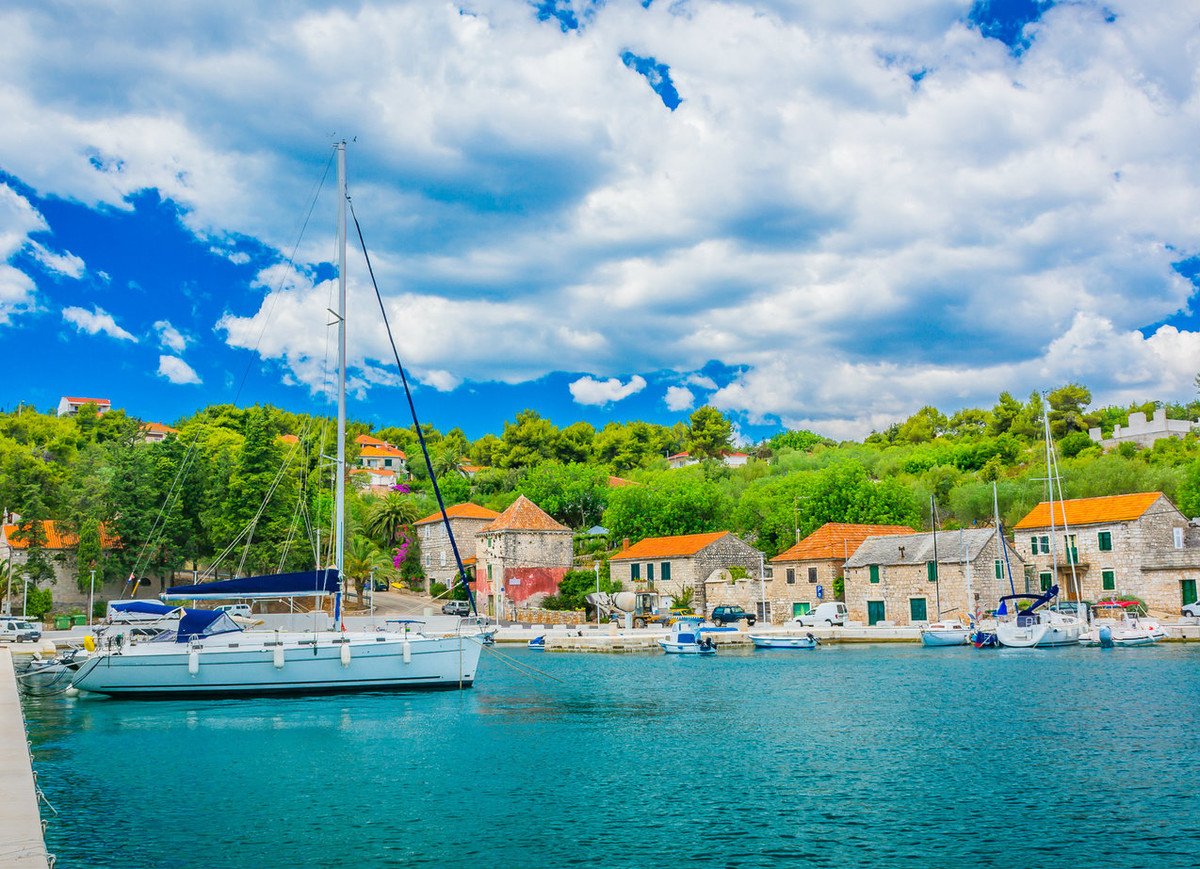 Day 7
Friday (Split - overnight)
On our last day we'll have plenty of time to swim, snorkel and chill in secluded coves of island Šolta or Brac, before docking in our home marina until evening.
If you didn't get the chance to visit Split, you can take a walk along the evening promenade, buy some souvenirs, or just have a nice romantic dinner in one of the many restaurants downtown.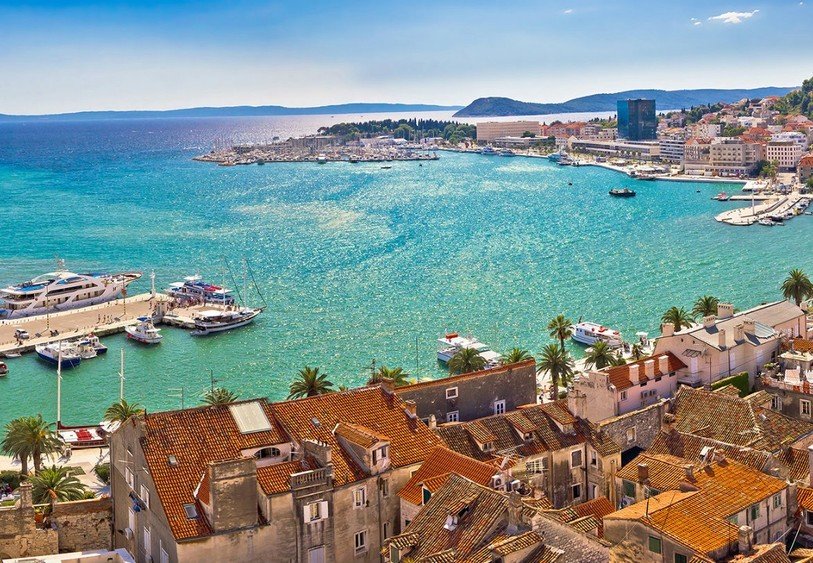 Day 8
Saturday (Split marina)
Sadly, we have to say goodbye and hope to see you next year and set sails in one of yacht charter destinations in Zadar, Dubrovnik, Pula or Sibenik, where you can explore the impressive wildlife resorts Telascica, Kornati or river Krka national park with its magnificent 7 waterfalls.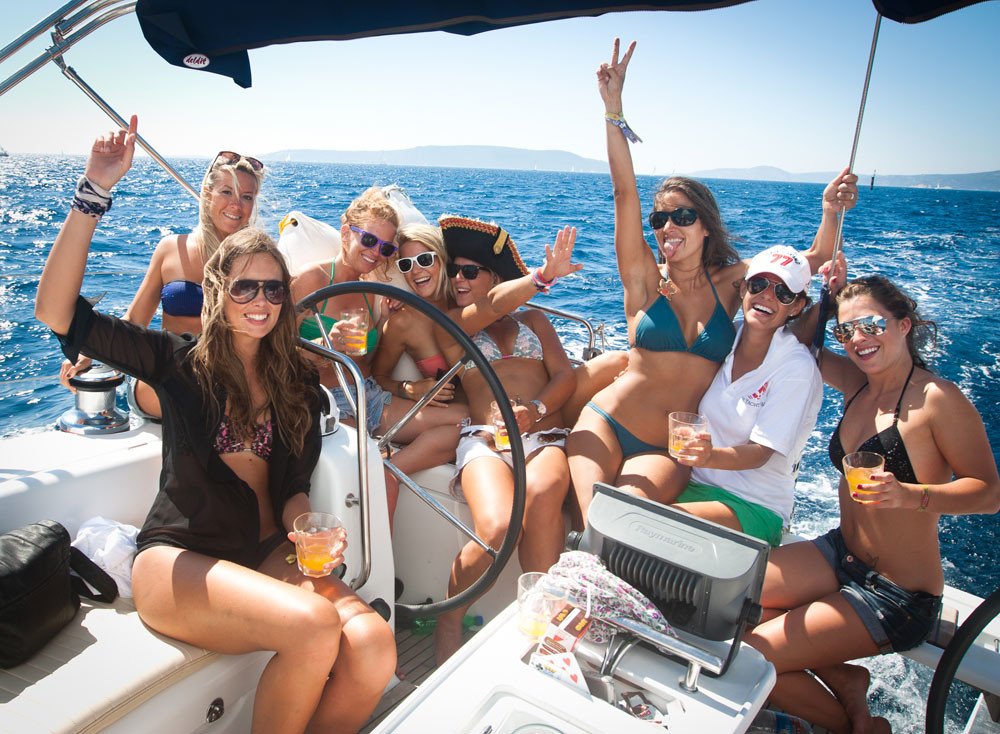 Sailing in Split Croatia on our secret off-the-beaten-track route
Stony streets of the most popular Croatian coastal towns in summertime are bursting with tourists, and maritime traffic is at its peak. Some marinas on these islands are literally blocked with yachts and sailors trying to get a free berth for the night already early afternoon.
Although our suggested itinerary is a constant classic for most of the charters, we provide an exclusive opportunity to set sail on best Croatia sailing tour and benefit from our alternative itinerary. Including the oldest Croatian town Stari Grad, another well-known UNESCO World Heritage Site.
Freely adjust the sailing dynamics with your skipper
One of the secret tips from our skippers is how to avoid the certain islands on the busiest days within your sailing week. Don't worry, you will still get to visit them, but at a different pace. This way your journey will be extra comfortable, and you will get to discover even more attractive places, that are usually forgotten in a guide-book.
If you feel like exploring Croatian coast more to the north, and if the sailing conditions allow, you can easilly rearrange itineraries with your skipper. Navigating through 3 marine wildlife parks and discovering secluded fishing villages, pristine bays and lunar landscapes of Kornati islands is always an exclusive adventure. Sailing upriver to Krka national park and withessing its 7 majestic waterfalls is something you can't afford to miss.
Skippered yacht charter is the most relaxing way to sail Croatia
Our reliable skippers with extensive sailing experience are a treasury of tips and guides, so just relax in a delightful relaxation in Mediterranean style. Skipper will not only take responsibility over navigation, and constantly monitor the sailing conditions, but you can consider him as your tour guide. Take the advantage of our skippered yachts and get first-hand tips about the area you are about to visit. Explore secluded anchorages, amazing hidden beaches, most beautiful island villages and discover top restaurants with a help and advice from your skipper.
Skipper will be happy to introduce you to the intriguing beauty of living at sea and try his best to make your cruising adventure in Croatia a genuine sailing experience. It is custom to take care of skipper's meals and food aboard.
Split Croatia Sailing FAQ's and

tips
Fill the inquiry form below