Authentic Honeymoon Sailing Adventure
A gentle holiday cruise across the azure blue Adriatic sea is an excellent idea for a romantic trip, honeymoon journey, anniversary celebration or just a getaway with that someone special. And Croatian coast is among best kept secrets for a honeymoon vacation in Europe just waiting to be discovered. This hidden gem is a remarkable blend of crystal clear seas, diverse flora and fauna, culture, historic stone-walled towns, natural beaches and truly a gourmet paradise.
While warm and sunny climate, leisurely pulse of the locals and amazing natural surroundings make Croatia the perfect Mediterranean destination for a unique honeymoon yacht holiday.
Experience the best of the Croatian coast from a private sailboat
Rent sailboat in Croatia and discover hundreds of beautiful islands, walk the streets of ancient villages and discover world-known European UNESCO world heritage sites from the comfort of a sailing boat. Chartering a private sailboat or a luxury catamaran in Croatia provides you a great opportunity to explore infinite Croatian coast at your own pace and to enjoy delightful vacation time aboard a private Croatia sailboat charter with your loved one.
What is the best time for a honeymoon sailing trip in Croatia?
Best time to sail Croatia is in summer month July and August, but if you wish to avoid high-summer crowds, ideal months for a relaxing sailing holiday are June and September.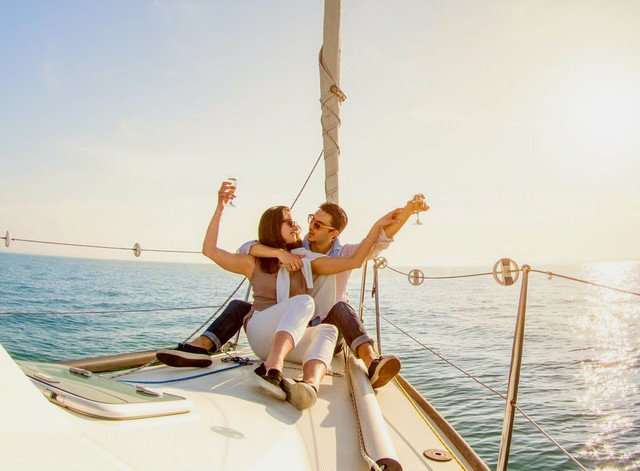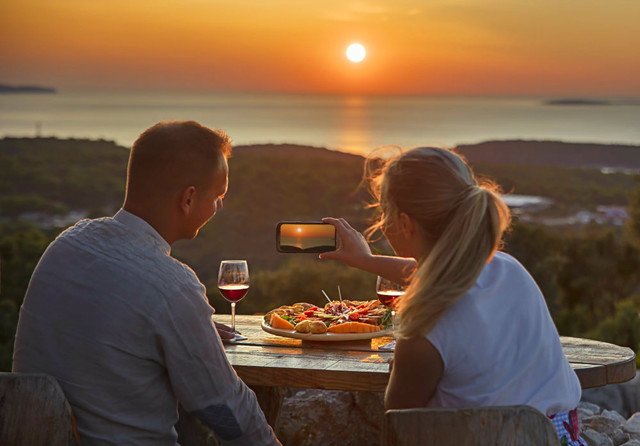 7-day Croatia Honeymoon Itinerary
Hopping from one island to another, anchoring in remote coves under the opened starry skies, having a glass of wine and watching the sun slowly sink behind the horizon, is an experience beyond any compare. The itineraries on private Croatia honeymoon yacht charters are flexible and can be tailored and personalised to our couples.
Best sailing destinations in Europe for couples
Starting your 7-day sailing trip from Zadar town, you can expect an indulging and peaceful sailing week with less crowded areas. Beeing close to each other, scatterd islands of northern Dalmatia assure relaxing sailing itinerary without too much of a daily sailing distance to cover, which is ideal for couples or a family yacht trip.
When you rent a sailboat in Zadar city you can expect peacefull maritime environmnt, serene island villages, including three marine Croatian national parks and romantic seaside restaurants. If you desire seclusion, landscape diversity and exotic bays, this is by far best sailing destination in Croatia for a honeymoon cruise.
You can also get inspired into alternative sailing Itineraries in Croatia suitable for couples:
Crewed or a Skippered Honeymoon Cruise?
Sailing between the beautiful islands on a fully-catered crewed yacht charter with premium on board srvices is every couple's dream. The most exclusive crewed private yacht charters in Croatia include full board package with a professional staff. A hostess and a chef. Your crew is there to cater to your every whim and ensure an indulging cruise that you will cherish forever.
Skippered honeymoon charter is very popular with couples, who desire extra flexibility on their week-long yacht vacations. Your knowledgeable Croatian skipper will get a feeling for the adventure you are after, recommend best sailing itineraries and adjust the itineraries considering your wishes. He will give his best to make your precious holiday moments between Croatian islands memorable and filled with positive emotions.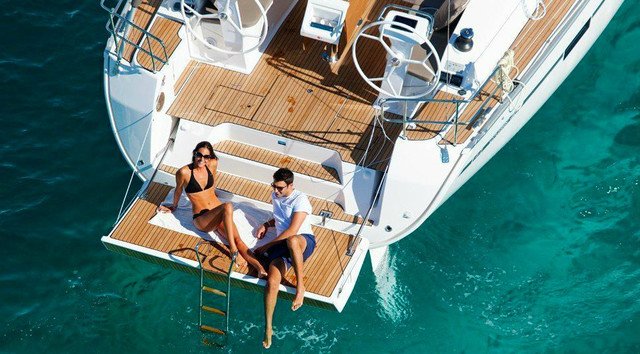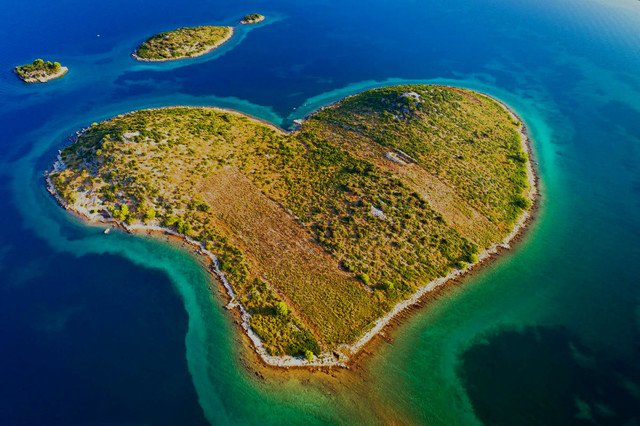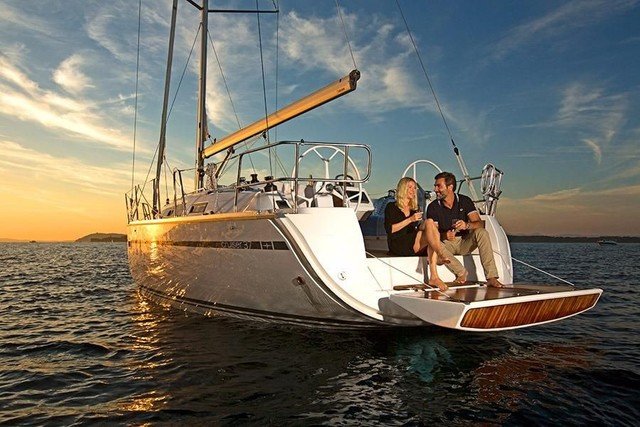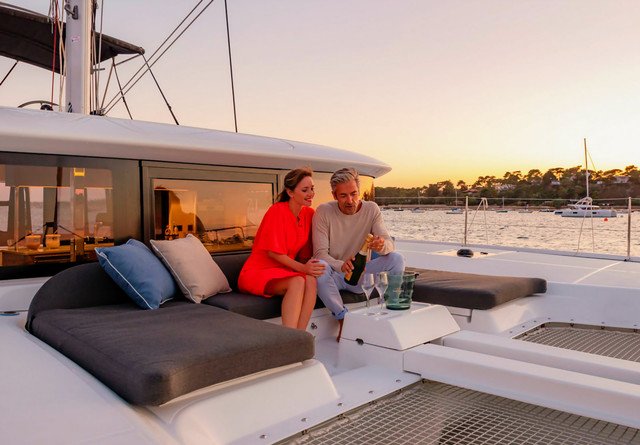 6 reasons why a sailing trip is best vacation for couples
Authenticity - A private yacht trip in Croatia is a unique vacation that you will cherish and remember forever
Discovering Romantic Destinations - Take the advantage of exploring the all the hot spots at your own pace
Idyllic Atmosphere - Private yacht charter, exotic beaches, amazing sunsets, and quaint villages. Is there anything better?
Personalized Itinerary - Anchoring in secluded bays, discovering charming islands or just chilling - is all up to you.
Intimacy - Enjoy the privacy and intimacy on your very own sailing yacht
Comfort - Renting a private sailboat or catamaran charter in Croatia assures you extra comfort and space on board
Skippered yacht charter experince
Sailing in Croatia with skipper is the most authentic way to experience the secluded treasures of Adriatic in a wonderful ambiance and uncompromising exclusivity. Not only your skipper will safely navigate the boat for you but you can also gain some internal knowledge, tips and information about the places you are about to visit.
If you are looking for secluded coves, romantic quiet places, or buzzing island towns, he will be happy to guide you there. Our crew is aways discreet and flexible with yacht charter itineraries that our guests prefer.
What can be better than having a romantic dinner only 5 feet away from the sea?
Croatian skippers know safest sailing areas, best lonely beaches for swimming and top restaurant locations where you can eat local, fresh and tasty.
You can either hire a skippered sailing yacht or a crewed catamaran, depending on your travelling style and budget. Best sailing boats for a honeymoon cruise are 3-cabin sailboats with a large master cabin or luxurious cruising catamarans.
Croatia catamaran holiday experince is recommended for couples, that desire extra space, privacy and exclusivity during their honeymoon yachting adventure.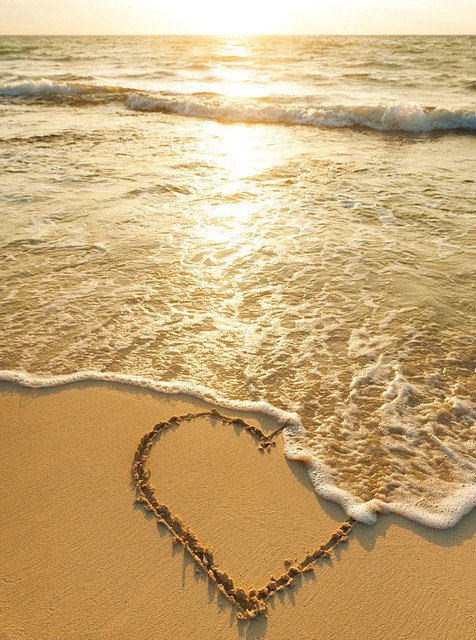 Honeymoon Sailing Vacation FAQs
Fill the inquiry form below