Sailing in Croatia is so enormously popular on the account of pleasant Mediterranean climate, beautiful landscapes, ideal conditions for sailing and affordable prices for chartering. To hire a private yacht in Croatia actually guarantees the most exciting way to travel around this breathtaking country.
A gentle sailing cruise through the sparkling calm Adriatic sea with your close ones will uncover the secret beauties of this country - secluded bays and quaint villages, charming Dalmatian islands, calm and clear seas, colourful landscapes and impressive cultural heritage of stone-walled towns. If you add the world-famous Croatian culinary works of art, you get the perfect place for you next sailing destination.
This is a unique chance to breathe the clean ocean air and feel the unlimited freedom only endless sea can offer. Seize this opportunity and visit some of the most remarkable places in the world on your very own sailing yacht.
Attractive prices on Croatia yacht charters
To hire a yacht charter in Croatia for your well-deserved holiday, is an excellent chance to explore this little Mediterranean gem with the people you cherish most.
One shall certainly feel more relaxed and comfortable under the sails of reliable and seaworthy vessel. However, that does not mean that older yachts sail worse or have a lack of equipment. On the contrary - each and every yacht in our fleet is well-maintained and rigged especially for charter purposes. Be certain, that she will gurantee endless sailing pleasures if treated properly.
Whether you are looking for more action at sea and extra sailing activity on a performance sailor, a comfortable family yacht or luxurious catamaran, we have a yacht to suit you.
Yacht charter along the Adriatic coast runs from April until late October and rolls in weekly terms that start and end Saturdays. Although it is possible, to also rent sailboats for shorter period in shoulder season.
Explore Croatia from north to south and visit the rugged Dalmatian coast with impressive Kornati islands national park, mundane Hvar and mystic island Vis. You might consider taking "off-the-beaten-route" itinerary, hire yacht in Pula and discover the intact Kvarner bay more to the north. Browse through our wide range of yachts, available between Istria peninsula and Dalmatian Coast to experience the Adriatic as it once was.
Rent a sailing yacht first or last minute in beautiful marinas Split, Pula, Zadar, Krk, Trogir, Biograd, Sukosan or Dubrovnik and get ready for an amazing sailing experience among countless Croatian islands.
To rent catamaran charter is recommended for families or groups that desire more commodity, luxury and space aboard. Catamarans are very stable and have natural buoyancy, making them practically unsinkable.
The hull volumes assure safer moving around the deck and provide extra privacy for guests. You can alwas find a free place to rest, sunbathe, chill or simply enjoy the views across the blue seas and lush green landscapes.
Browse through our wide offer of cats from economy to luxury line and explore Croatia in style. We give you multitude of options to choose from popular brands such as Lagoon, Leopard, Catana Bali, Lipari, Foutaine Pajot and Nautitech.
Before you book a multi-hull also check what international certificate or licence is required.
No license? No problem.
Even if you prefer to sail as an independent skipper, you are sometimes not familiar with the sailing area or the weather conditions that can be quite extreme (especially in the off season) and might surprise even an old salt sailor. Our team will be happy to suggest a suitable itinerary and recommend best places to sail.
For the sailors with lack of experience or without a adequate boating license, we also have reliable skippers in our crew, so that your can enjoy in a entirely carefree sailing holiday. When you hire a local Croatian skipper, you get the full flexibility on your itineraries and numerous first-hand route tips, which is the perfect combination for your memorable sailing vacations.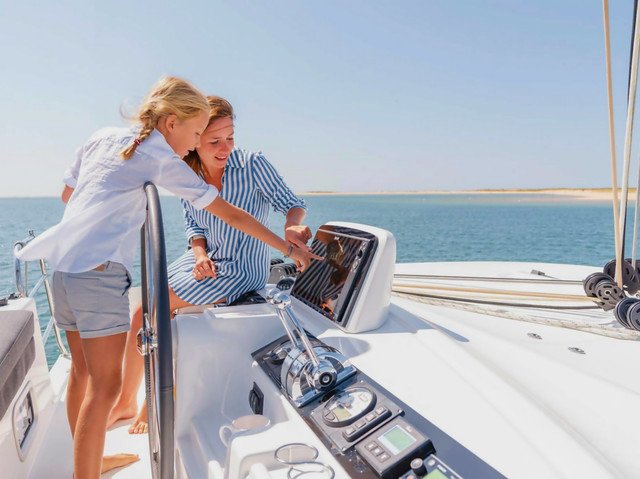 Bareboat Yacht Charter FAQs