The costs to consider for a yacht vacation in Croatia
One week Yacht Rental
Skipper
Fuel
Croatian Local Tax
Port and Marina Fees
Food On Your Sailing Trip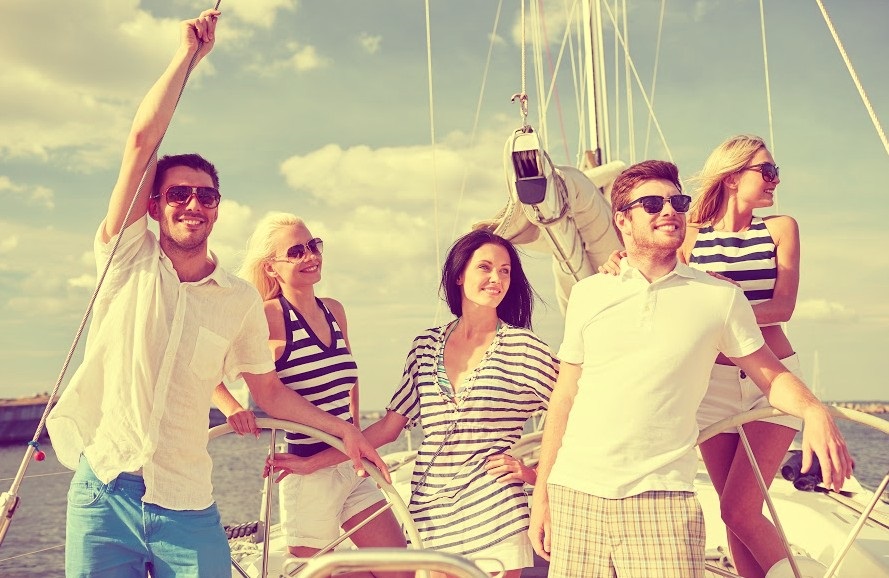 How much does it cost to charter a yacht in Croatia?
The final price for Croatia yacht rental mostly depends on these factors:
Yacht's age, model and equipment

Size of the yacht

Starting date of your sailing holidays
1. It is obvious, that a brand new bareboat sailboat charter in Croatia is more expensive than a 10-year older model. However, older yachts if well maintained, can pleasantly surprise you with the performance and sailing abilities. If yacht is custom-made with special equipment installed on board (A/C, Generator, Carbon Sails, Water Maker,...) also rises the price.
The price for a new 4-cabin Bavaria 46 Cruiser in the peak season lies at average 3.500 euros per week. While you can get economy model of Bavaria 46 for around 2.500€.
2. Yacht's size also plays an important role with the final price. The bigger the boat, the bigger the cost. Before you charter sailboat in Croatia, please consider how many people are going to be on board and hire a yacht with enough bedrooms and sufficient space to meet everybody's needs.
3. There are numerous Croatia Sailing charter companies and agencies along the eastern Adriatic coast, where you can rent almost everything that floats. However, the most popular boat types for a private yacht holiday in Croatia are catamarans and sailing yachts.
Catamarans vs Sailboat charters
Discovering Croatia on a mono hull sailboat will certainly make the overall holiday experience more authentic and adventurous. While catamarans in Croatia provide some more privacy and extra comfortable atmosphere aboard. Mostly to the account of a wider hull, stability and space for the people on board, catamarans are at the moment very popular for a family sailing vacation. Even though the expense for catamaran rental in Croatia is considerably larger many nautical clients decide for a catamaran tour.
Besides higher rental fee on cats, also expect about 50% higher cost on fuel and port fees. High season ( end of July ) rental price on new 40-foot catamaran with 4 cabins is comparable to a 5-cabin 50-foot sailing yacht and lies at around 5.500€ per week.
Fully equipped sailing yacht
Handling fees at the check in and check out
Transit log & End cleaning
Wi-Fi on board
Fresh Bed linen, bathing towels
Dinghy with outboard engine
Mooring in the base marina
4. Bareboat yachts in Croatia are significantly cheaper during the pre-season months April, May and in post-season in October. Through June and September expect moderate prices, while the rental prices in July and August are highest. Find some tips on when is best time to sail Croatia, that might help you with choosing the dates.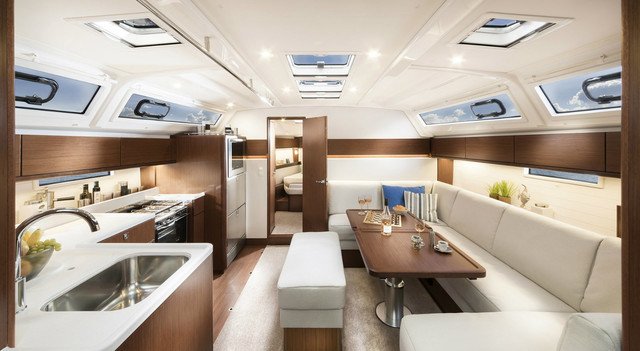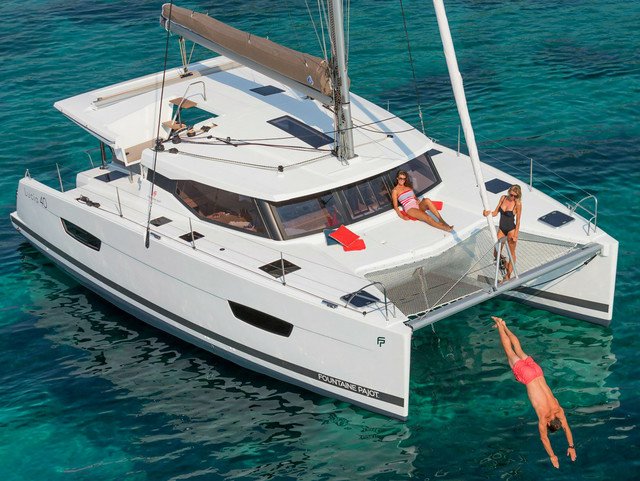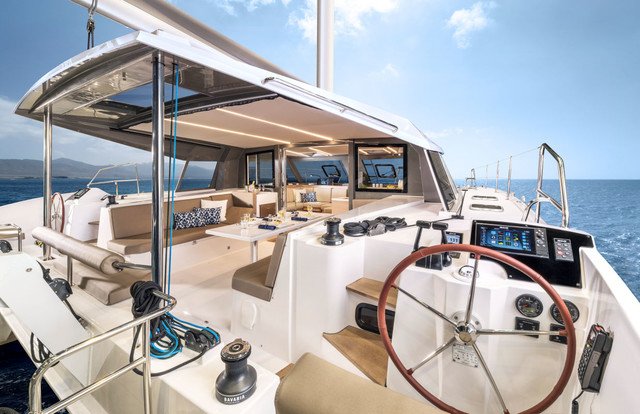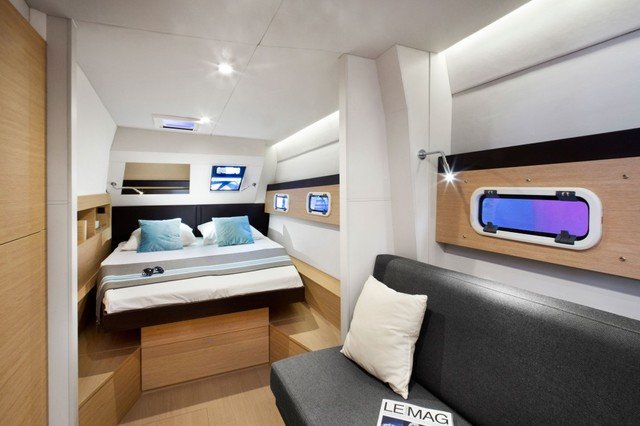 Skippered yacht charter in Croatia is definitively the best opportunity to discover the highlight of this magnificent coast at your own pace. If you don't own the corresponding boat license or have a lack of knowledge about the sailing area, the weather conditions or best restaurants in the area, sailing in Croatia with skipper, is your top choice.
With lots of internal tips, he will be your best guide during your Croatia sailing trip. You can discuss your desired itineraries with him at the embarkation, let him know your wishes. He will be more than happy to give you the best of the Croatian coast and safely navigate the boat for you.
Skipper fee ranges between 140€ and 170€ per day. and mostly depends on the yacht's size/type. 140€ for a 4-cabin sailing yacht, 170€ for a 45-foot catamaran. It is also a custom to take care of skipper's meals during the week.
Other optional on board services:
Hostess service 130€-150€ per day
Cook from 150€ per day
How much do I tip the skipper in Croatia?
That is mostly up to you and your general satisfaction at the end of the cruise. The gratuities at Crewed charters in Croatia are discretionary, but it's customary to acknowledge the crew effort.
The usual tip for services aboard skippered yacht charters in the Mediterranean is 15-20% from the weekly skipper fee and 5% of the full amount for the luxury catamarans in Croatia. The gratuity should be paid in cash to your captain.
A TIP: Croatian skippers are all fluent in English, but if you wish multilingual crew, book ASAP, since they get booked very fast!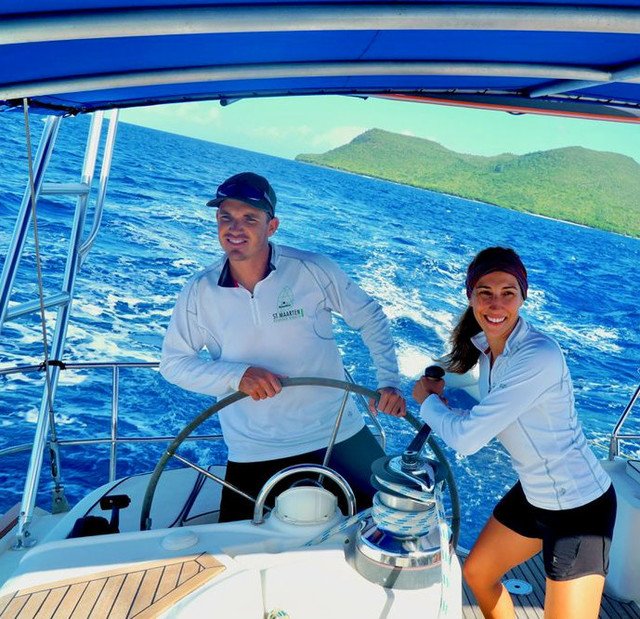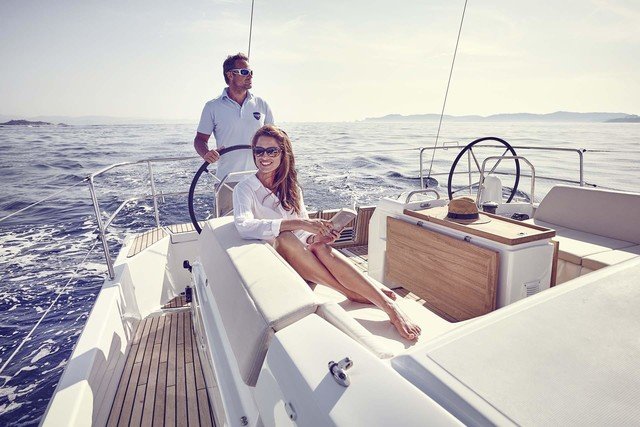 Fuel consumption on a 45-foot sailing yacht is approx. 4L (one gallon) per hour. On a 40-foot cat is double, motor yacht consumes app. 70L an hour.
Basicaly it is hard to estimate how much fuel someone will spend. Catamarans usually consume between 100 and 150 liters per week while sailboats around 50.
The final cost also depends on the wind conditions and your itineraries. If you sail more, you consume less, if you use the engine more, it is the opposite. Besides, with older yachts the consumption is slightly higher than with the new ones. Average fuel charge for a relaxing sailing tour in Croatia lies between 50€ and 100€ per week.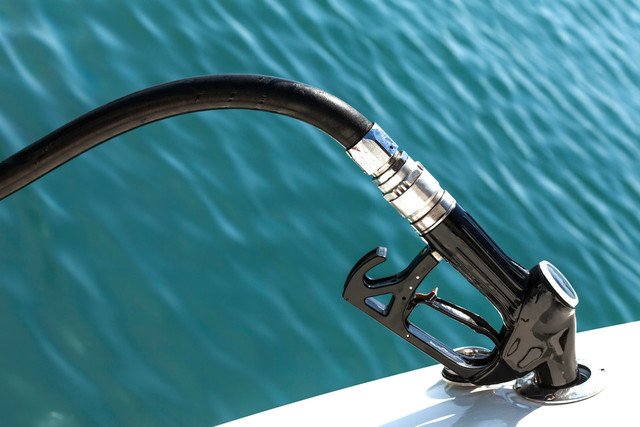 Local Taxes & Port and Marina Fees
The local tax in Croatia does not affect much on the final price and is 1.35€ per person per day.
Croatian coast has some of the most beautiful modern marinas, where you can find your berth for a quiet night. Mooring fee mostly depends on the level/quality of the port service and how popular a certain sailing destination is. If you go sailing from Split or Dubrovnik, expect higher marina prices (especially the islands Hvar or Korčula). Sailing in Zadar, north Dalmatia and along the Istrian coast is generally a bit cheaper.
Average marina fee for a 45-foot sailing yacht is 80€ per night and includes fresh water refill, shore power, toilet and bathroom facilities. if you moor on a buy is more secluded and cheaper. The average charge ranges between 30 and 60€ per day. Anchoring is free of charge. A mixture of all 3 options gives the best balance through the week for most groups.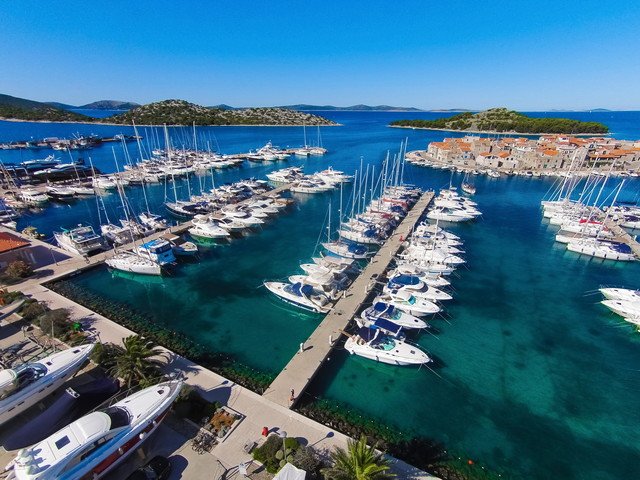 Private yacht charters in Croatia usually doesn't include food and beverages on board, that is why is recommended to purchase your supplies before embarkation. Your skipper or hostess can help you with that. Most of marinas in Croatia have markets where you can buy everything you need.
Cooking on board will certainly reduce the food expenses for the week. There is an oven and gas cooker installed on every sailing yacht. Some yachts, like Dufour 460 have outside barbecues.
A Private Croatia sailboat rental assures you completely flexible itinreraries, so expect plenty of stops on the islands, where you can buy fresh bread,vegetables, fruit, meat and fish. Breakfast and a quick afternoon snack can be prepared aboard and you can dine outside in some of the best locally-run island restaurants that your skipper can recommend.
If you are dining outside, it is customary to invite your skipper to join you at the table. If you prefer to dine in privacy, skipper can eat separately, so kindly assure some pocket money for his meals. Crewed yacht charters in Croatia usually have all the meals included.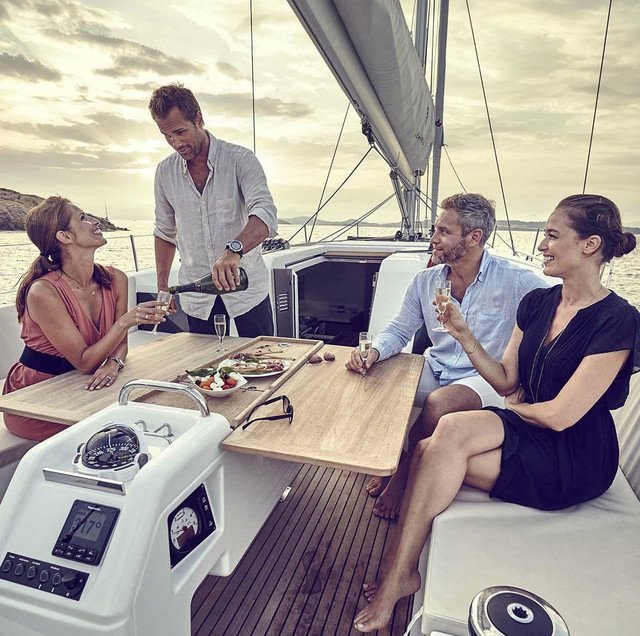 How much for sailing holidays in Croatia?
The estimated cost for a 7-day Croatia sailing holiday in high season on a newer 4-cabin sailboat, calculated for 6 persons, plus Skipper is approx. 5.000€ per week. Catamaran with with similar sleeping capacity is aboout 50% more expensive.
Sailing Yacht 3.500€ per week
Skipper 1.050€ per week
Fuel 70€ per week
Local Taxes 1.35€ per person per day (70€)
Port and Marina Fees average 80€ per night, 3 nights (240€), 2X Buoy (100€), anchor free of charge (anchoring in secluded coves reduces the mooring expenses)
FOOD is not calculated and depends on your feeding habits.