Best 7-day Croatia sailing itinerary
Day 1 (Saturday) Split - Pučišča (Brač)

16NM

Day 2 (Sunday) Pućišća - Stari Grad (Hvar) 30 NM
Day 3 (Monday) Stari Grad - Bol - Pakleni Islands (Hvar)

20 NM

Day 4 (Tuseday) Pakleni Islands - Korčula (Vela Luka)

20 NM

Day 5 (Wednesday) Korčula - Vis (Komiža)

32NM

Day 6 (Thursday) Vis - Šolta (Maslinica or Drvenik island)

25 NM

Day 7 (Friday) Solta - Split

13NM

Day 8 (Saturday) Disembarkation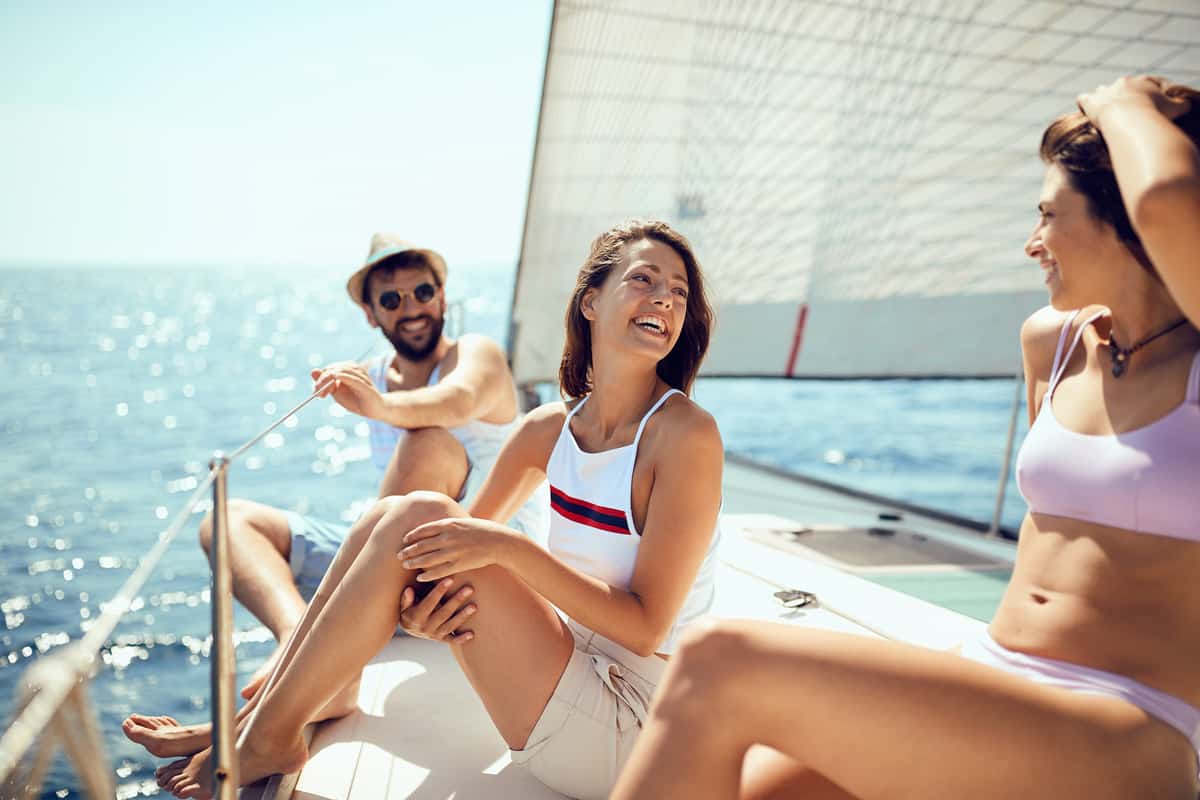 Follow our sailing itinerary in Split
This route itinerary is extremely popular with the clients wanting to avoid crowded areas at the islands and the perfect for a romantic honeymoon trip. Here you will find peace and serenity in secluded bays. You will be able to explore the hotspots of the Croatian coast in a relaxing and way and visit the remarkable isands Hvar, Brač and Vis at your own pace.
Make your sailing tour in Croatia a one-of a-kind journey by hiring a private Croatia yacht charter with skipper. He will safely navigate beetween magnificent Dalmatian islands and give his best to make your Croatia sailing vacation a unique and rewarding experience.
Day 1. Split - Pucisca (Brac)
Leaving marina in Split behind, we set sails towards the village Pučišča on island Brač, the largest and the highest Dalmatian island.
If you want to escape from the buzzing streets of Split to a small island village, this is an excellent choice. On the NE part of island lies the hidden village of Pučišča, the stone kingdom of Croatia. Charming town at the end of a along bay is well-known of a unique white marble. The gleaming white stone, indigent to the island and a unique Renaissance architecture, make this village one of a kind. Its white roofs are creating a true ambient atmosphere of a typical Dalmatian town. The village is also called a "13 towers port" since it used to have 13 towers guarding it against repeated attack by pirates centuries ago.
There is a well known summer music school. It is not a rare occasion to hear the charismatic locals singing or playing in the streets...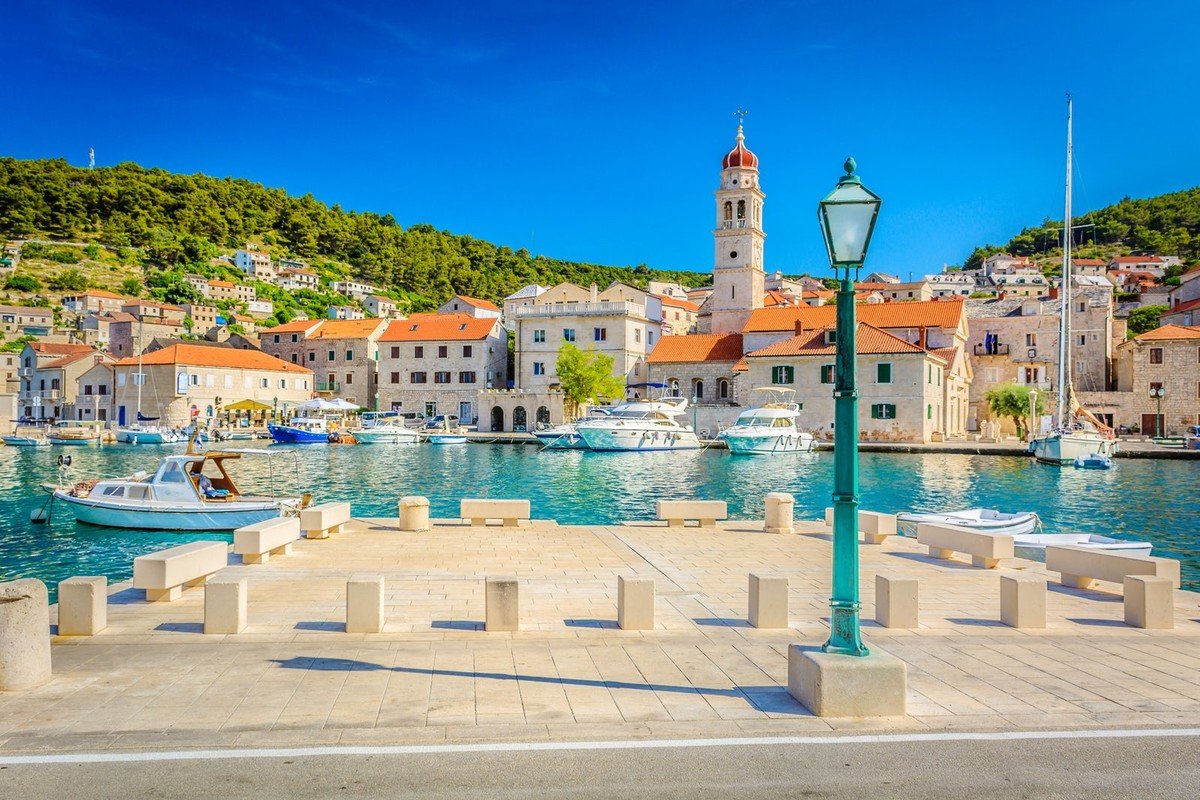 The charming village Pucisca
...A stone quarry, stonemason's school and workshop are definitely worth visiting. Be sure to buy a souvenir carved out of the white marbel. if you have some extra activity time, rent a bike to visit old shepherds village Gornji Humac and Pražnica about 7 km south of Pučišča, at an altitude of 391m (1.200 f.t)
I recommend to dock at the small town harbour at the South side of the basin. 25 berths with water and power are available
DON'T MISS OUT:
try the local olive-oil, wine, sheep cheese and figs
rent a bike and visit shepherds village Gornji Humac
taste traditionally prepared island lamb and fish "under the bell"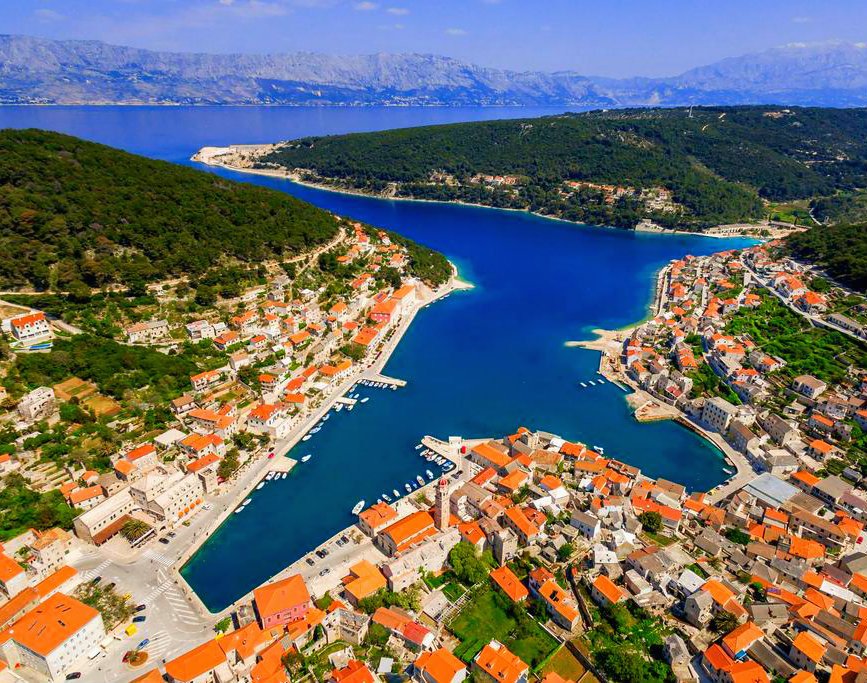 Day 2. Pucisca - Stari Grad (Hvar)
Heading to south along the the scattered bays of Brač, we stop for a nice swim on the southern cape of this impressive island. In the afternoon we sail along the famous Bol and the Golden Horn beach, take a quick dip and catch some afternoon wind in the Hvar-Brač channel.
Stari Grad is situated in a beautifully carved bay on the island of Hvar. As you sail along the densely wooded landscapes, scent of lavender will soon meet your senses. Hvar island is well known of its purple lavender fields and genuine products of this fragrant plant.
The literal translation of its name is "Old Town". No wonder, since it's one of the oldest towns in Europe, and a part of it falls within the UNESCO Protected World Heritage Site of the Stari Grad Plain...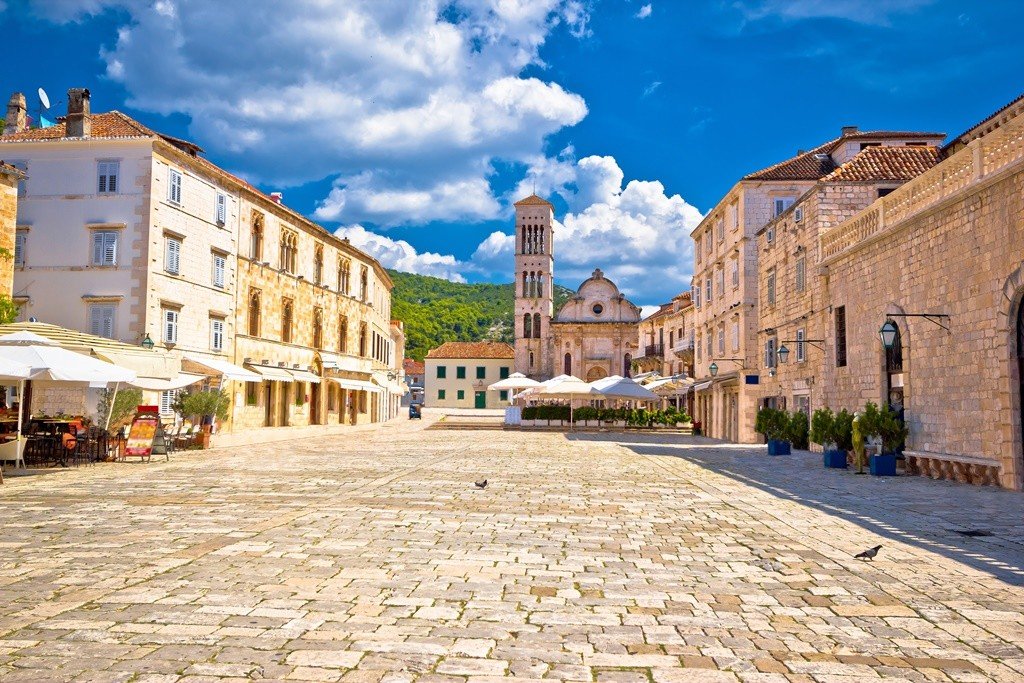 A perfect chance to taste organic local products
...Stari Grad itself is a hidden treasure. Here you can find the beautiful heritage from collision of the ancient empires. Roman and Greek civilisations left a deep impact everywhere. Explore the cultural and architectural renaissance monuments and feel the laid-back pulse of this little gem. Be sure to walk the maze of stony streets and try some locally-grown products including one of the best wines in the island.
DON'T MISS OUT:
try the agricultural home-made local products
explore still preserved 2400 year old Greek plain
experience authentic cuisine in Hora eco restaurant
try the local wine Plavac and exclusicve olive oil from island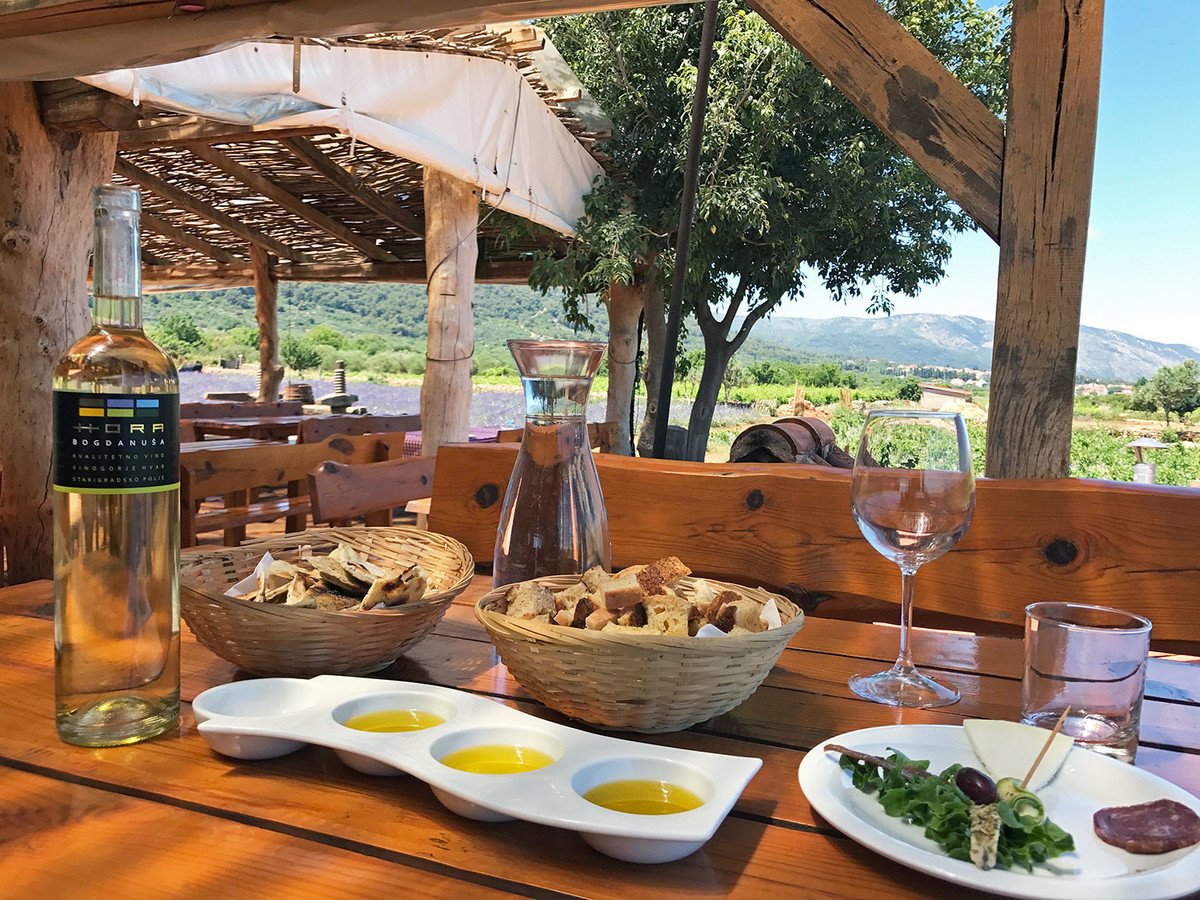 Day 3. Stari Grad - Pakleni Otoki (Hvar)
Say farewell to Stari Grad after the morning coffee. Don't forget to stodk the boat's lockers with fresh fruit and and greens, that you can find at the town market.
Later we drop the anchor in one of the well sheltered bays of Pakleni islands nearby sun-soaked Hvar town. It is much and easier to charter fast motor boat to transfer you to downtown then search for a free berth in the full city port.
You will soon get a chance to take a stroll along one of the most popular and enchanting rivieras in the world. This jet-set town is known for its buzzing nightlife and vivid streets, where various world celebrities often come across.
A spectacular view from the Splanjola fortress, guarding the city is really rewarding after a short ascend. Just let yourself be embraced by this Dalmatian pearl where old and new meet in a perfect harmony...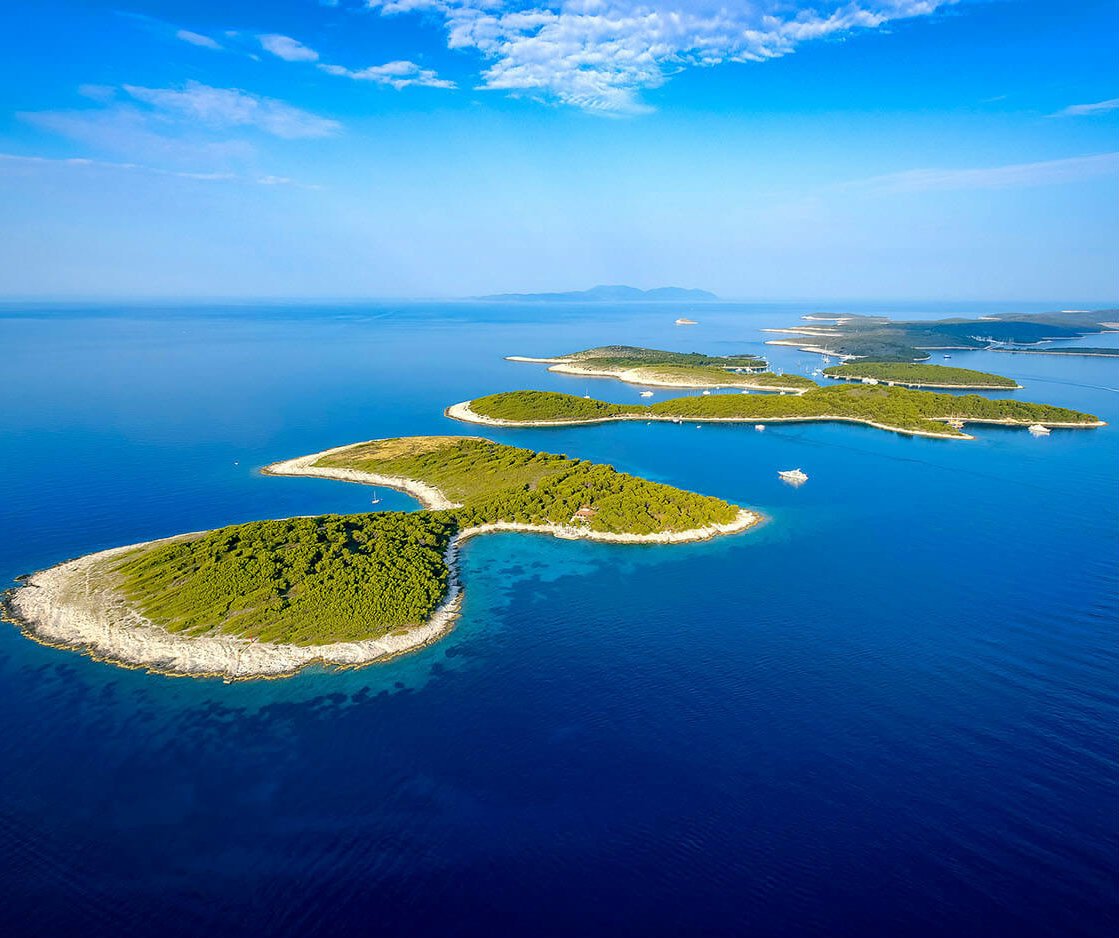 The famous Hvar town
If you are looking for dance clubs and bars, this is the place that will keep you partying until dawn. Or you can take a nice peaceful dinner in peaceful surroundings on pakleni Islands. I recommend colorful restaurant Bacchus or more rustic Dionis.
DON'T MISS OUT:
ascend up to the fortress Spanjola for spectacular view
try Gregada - local fish stew
taste a little bit of nightlife in Carpe Diem or Hul Hula bars
swim in one of the emerald coves of Pakleni Islands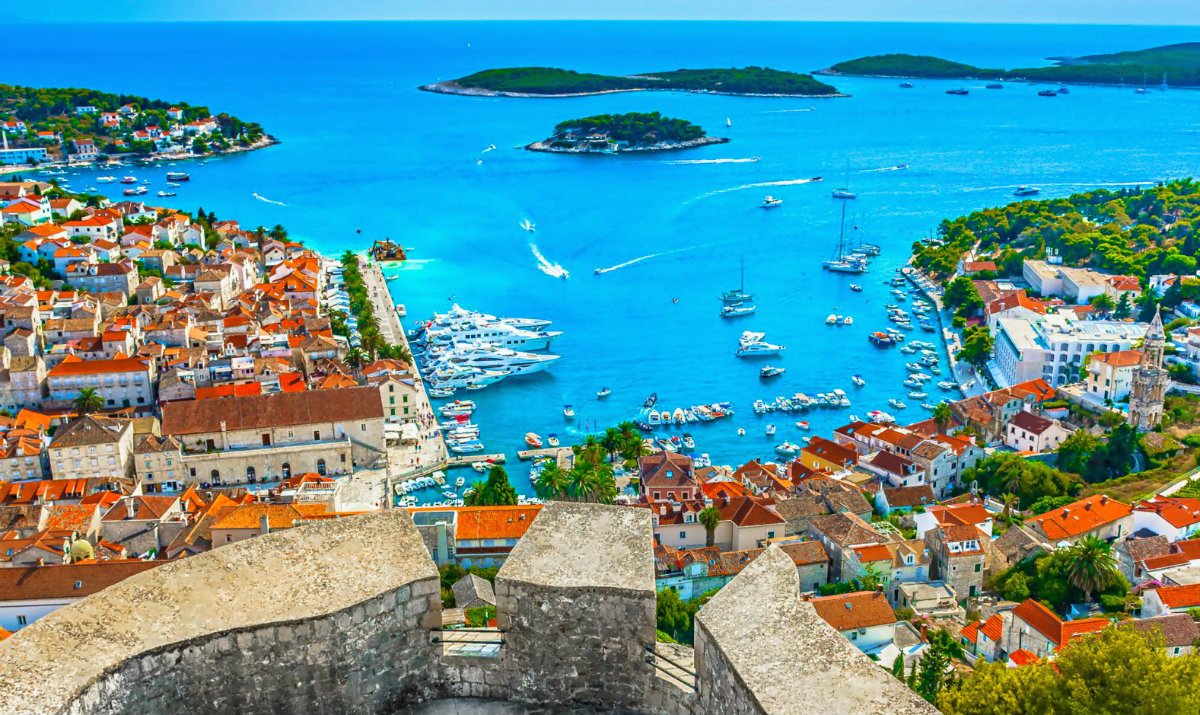 Day 4. Pakleni otoki - Korcula (Vela Luka)
Tueseday is the day when we set our sails towards Korčula island. On our way there be sure to make a stop in one of the lonely bays on the island Šćedro. Tonight, we berth in the north of Korčula, in a natural harbor of Vela Luka.
Surrounded by hills, covered with olive groves, and aromatic plants, Vela Luka is a the main island port and the only ferry connection to mainland. To experince the unique atmosphere of this typical Dalmatian village dock your sailboat in a completely new marina near town centre.
If you prefer to anchor in a secluded cove and visit this charming town and take a stroll next morning, there are well-shltered anchorages at a doorstep of Vela Luka. I recommend beautiful islands Ošjak or Proizd famous of beautiful pebbled beaches.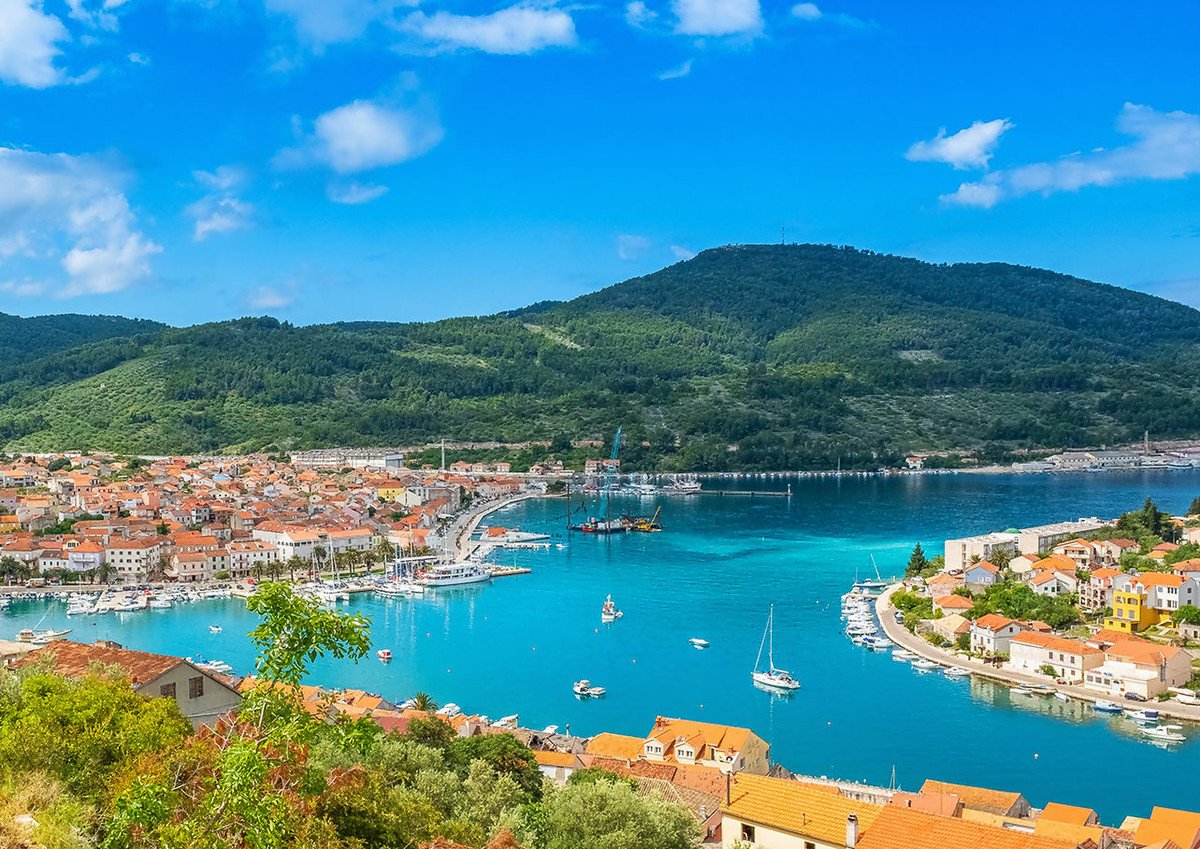 You can anchor in one of many protected bays
DON'T MISS OUT:
anchor near Proizd island and check the pebbled beaches
try the famous Wines of Korčula Grk and Pošip
discover the nightlife in Vela Luka town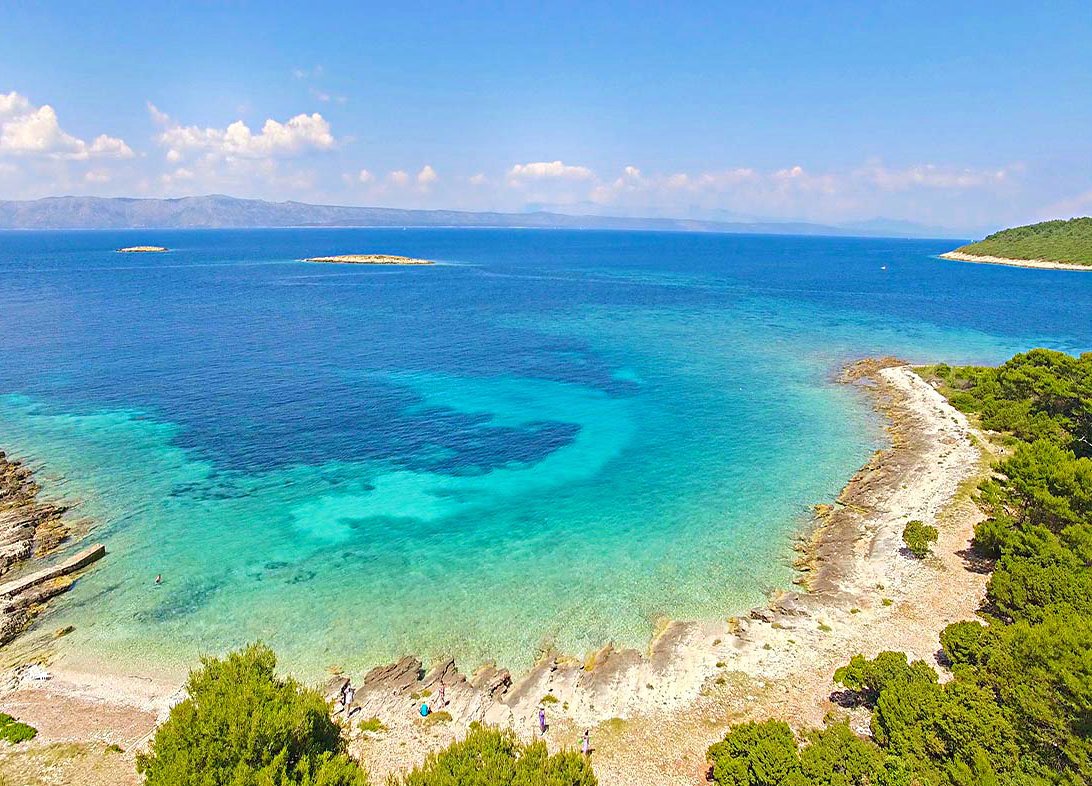 Day 5. Korcula - Vis (Komiža)
Today we sail up north to the historic island of Vis. Still covered in the veil of secrets, Vis is also called the island of legends. This remarkable island is a blend of wild intact landscapes, natural caves, military history and picturesque buildings and should be on your bucket list.
With only 2 towns of altogether 5000 inhabitants and no industry miles around, this is the perfect place to go swim or explore the underwater habitat. Island was all through its turbulent war history a natural Adriatic impregnable fortress claimed by Illyrians, Greeks, Venetians, British and French. Surrounded by the hills and olive groves, the iconic Komiža village on the western side of the island is a must-see.
On a fair sunny day, you climb up on mount "Hum"(585m) and admire the spectacular views. Charismatic fishermen, traditionally built wooden vessels in town port, narrow streets and exhibiting local artists, are completing the charm of this old picturesque village...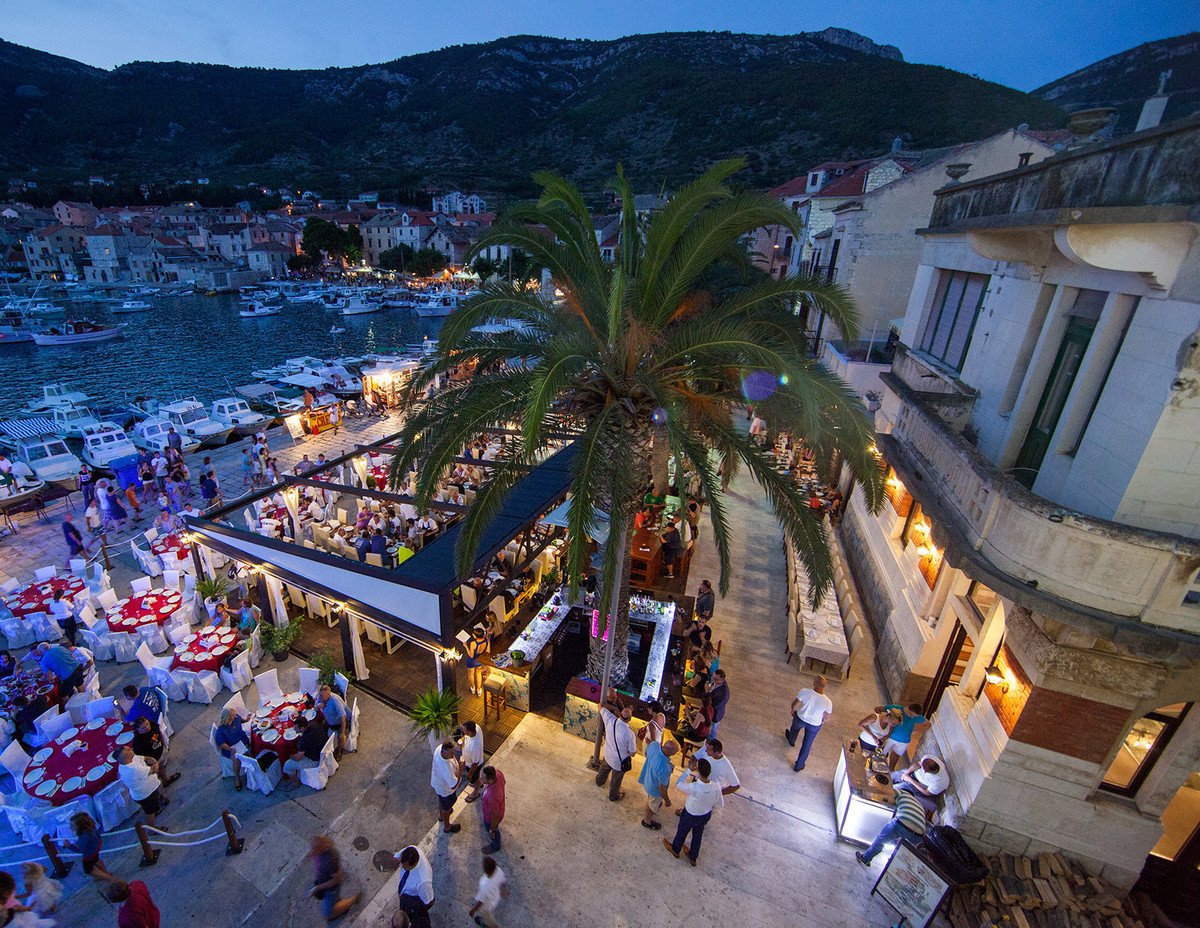 If you have time, explore the whole island in 1 day
...For its pristine setting, many movies are lately being filmed on the island. Renting a beetle or a scooter is a great way to discover the inland. Please bear in mind that in the summer months you need to be early to get a free berth in the port. If not, just take one of the buoys. Getting ashore and back with the dinghy is also an adventure.
DON'T MISS OUT:
to take your time and discover the whole island
visit the famous "Blue Cave"on Biševo island and Stiniva cove
try the local speciality "Komiža pie" and local Vugava wine
have a cup of coffee in the town bar next morning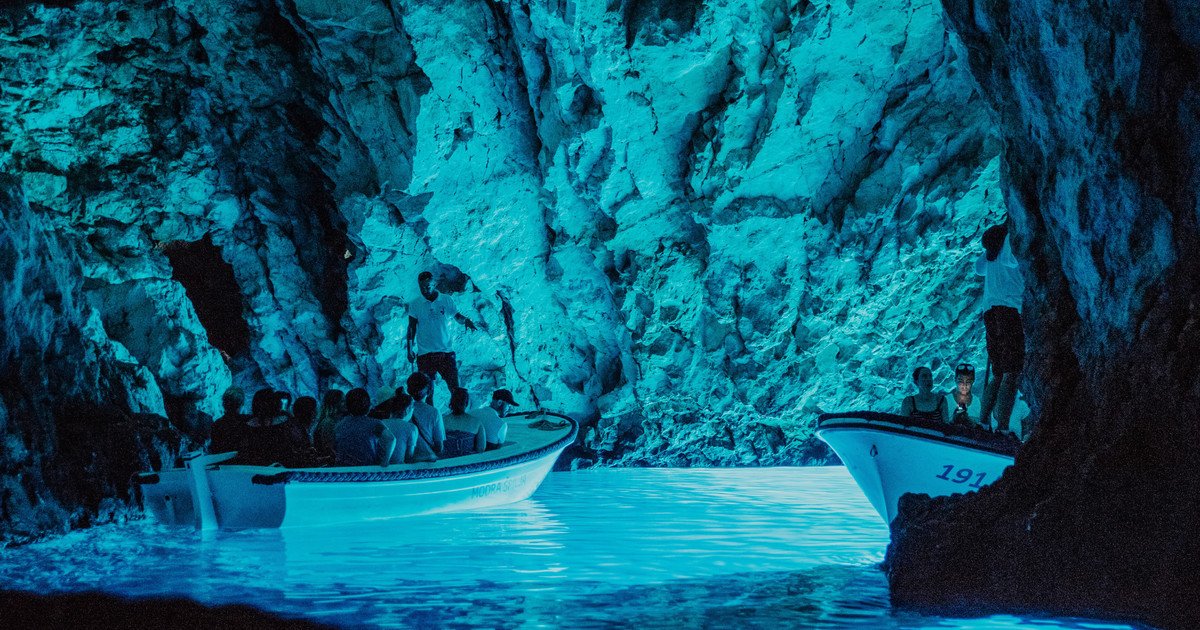 Day 6. Vis - Šolta (Maslinica)
Following morning, you can take the water taxi to visit the spectacular »Blue cave« on Biševo island. In this naturally formed cavity you can witness colorful game between the sun and the sea, which generates a unique blue light. The tour usually takes 1 hour and you won't regret it. Instead of an early lunch, you have to try the local speciality "Komižža cake". It is advisable to fill your stomach before we set sail.
Early afternoon sailing towards the "green island" Šolta, might give us a close encounter with a group of playful dolphins or a tuna flock.
Šolta in translation means "olive tree". The agriculture on this island was recognised by Austro-Hungarian empress nearly 200 years ago, that is why local farmers proudly present home-grown olive oil products to the visitors. Overnight in a small town Maslinica...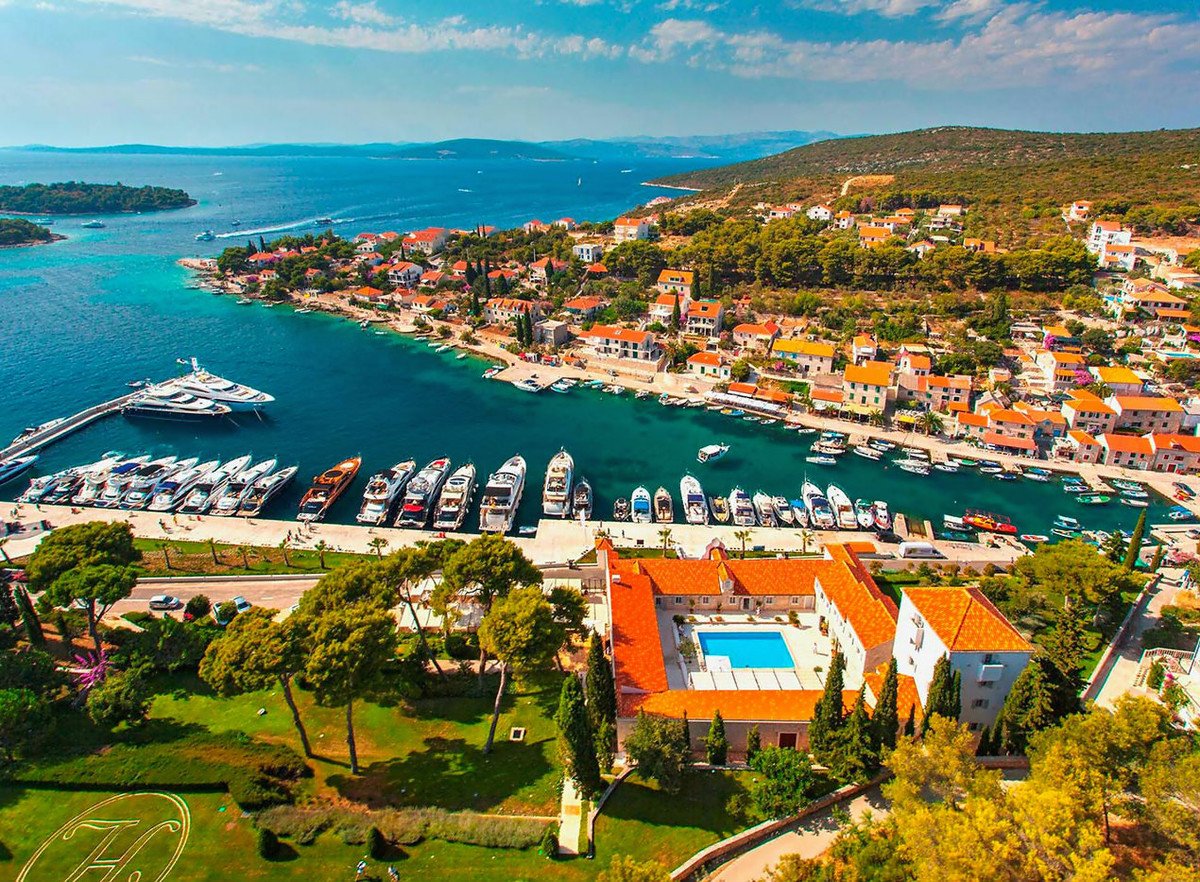 If you feel like spending a night at anchor
There is a completely new marina with impressive 18th. century castle renovated into a luxury resort. With the exception of nautical guests, here, you will mostly friendly locals infront the local pubs and a few family-run restaurants right by the sea.
If you feel like spending a night at anchor, some of the nearby islands provide a good shelter. Especially island Drvenik with beautiful emerald coves Rina and Krknjaši.
DON'T MISS OUT:
to taste olive oil in the nearby gift shop
visit the blue lagoon Rina on nearby island Drvenik Mali
enjoy in a glass of wine in a romantic mansion in Maslinica
Day 7. Šolta - Split
On our last day we'll have plenty of time to swim, snorkel and chill in secluded coves of Šolta or Drvenik island before docking in Split yacht charter base.
If you didn't get the chance to visit Split old town, you can take a walk along the evening promenade, buy some souvenirs, or just have a nice romantic dinner in one of the many restaurants downtown.
Fell free to discover the old town to check out the beautiful Diocletian palace, a spectacular monument from Roman empire or to have a quick snack at the city square.it is only 10 minute walk from the marina...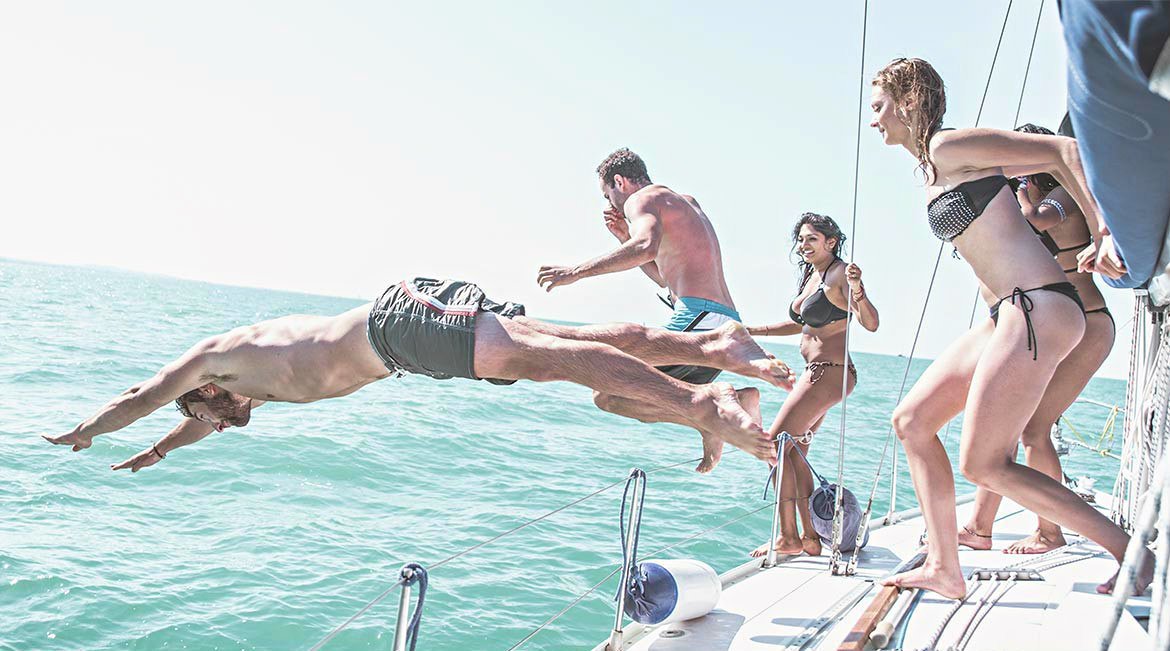 Visit downtown is Split for your last night aboard