10 Best places to sail in Croatia
Top 10 sailing destinations in Croatia
| | |
| --- | --- |
| | |
| | |
| | |
| Veli Rat, Dugi otok island | |
| | |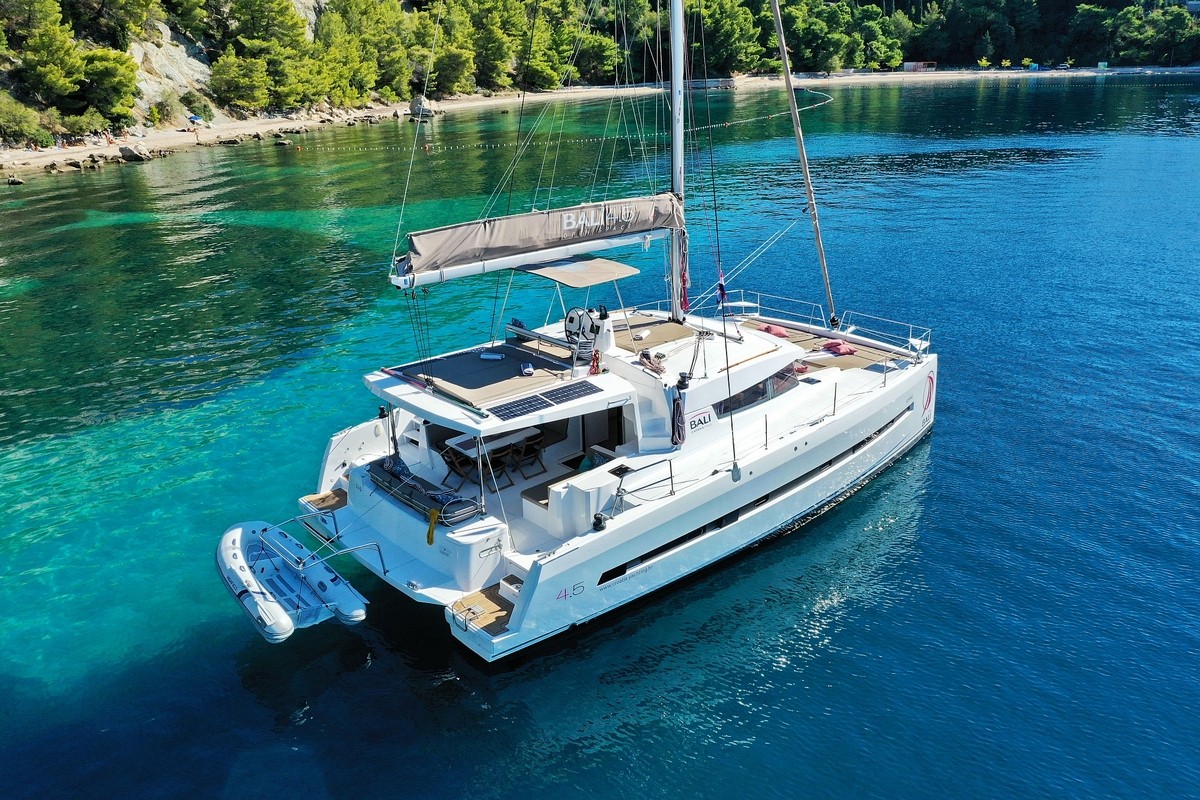 1. Kornati National Park
Chartering a sailboat in Zadar town and exploring the impressive Kornati national park is a must do. It's ideal destination for couples, a honeymoon trip or family sailing holidays in Croatia.
Kornati island chain can only be reached by boat, that is why taking a private sailing trip in Croatia is your best option to explore this natural habitat. With near 100 islands, islets and rocks, Kornati archipelago is the densest group of islands in the Mediterranean.
As soon as you enter the park, you get the feeling like being on another planet. You will find no traffic or permament residents on these islands.
The typical yellow-colored cone tops await to be conquered by hikers. A million-dollar view over the chains of islands, reefs and infinite blue seas, is truly spectacular. Underwater scenes of flora and fauna are a paradise for divers, and snorkelers.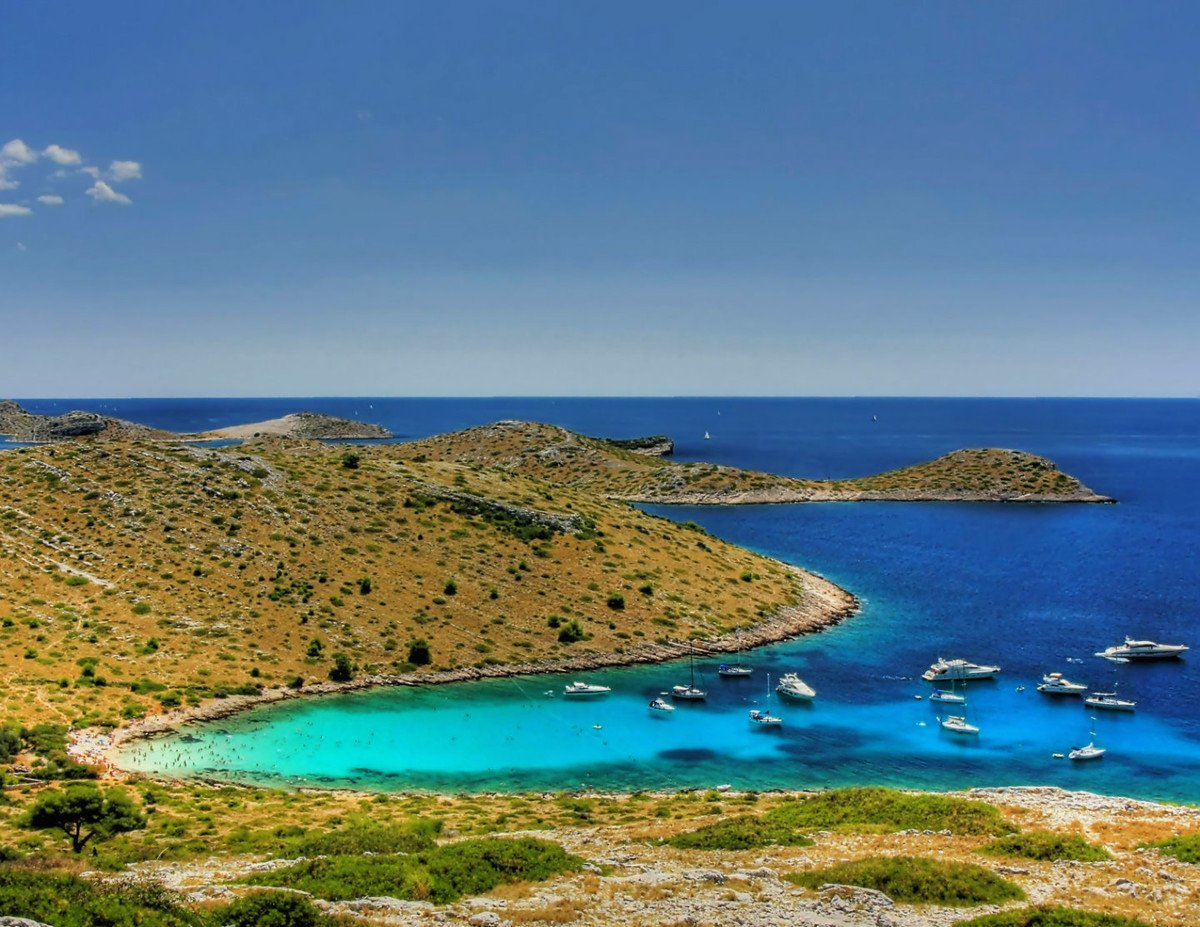 Tranquillity, pristine nature and top gastronomy
There is only one marina on the western part - ACI Piškera, where you can buy some basic supplies. I highly recommend to have a nice dinner in family-owned restaurant Piccolo (+385-22-643-688) on island Smokvica before entering the park.
Tip - You can buy much favorable ticket for the park at the restaurant.
DON'T MISS OUT:
snorkel or dive in the intact underwater habitat
sky-high cliffs on the western side
azure blue Lojena cove on island Levernaka
culinary delights of traditional Dalmatian

cuisine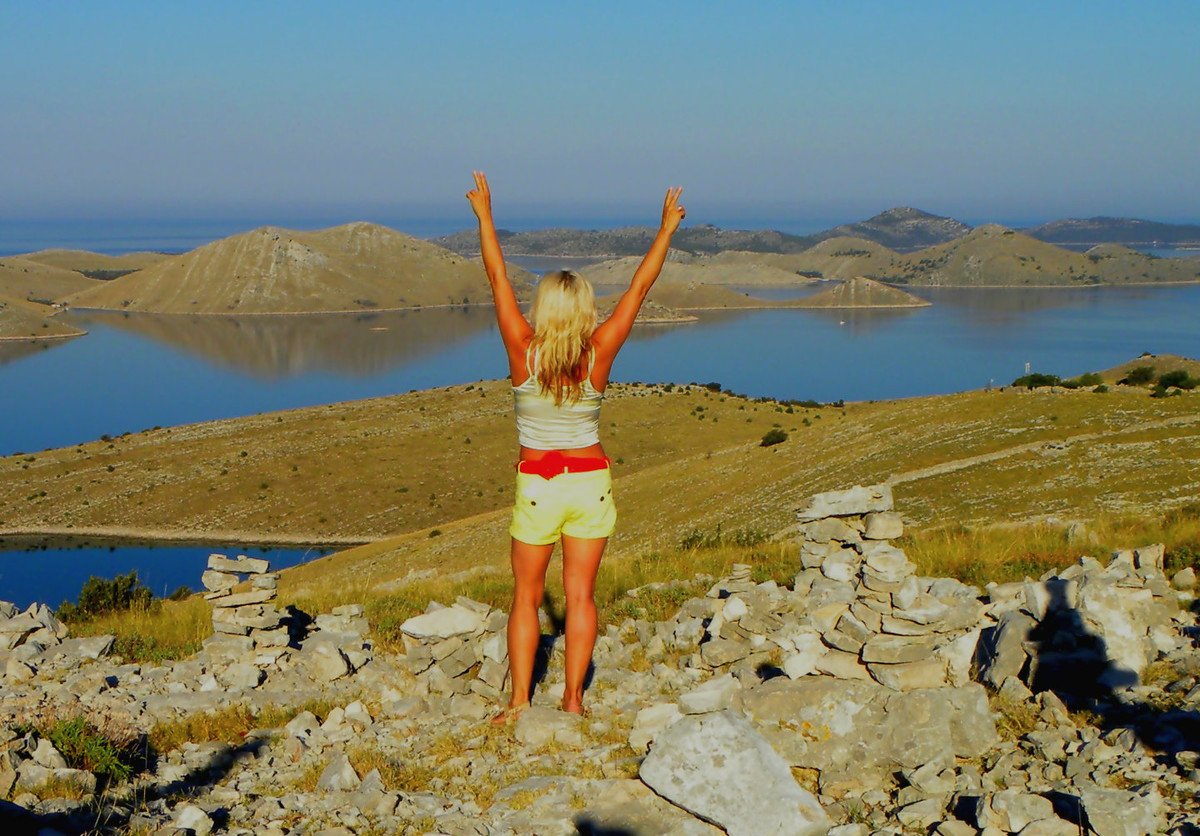 2. Island Kaprije
Personally, one of my best sailing destinations in Croatia is the village Kaprije on the same-named island. This secluded Dalmatian gem is part of Šibenik-Knin municipal, not so far form the province capital, the UNESCO world heritage site Šibenik. A small community of 150 residents is dependable on a small ferry, that delivers basic supplies twice a day.
Very popular with sailors, Kaprije is the ultimate getaway from crowds and tourist dense cities and represents the very best of Dalmatian islands. Most of sailors choose this island just to feel the true heartbeat of Dalmatia. Friendly locals with their easy-going lifestyle contribute a large part to this village's charm. Such hidden Adriatic gems are actually a pure memory of what Mediterranean once was. You can anchor in front of the town port, or you can moor on a small pier...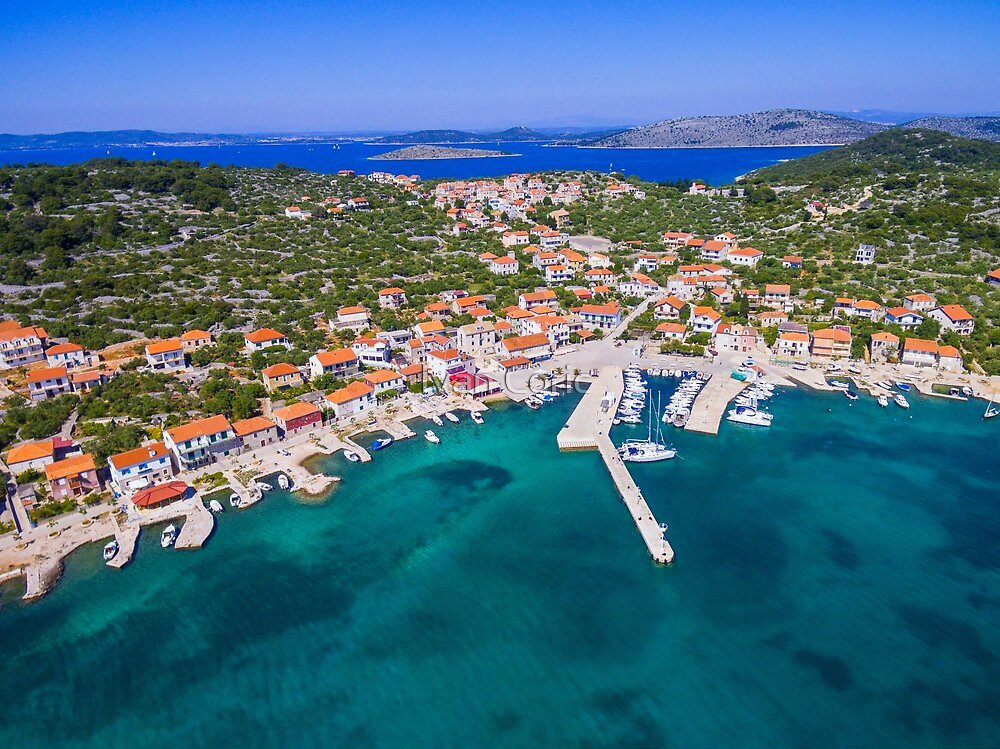 Authentic atmosphere and local cuisine
I highly recommend a dinner in a typical restaurant "Kod Kate" app. 50 meters uphill from the main square. The grilled grouper or squid is fantastic.
DON'T MISS OUT:
enjoy in a peaceful harmony between the blue and the green
discover the typical fishing village with Mediterranean touch
beautiful coves on the southern side of the island
charming family-run restaurant "Kod Kate" or Restaurant G8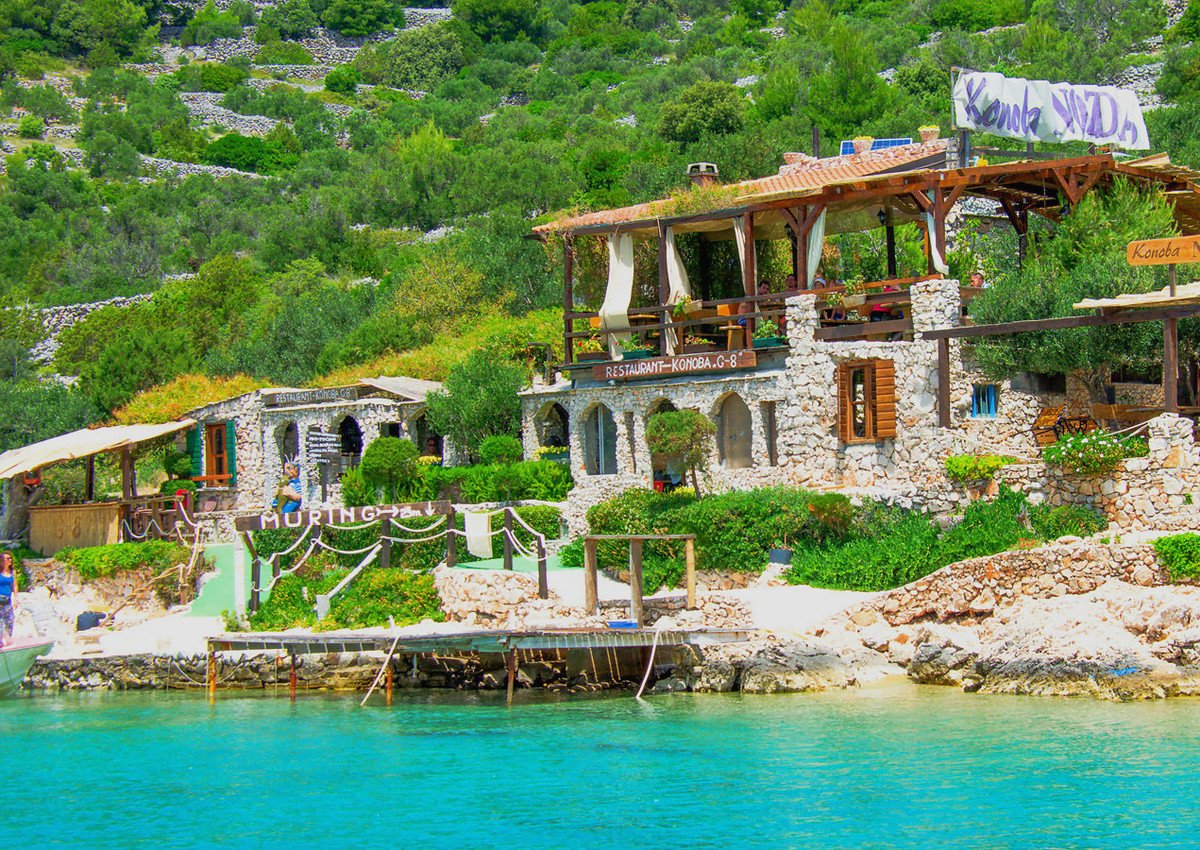 3. Primošten
Discover Primošten, the pearl of Šibenik-Zadar municipal. Best chance to visit this vibrant town is to hire catamaran in UNESCO site Šibenik or by a chartering a sailboat in Zadar.
Primošten village is among most iconic tourist destinations of Dalmatia. Despite being extremey popular holiday spot, this charming town still protects its small-town innocence.
The old town centre of was actually merged with the mainland a long time ago by the locals because of farming and cultivating. Nowadays, this vivid Adriatic pearl is crisscrossed with cobbled streets and typical Venetian architecture.
Original stone-built houses are now mainly upgraded into excellent restaurants, and stylish cocktail bars. Don't forget to taste locally produced "Babic Wine" served with salted sardines and goat cheese.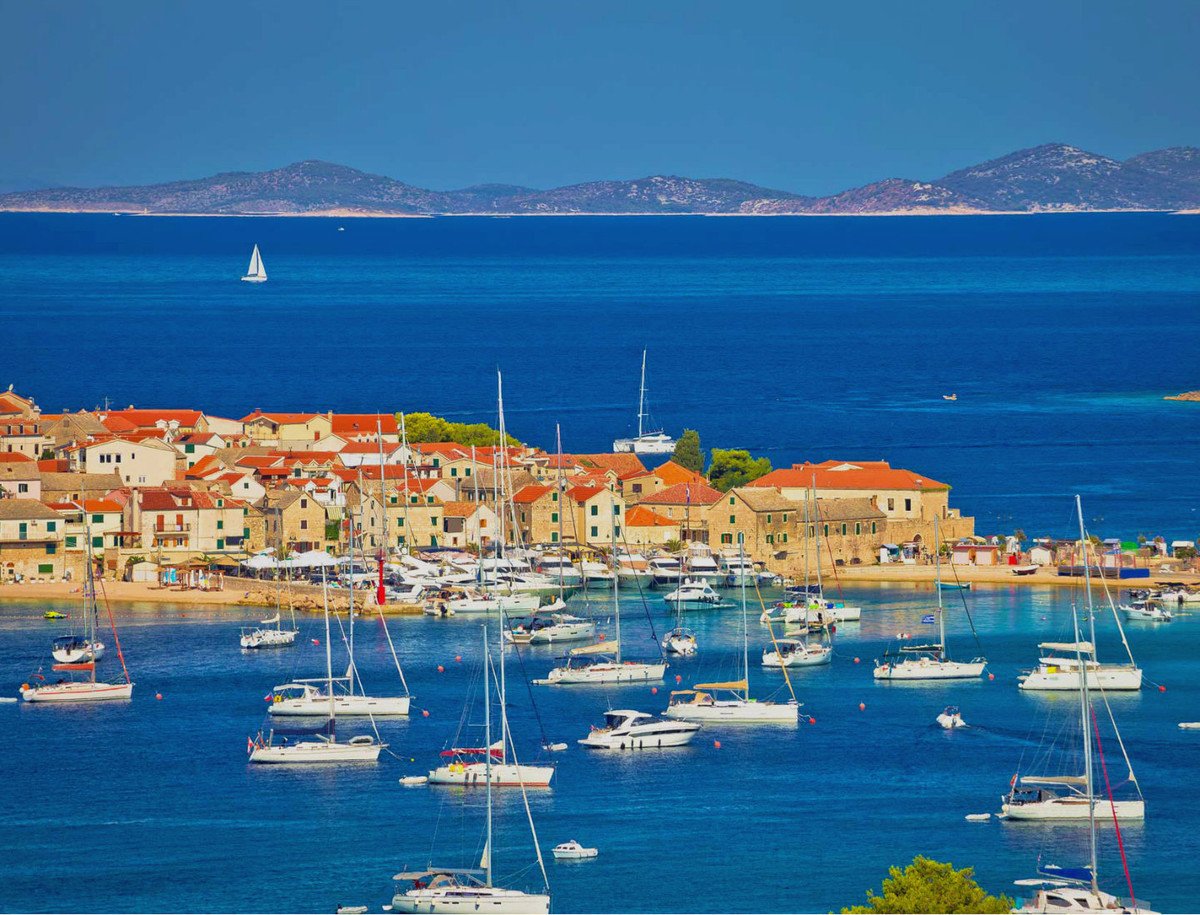 Vibrant streets, charming bars and local vines
...Later, you will have the chance to buy some souvenirs on the bazaar and explore the nightlife options, since there are some famous night clubs around with live music.
A tip - Explore Primošten beaches on a stand-up paddleboard early in the morning.
DON'T MISS OUT:
spectacular view from the church on the top of the island
picturesque maze of stony streets in the old town
vibrant nightlife, cocktail bars and live street music
local vine Babič is a must-try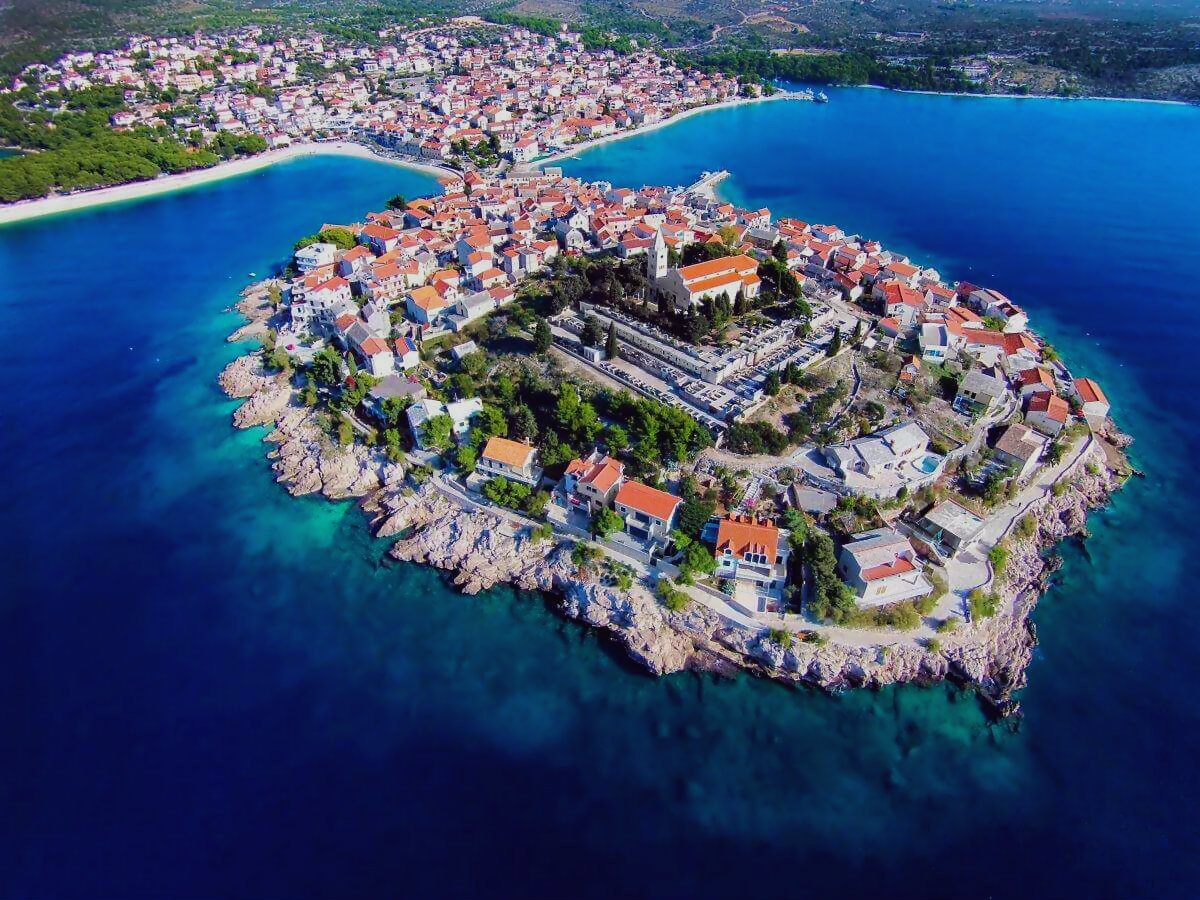 4. Veli Rat - Dugi Otok Island
Northern part of Dugi otok (Long Island) is probably one of the less populated and tourist areas in Dalmatia. Mostly due to its isolation from the municipal capital Zadar is among most popular Croatian nautical destinations. It's a perfect getaway to recharge your batteries and retreat from busy streets. Dugi Otok is actually one of the most remote island chains in Croatia when you rent a sailboat in Zadar.
Here you'll find beautiful sandy beaches, safe anchorages and emerald coves just a few miles from eacother. If you wish to feel the pulse of this island, dock in a modern marina Veli Rat or find your berth in a vibrant fishing village Bozava. You won't regret if you decide to anchor on on of the coves at the island Ist and enjoy your evening observing sky full of impressive shooting stars.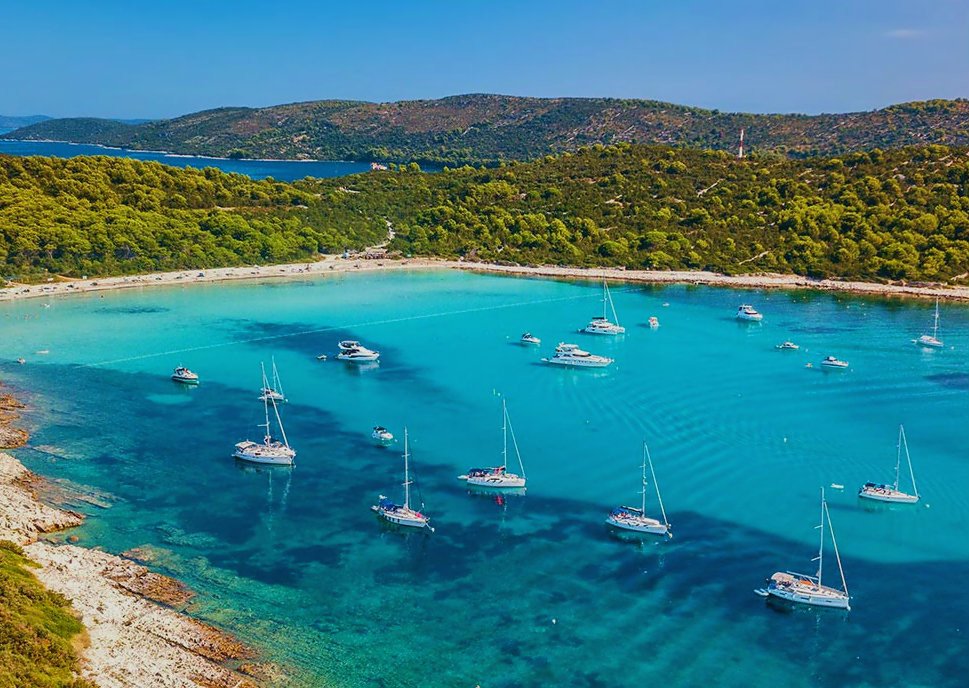 Isolated coves and beaches
...Take a stroll through the pine aromatic forest and visit the highest lighthouse on Adriatic (Veli Rat). This stunning scenery will make you want to stay for one more day.
DON'T MISS OUT:
swim and snorkel in a azure blue waters of Saharun beach
climb up to the Veli Rat lighthouse for spectacular views
check out the shipwreck in the north of the island
moor on near island "Ist" and ascend to the "White lady chapel"
try the local specialty - grilled scorpio fish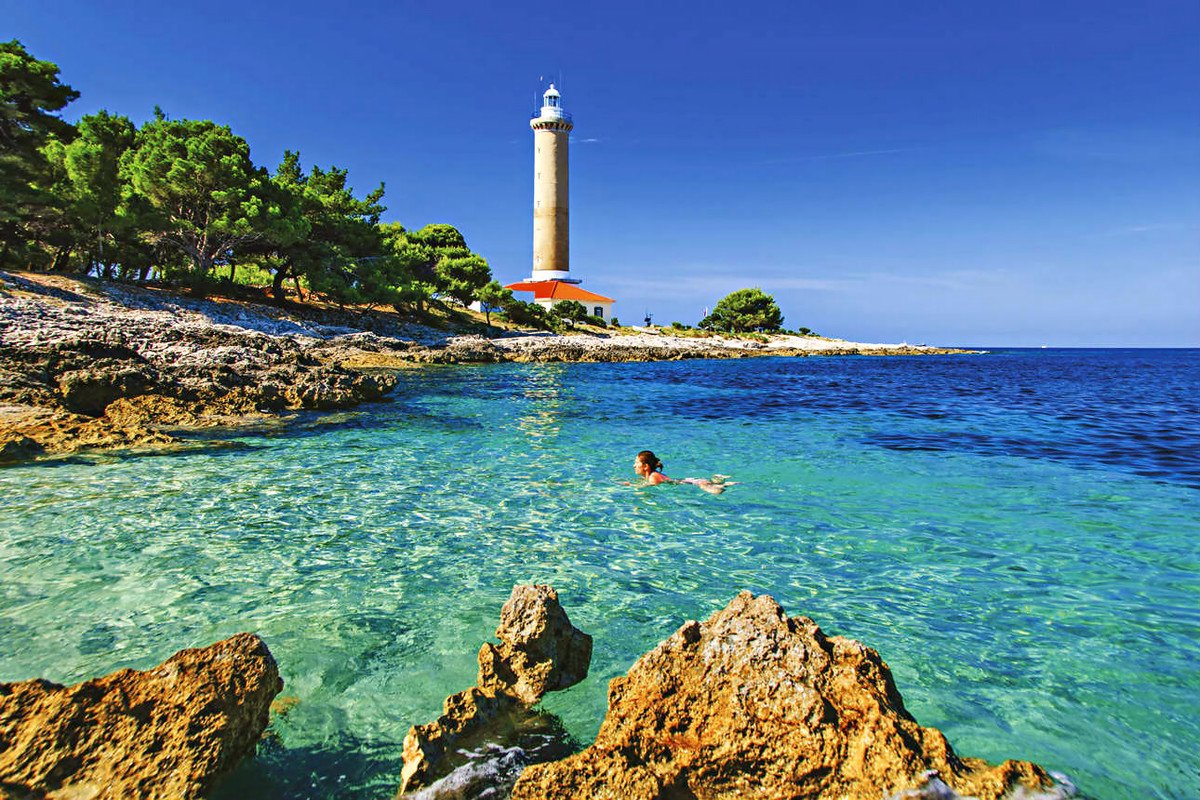 5. Silba -  Island Silba
Silba in an island that tops my personal "best of" list. To experience this secluded gem, you can hire one of the Pula yacht charters or a bareboat yacht in Zadar. Although it is not on the beaten track for most of the itineraries, this small island with 300 permanent residents deserves your visit. "The Gates of Dalmatia" it is called, for it lays on the border between northern and central Adriatic.
A few centuries ago, Silba used to be the island of captains, sailors and farmers. Nowadays, this small community mainly survives on fishing and tourism. However, it's still considered an unknown destination for many boaters, is still largely dependable on yachting tourism.
The island is surrounded with secluded sandy beaches, where you can stop for the afternoon swim. I suggest to anchor in pristine coves Prapranica or St. Ante and take a short stroll through the pine forest to the town. All motorized traffic has been banned from the island, except for few agricultural vehicles, so the whole island is a pedestrian zone...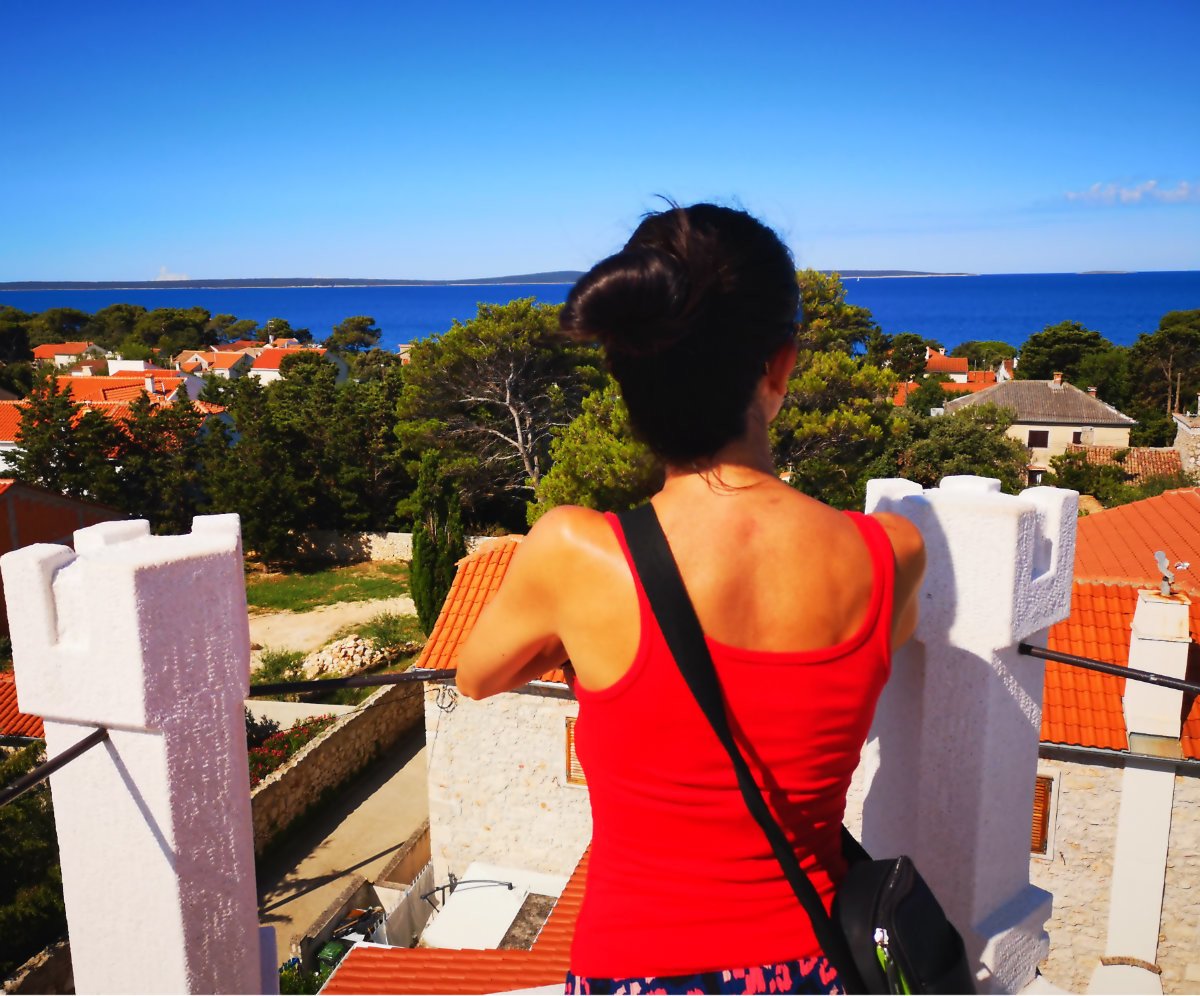 Island of love, sandy beaches and tranquillity
...Drop your anchor in many coves around the island or dock in the town port on eastern part of the island.
Make sure you climb up Silba's most popular landmark the Tower of love. An impressive octagonal lookout tower with a spiral staircase is a sad reminder on his unfulfilled love. It was built as a memorial by the island captain in the 19th. century As a wow to his fiance before he left at sea. So a perfect island for a unique honeymoon romantic trip.
DON'T MISS OUT:
take a swim in the St. Ante bay on the western part of Silba
ascend on the tower of love for impressive view
drink a cup of coffee with home-made croissant at the local pastry shop by the town church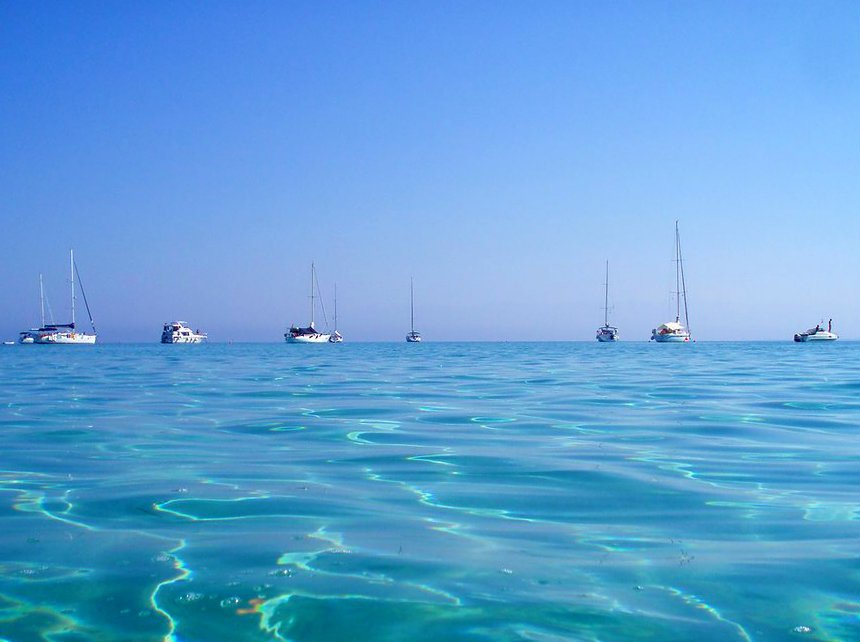 6. Bol - Island Brac
Island Brač, the largest and the highest Dalmatian island is also world-known of a unique white marble. However, the sailors usually tend to visit this island for its stronger winds, sandy beaches and the famous "Golden horn" is the main island attarction. Half-a-mile-long golden pebble beach changes shape with the currents and prevailing winds. Stronger channel (between Hvar and Brač) winds also attract many kitesurfers and windsurfers.
Bol, with population close to 1.500, is a must-visit for the sailors. After your skipper moors your boat, feel free to take a walk along promenade and choose form multitude of bars and restaurants. Despite the tourist hustle and bustle at the shore promenade, you can still find quiet in the evenings to enjoy and relax in a gentle swing of your sailing yacht.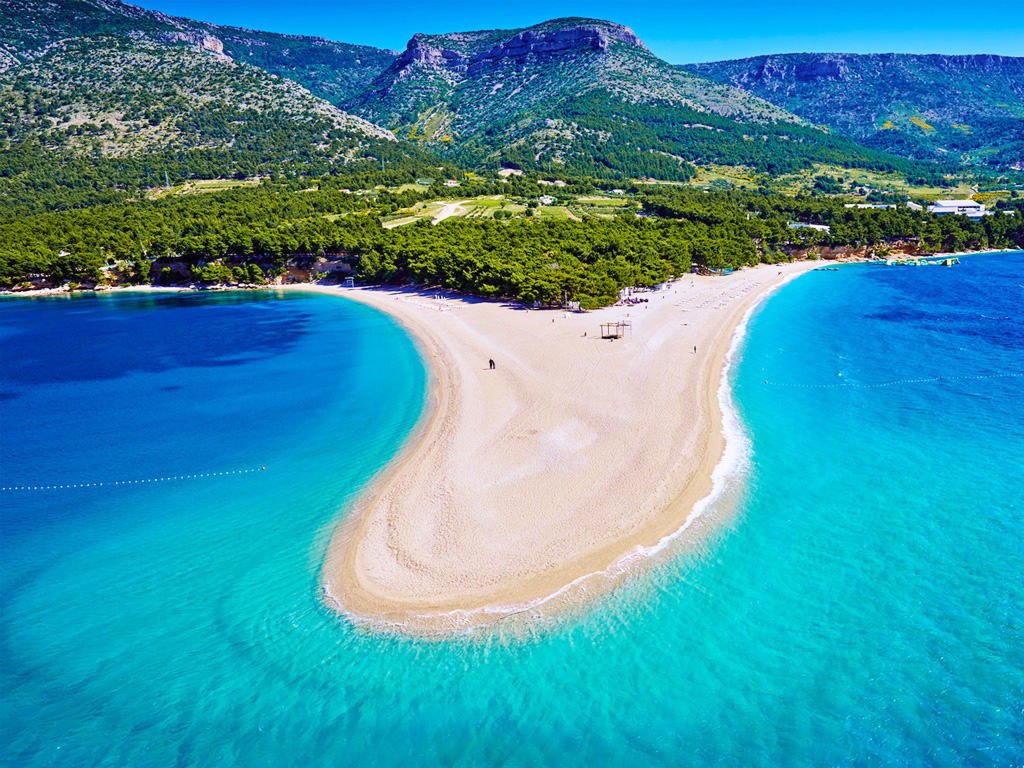 Perfect sailing conditions and spectacular scenes
If you're feeling active, climb to Vidova Gora in the morning. It is the highest peak of all Croatian islands. The views from the top at over 780m (2.500ft) are priceless.
Or take a morning stroll to the bazaar and buy some aromatic olive oil, sheep cheese and honey from local producers.
DON'T MISS OUT:
• swim around then "Golden horn" beach
• have a nice cocktail at along the promenade
• try local olive oil and wine from Senjkovič wine cellar
• a local culinary speciality - lamb under the bell
• ascend on Vidova Gora mountain in the morning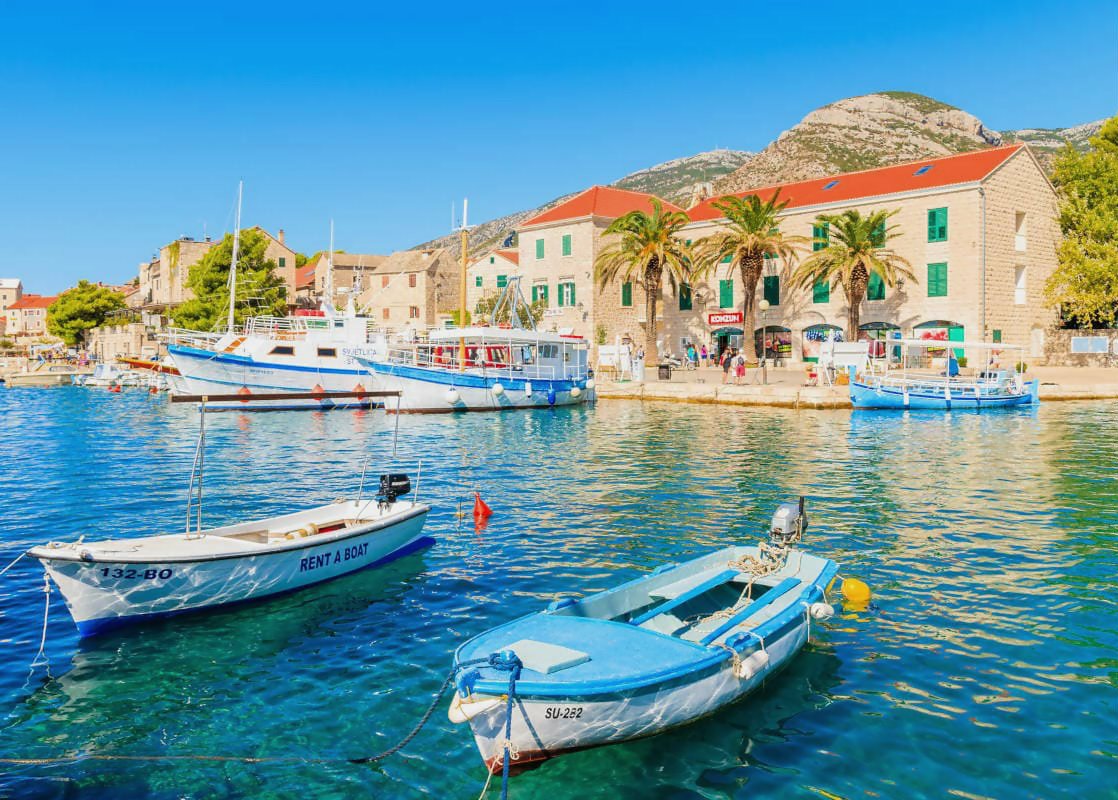 7. Korcula Town - Island Korcula
Often called Dubrovnik in small, Korčula town is world-famous of being the birthplace, of Venetian merchant Marco Polo. According to legend, Korčula was found by Trojan hero Anthenor in the 12th century bc. On this island you can find more legends, tales and monuments than anywhere else. Monumental architecture, impressive fortresses and epic defence walls contribute to a unique character of this Adriatic pearl. Explore this historic town by taking a Dubrovnik sailing itinerary or rent sailboat in Split.
Here you can find: colorful streets, monumental history and museums, amazing cultural heritage, authentic cuisine, night bars and clubs, attractive stone houses and relaxed small-town atmosphere embedded in dense green forest and fig trees.
The island's favorable sunny position is peerfect for eco-oriented agriculture and traditional production.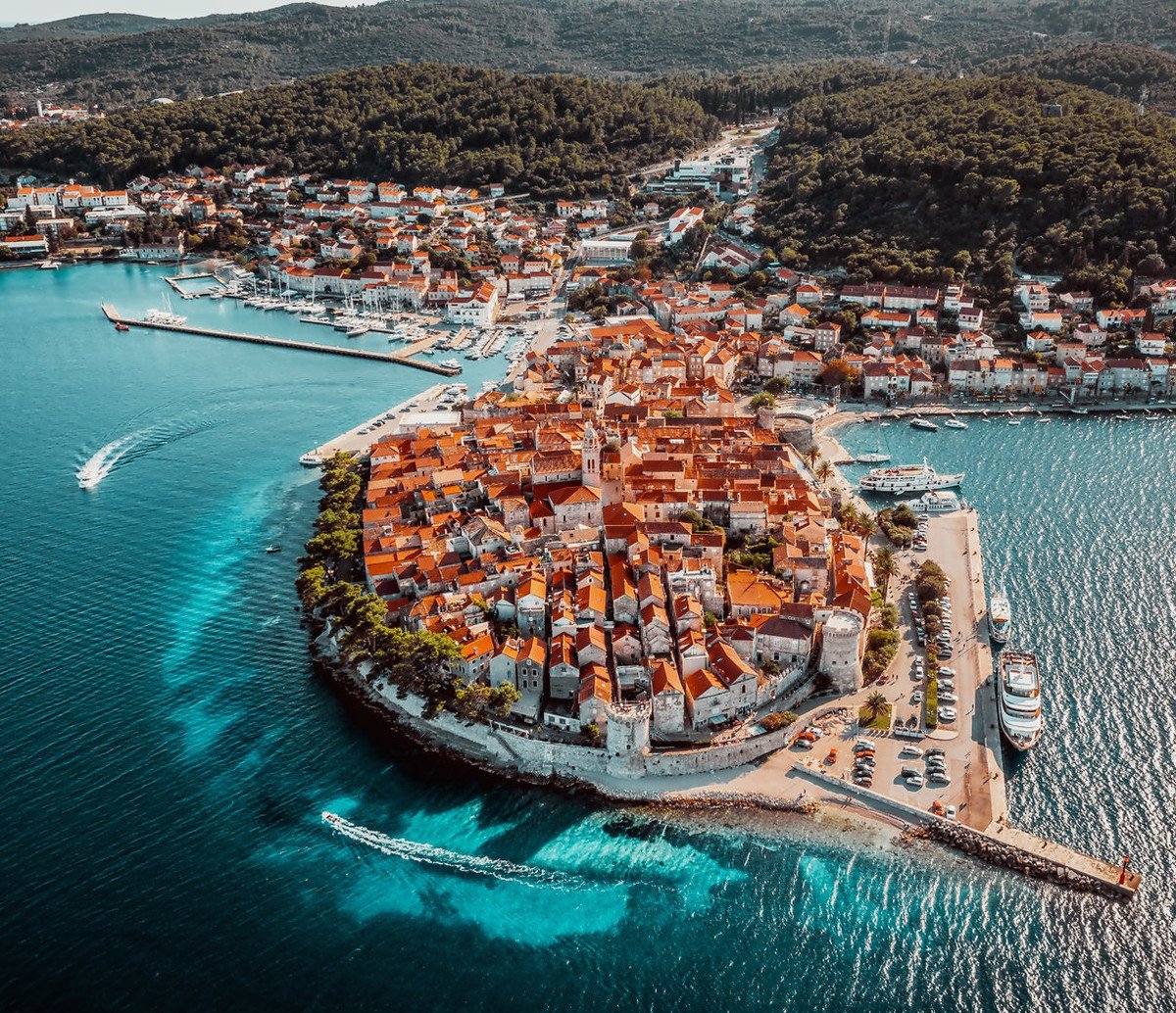 Typical Mediterranean seaside town
...Numerous farms and wineries in the area are tempting enough to unwind and taste amazing local wine and home-grown food tasting.
DON'T MISS OUT:
climb the Marco Polo Tower at the Marco Polo Museum
explore the maze of the old town's narrow streets
check out the sandy beaches and vines around Lumbarda village
try the top-quality local wine Grk in a local winery
buy some fresh fish and fruit on the town market in the morning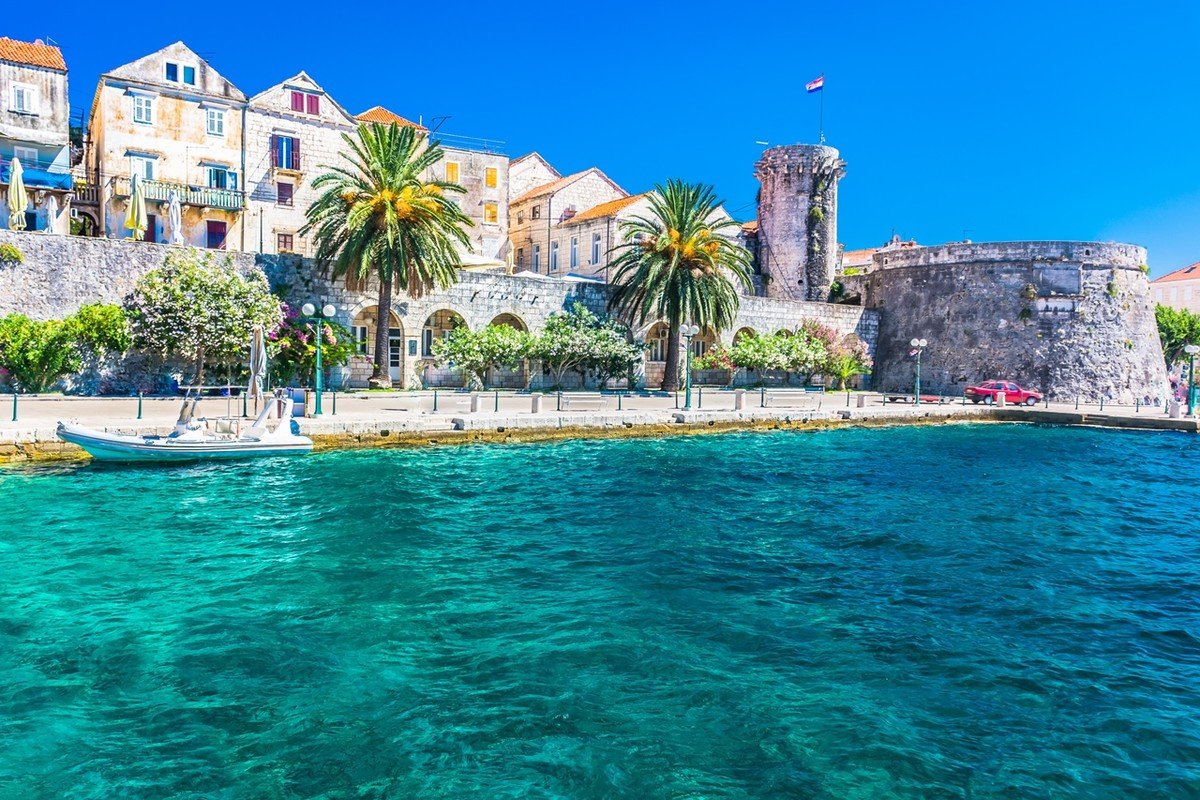 8. Hvar - Island Hvar
Discovering the notorious island Hvar on a Sailing trip from Split is a unique experience for every sailor. Even if you are searching for quiet and privacy on your cruising vacation, you should definitively make a stop in this sun-soaked Croatian "Monte Carlo".
It is hard to find a free spot to moor in Hvar town port, so I recommend to find a safe berth on Pakleni Island. It is much easier and cheaper to take a 5-minute water taxi, then to search for free moorings among the impressive luxury yachts blocking the harbour.
You will soon get a chance to take a stroll along one of the most popular and enchanting Riviera in the world. This jet-set town is known for its buzzing nightlife and vivid streets where various world-known celebrities often come across. A spectacular view from the Splanjola fortress guarding the city is rewarding after a short ascend over the town. Best way to explore Hvar is renting sailboat in Trogir old town.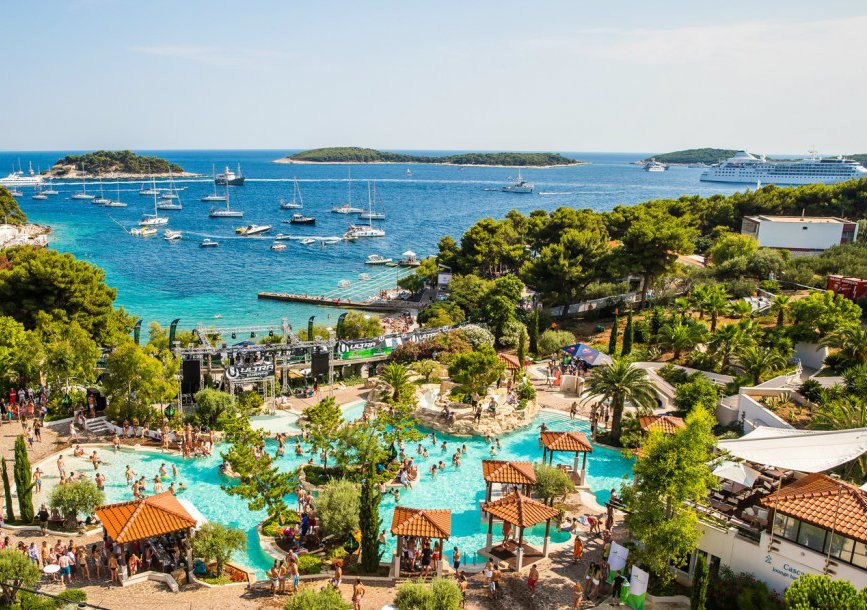 Hvar is simply a must-visit
...Just let yourself be embraced by this Dalmatian pearl where old and new meet in perfect harmony. If you are looking for dance clubs and bars, this is the place that will keep you partying until dawn. This is the place to see and to be seen.
DON'T MISS OUT:
ascend for an incredible view from the town fortress
blend into nightlife and visit Carpe Diem or Hula Hula beach bars
have a nice dinner and try "Gregada" traditional fish stew
taste the unique wines from Hvar in a local Winery
feel the heartbeat of the buzzing streets any time of the day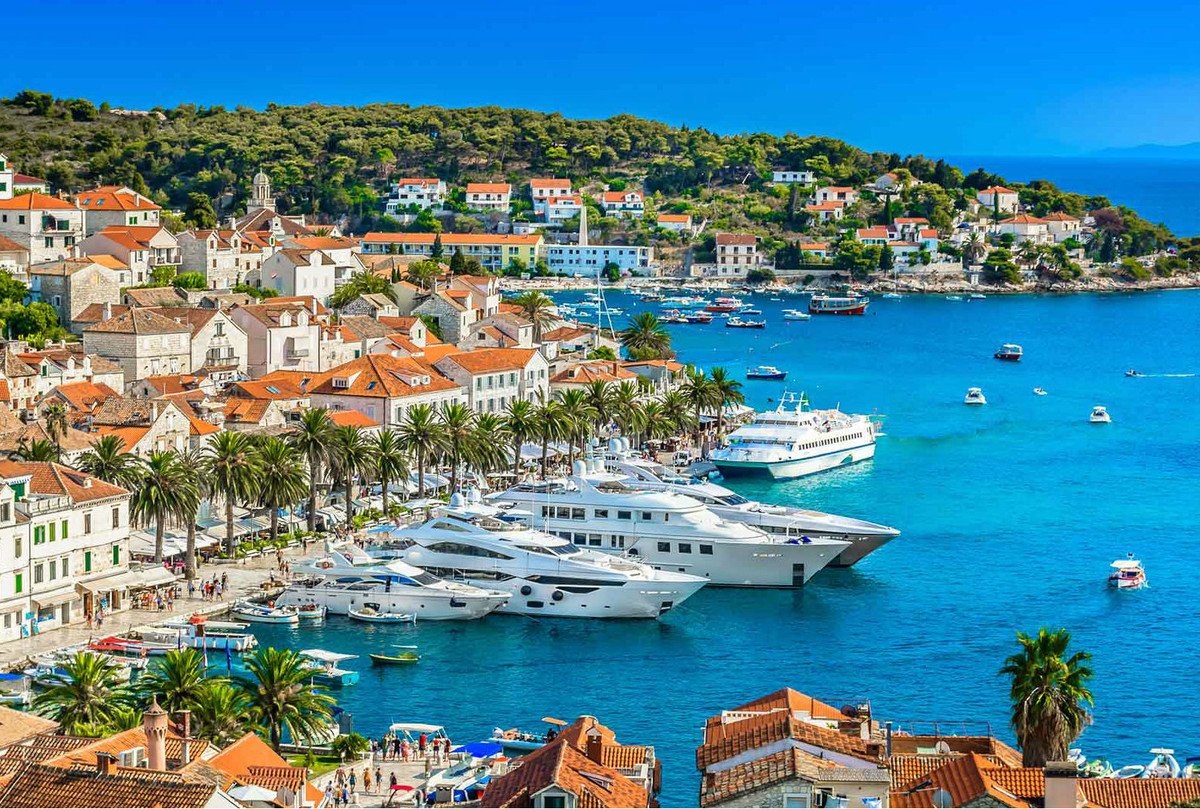 9. Brac Pucisca - Island Brac
If you want to escape from the crowds into the iconic ambience of an island village, visit this secret gem. On the NE part of island Brač, the largest and the highest Dalmatian island, lies the hidden village Pučišča. Iconic old town at the end of a long bay is well-known of a unique white marble. The gleaming white stone-covered buildings make this village one of a kind, creating a laid-back atmosphere of a typical Dalmatian village.
I recommend to dock at the small town harbor at the south side of the basin. There are around 25 berths, equipped with moorings, water and power. Best way to visit this village is to rent catamaran in Split or Trogir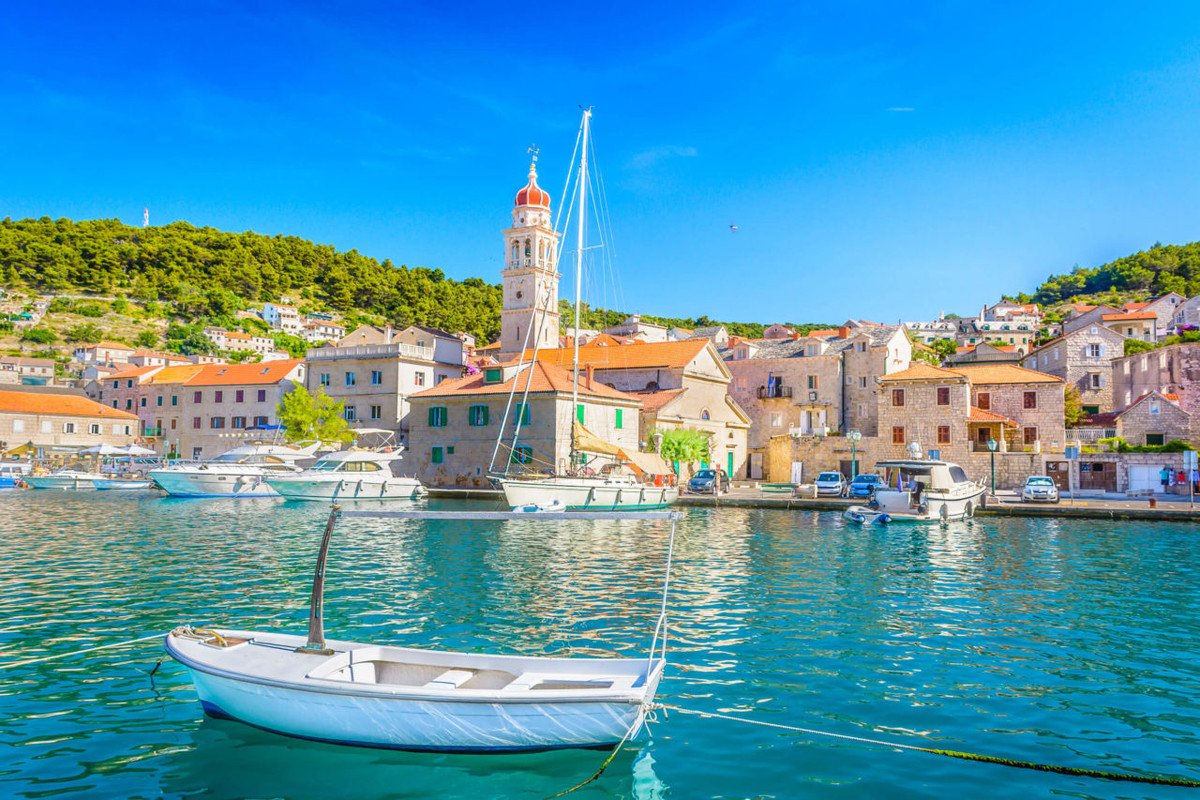 Built on the stone, at the stone and from stone
...A stone quarry, stonemason's school and workshop are definitely worth visiting. Be sure to buy a souvenir carved out of the white marble. If you have some extra time, rent a bike to visit old village Gornji Humac and Pražnica about 7 km south of Pučišča, at an altitude 391m (1.200 ft)
DON'T MISS OUT:
try the local olive-oil, vine, and figs
blend in with the people and just let loose
rent a bike and visit eco village Gornji Humac
taste the eco-etno traditional food of lamb and fish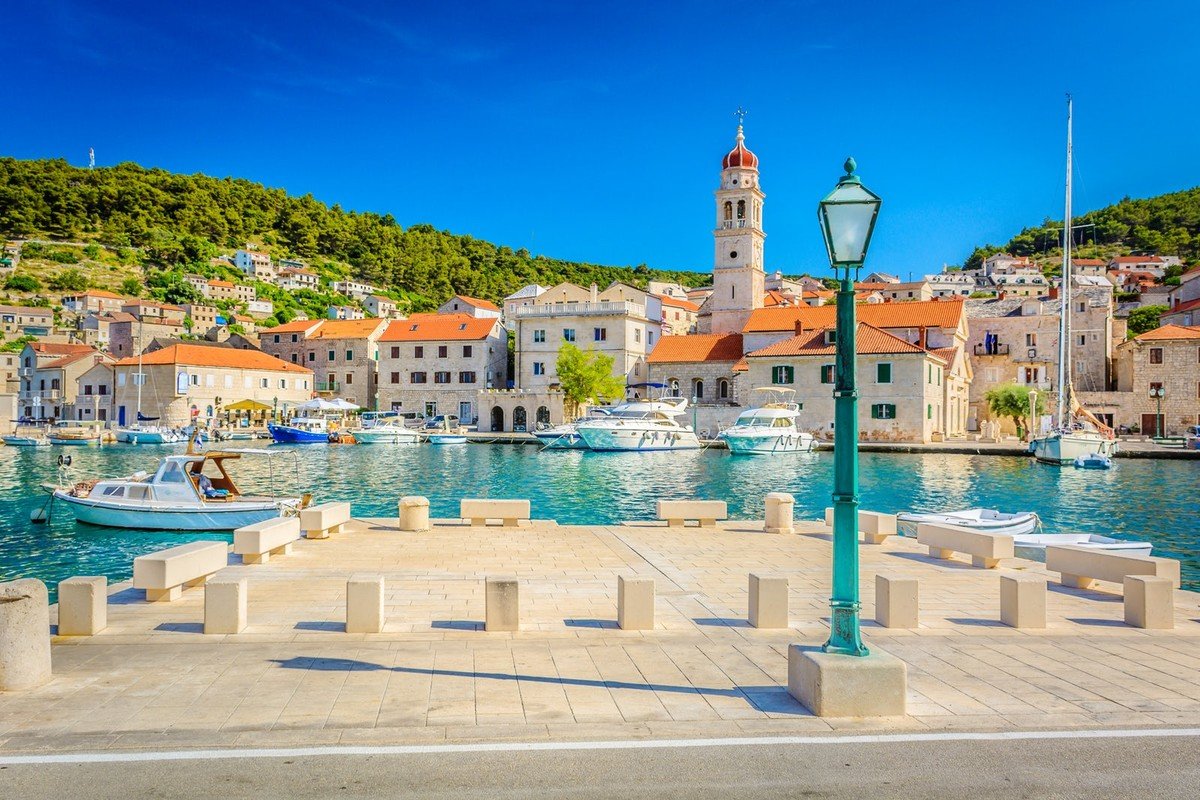 10. Komiža - Island Vis
The mysterious island Vis, spread with natural caves, fishing tradition, cultural heritage, impressive military history and unique Mediterranean philosophy is the island to visit on your sailing trip from Split.
With only 2 towns of altogether 5000 inhabitants and no industry miles around, this is the perfect place to go swim or explore the underwater habitat. The island was all through its war history a natural impregnable fortress claimed by Ilyrians, Greeks, Venetians, British and French. Due to it's position, this impressive island represents the perfect strategic point in Mediterranean. Vis literally rises from the middle of the Adriatic.
On a fair sunny day, you can see all the way to Italy from the hilltop Hum (585m) above Komiža town. Characteristic local fishermen, typical wooden vessels in town port, narrow streets and exhibiting local artists, are completing the charm of this old fishing village...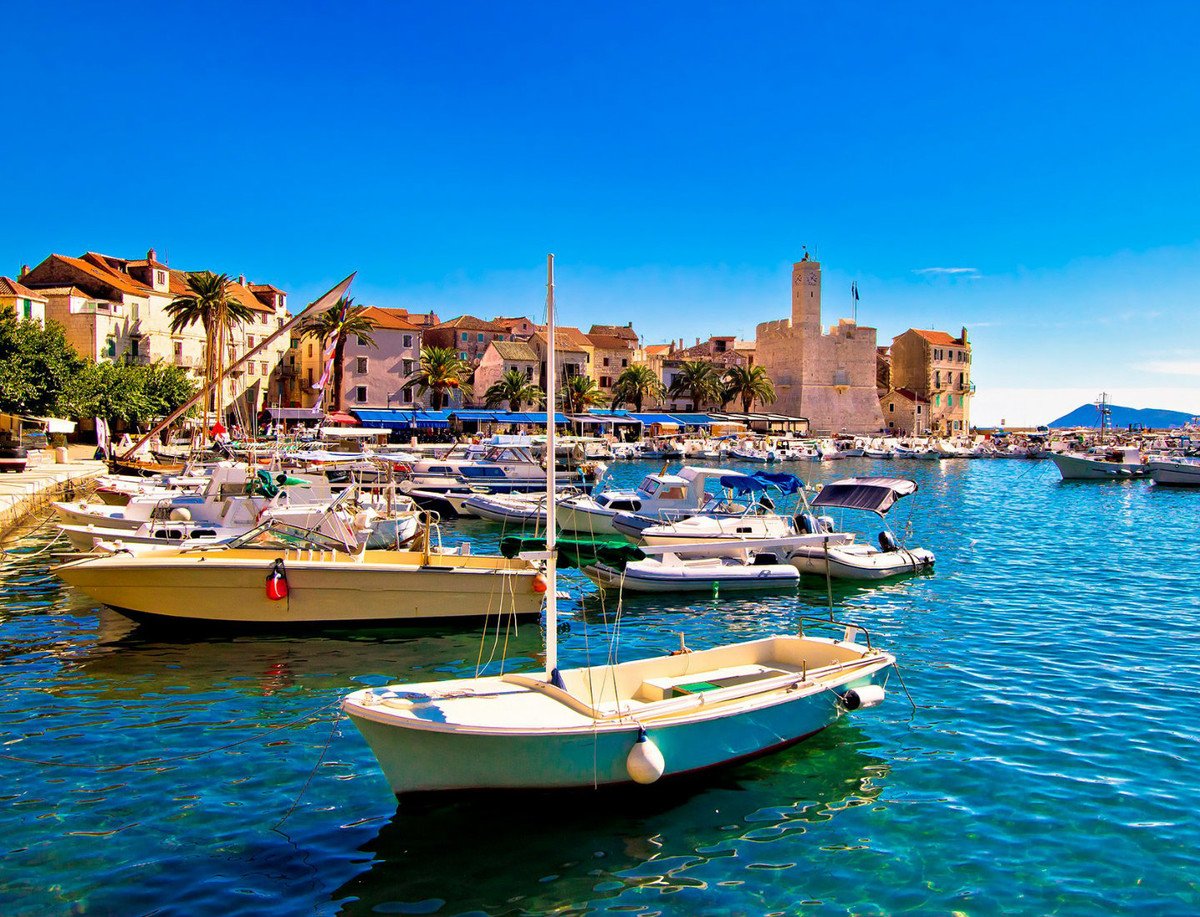 Mysterious island of cavity and amazing vegetation
...For its pristine setting, many movies are lately being filmed on the island. Renting a beetle or a scooter is a great way to discover the inland. Please bear in mind that in the summer months you need to be early to get a free berth in the port. If not, just take one of the buoys. Getting ashore and back with the dinghy is also an adventure.
DON'T MISS OUT:
to take your time and discover the whole island
visit the famous "Blue Cave"on Biševo island and Stiniva cove
try the local specialty "Komiža pie" and local Vugava wines
visit the fish market in the morning
have a cup of coffee in the town bar next morning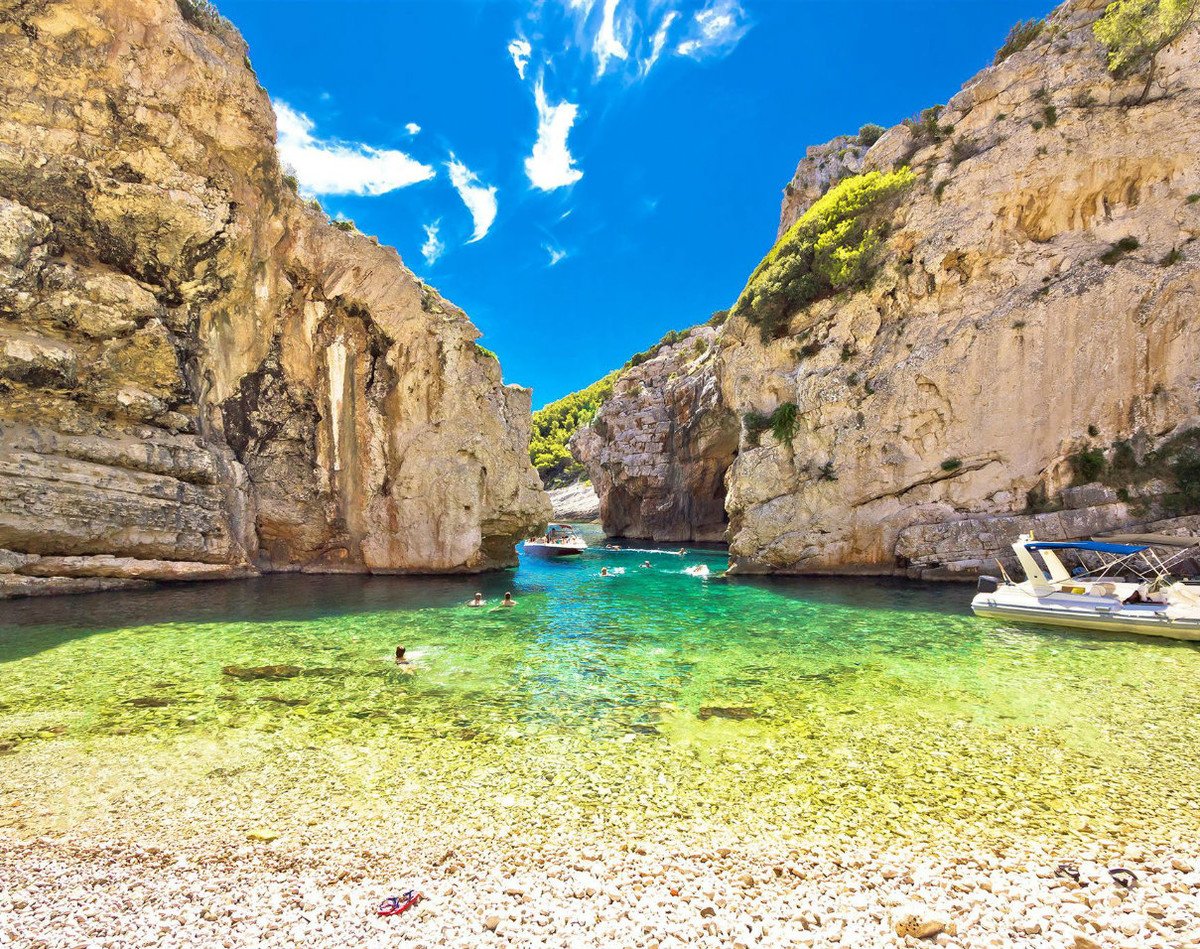 Well that is my top 10 sailing destinations in Croatia. I hope that my "best of" selection will convince you to decide and take a sailing trip following my route. Discover this stunning Mediterranean gem with your friends under the sails, you won't regret it.
Written by James Murphy, Brisbane, AUS
Exlplore best Croatian islands on below yachts