Best time for Croatia sailing holidays
When can I take my well-deserved vacation and spare time to escape from the fast paced world?
This is actually the first question, before you start planing your vacation.
In any case, I'm here to help you with the question WHEN, after you already booked your getaway at the blue Adriatic.
Although it is a million Dollar question, first consider the 3 basic factors that might affect your final decision.
1. Expectations
2. Budget
3. Weather
SAIL AWAY FROM CROWDS
If you already booked your sailing trip, is quite obvious that your holiday preference is staying away from crowds and tourist dense areas. Wouldn't you'd rather take a smooth sailing trip to visit the typical Mediterranean fishing villages and stay in quiet secluded bays as long as possible? Private yacht tour gives you exactly that opportunity.
SAILING TRIP CROATIA IS PERFECT CHOICE FOR NOVICE AND EXPERIENCED SAILORS
Sailing away from the crowds on a hassle-free yacht trip is probably the main reason to charter your very own yacht. And you can have all that in summer months. A skippered yacht vacation is any newbies best option to visit quiet bays, remote islands and ancient seaside stony villages.
Even if your trip is planned for the off-season, don't worry. You won't miss out- there is still a lot of action along the coast and most of the restaurants are still open until October. You can visit the buzzing cities of Split, Dubrovnik, Zadar or Pula before or after your sailing tour.
If you are an adventure seeker, looking for more action at sea, then Croatia activity yachting tour in May, June or end of September is you cup of tea. It is maybe better to skip April and October. Leave it to the professional sailors. Experienced sailors, that want to sail Croatia on a bareboat yacht during early Spring or late Autumn is also an excellent choice.
If you sail with kids, I would recommend the trip in summer months. It is warmest across the region with plenty of daylight for your outdoor activities. Experienced sailors, that want to sail Croatia on a bareboat yacht, sailing during early Spring or late Autumn is also an excellent choice. Your tastes, departure dates and vacation preferences can also influence your budget.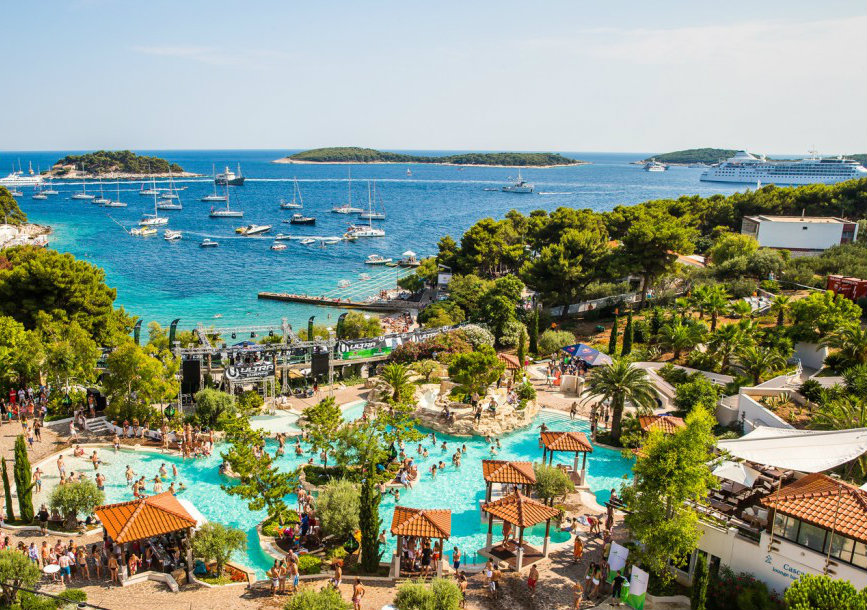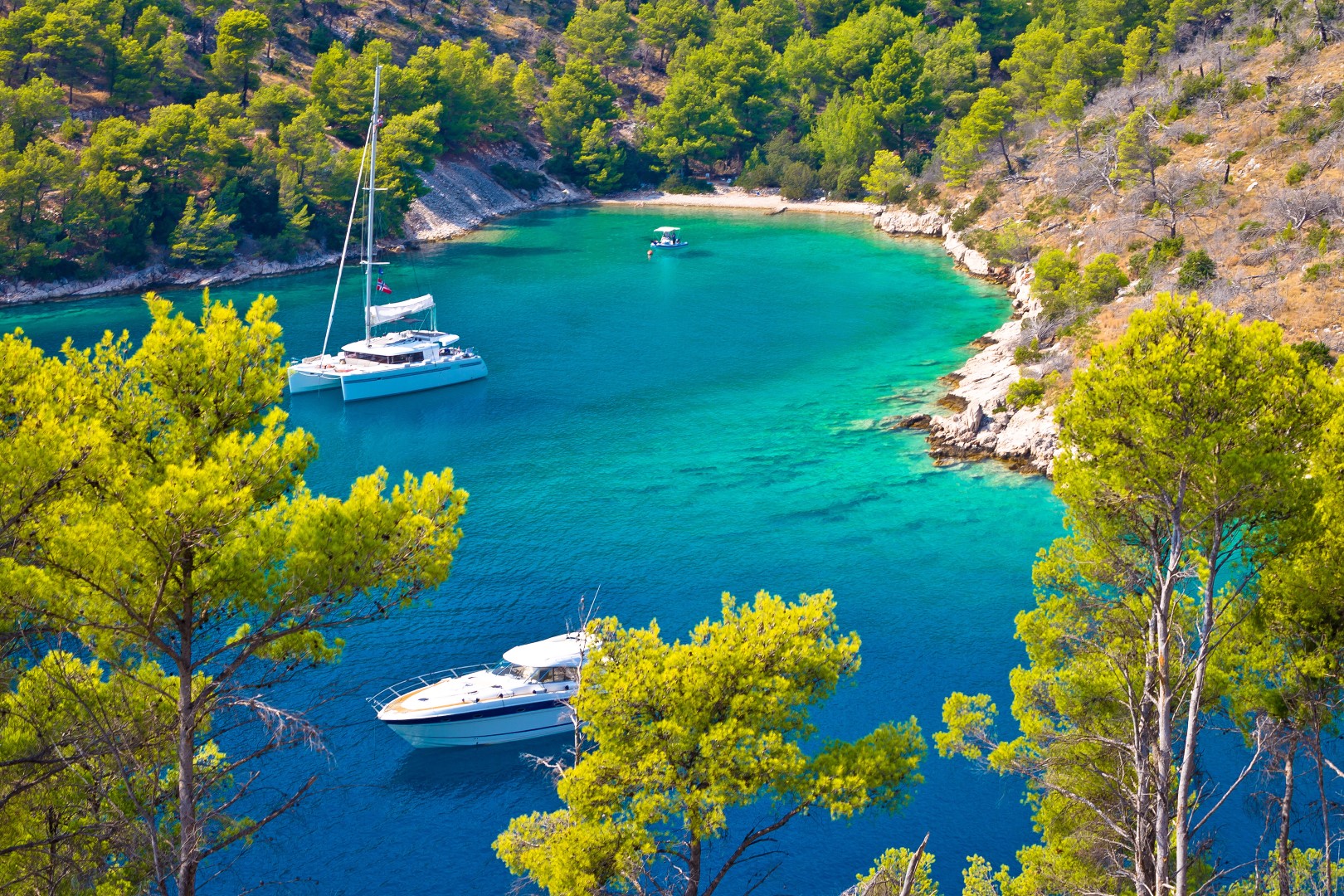 SAILING TOUR IN CROATIA - A HOLIDAY FOR EVERY POCKET
Croatia is still considered to be one of the cheapest sailing destinations in Europe. There is a yacht package affordable for every pocket. Considering the price, Croatia yachting holidays are comparable to many other summer holidays for example one week in a 4-star hotel. But instead of a hotel, you get the "apartment that moves and floats"
Yacht prices and Croatia skippered holidays can be considerably cheaper during the off season in April or May until the middle of June. Peak of the season is in July and August until middle September. Yacht prices (and the prices in general) reach its top between middle of July until middle of August.
PEAK SEASON PRICES IN CROATIA
The price for 40-footer economy sailing yacht that can accommodate up to 6 persons
1.850€ + extras + skipper 130€/day
The price for 40- footer budget Catamaran that can accommodate up to 10 persons
3.000€ + extras + skipper 140€/day
Yacht prices in June or September are app. 25% lower. Premium yachts cost is extra 25-50%./em>
For the exact pricing, please send the inquiry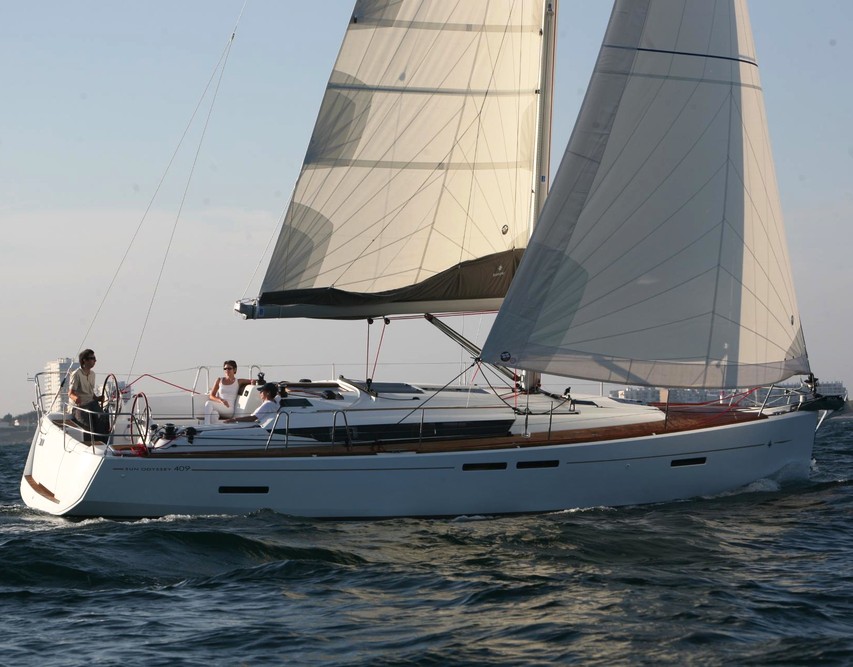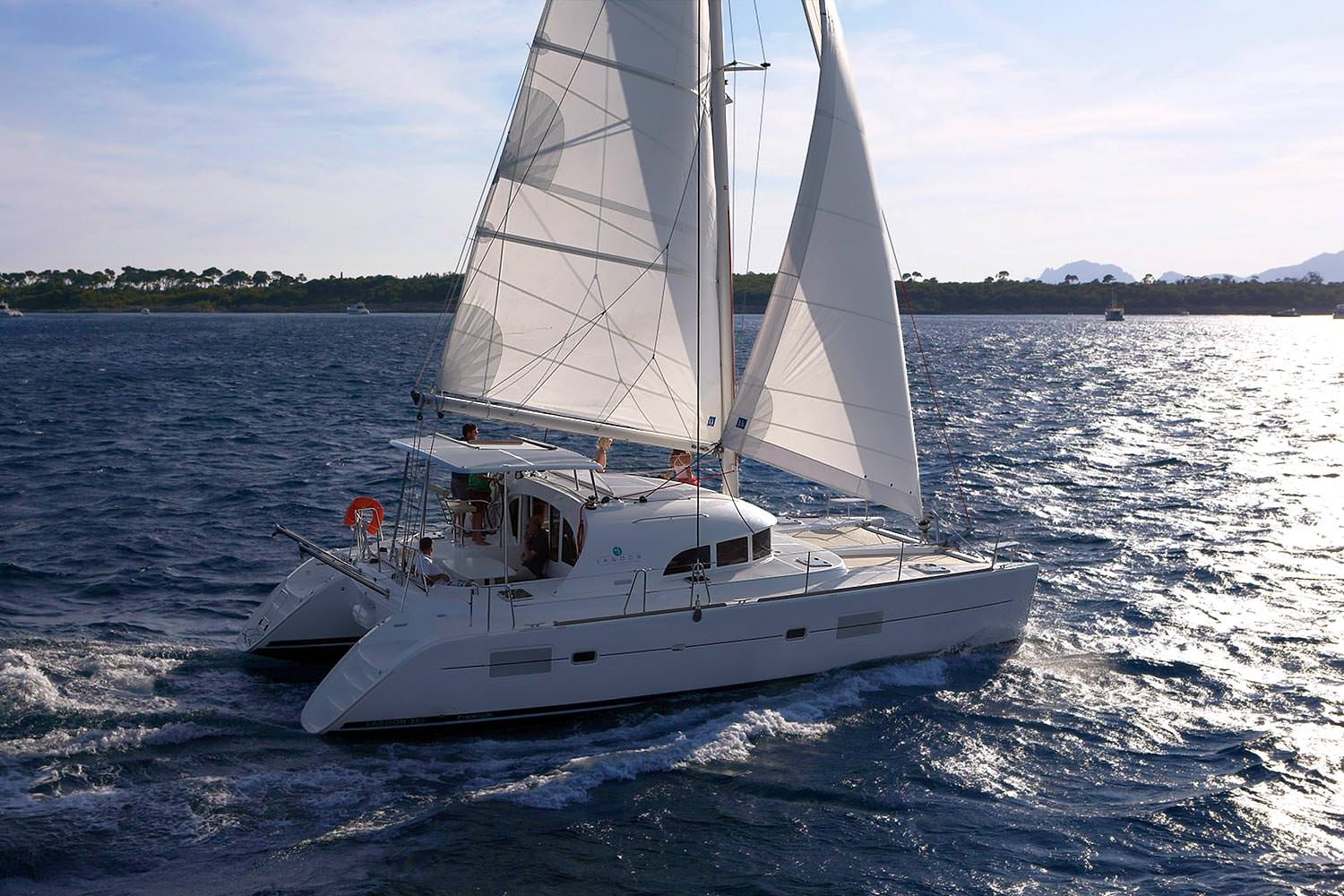 SUMMER TIME IS ALWAYS BEST TIME
Croatia weather is pretty much the same as everywhere else in the Mediterranean (Italy, Greece). The forecast for the region you are about to visit plays the main role when you are considering of setting the date. If you prefer boiling under the warm sun, swimming in warm sea and light winds, taking a sailing trip in summer is your best decision.
Generally, the temperatures on Adriatic also vary from north to south. In northern parts (Istria, Kvarner) it can be extremely hot during summer months with almost no winds and average 2 or 3 strong thunderstorms a month. More to the south, a passing summer storm is less likely. Plus, there is always constant moderate wind blowing in Dalamtia in July and August.
As the temperature in Spring rises, so does the sea temperatures. Anchoring in a secluded cove is a perfect opportunity to take a dive in a crystal water. In the beginig of June, just go for it.
HIGHER TEMPERATURES AND ENOUGH WIND IN SUMMER
So basically, if you are sensitive to heat, then you should consider taking your trip in April, May, September or October. Air temperature during the daytime in April and May can easily reach over 25 (77F). However, the sea temperature is still a bit cold 15-20 (68F).
The hight of the season is from the middle of June until middle September. The mercury is at consistent 30 (87F) degrees,often peaking well into the 40's (104F). Pushing towards Autumn, temperatures drop to the mild 25-30 (77-86F). The sea until the end of October can still hold the temperatures above 20 (70F) degrees.
Croatia weather can be quite tricky though. Mostly due to the closeness of mountain barriers, a light summer NW "Maestral" breeze from the seas, can easily turn into near gale force "Bora" winds from the NE mainland. Even though it only happens rarely, and there is always weather warning issued beforehand. Here's the tip how to make the ultimate sailing packing list.
Croatia weather June - Air 28, Sea 20, Rainy days 3-4
Croatia weather September - Air 25, Sea 22, Rainy days 7-10
Convert degrees Celsius to degrees Fahrenheit with this simple formula:
Degrees Fahrenheit = [°C] × 9 / 5 + 32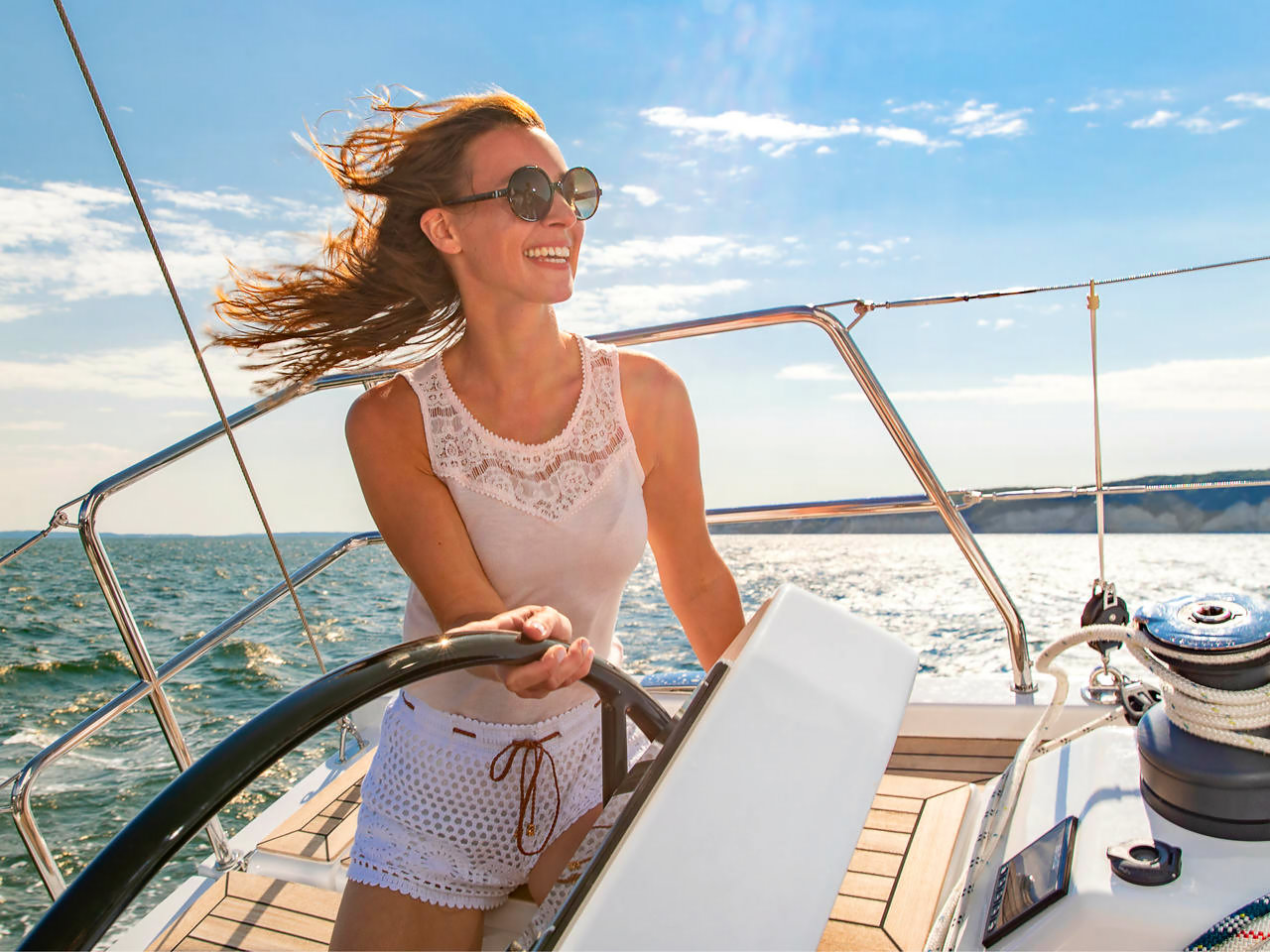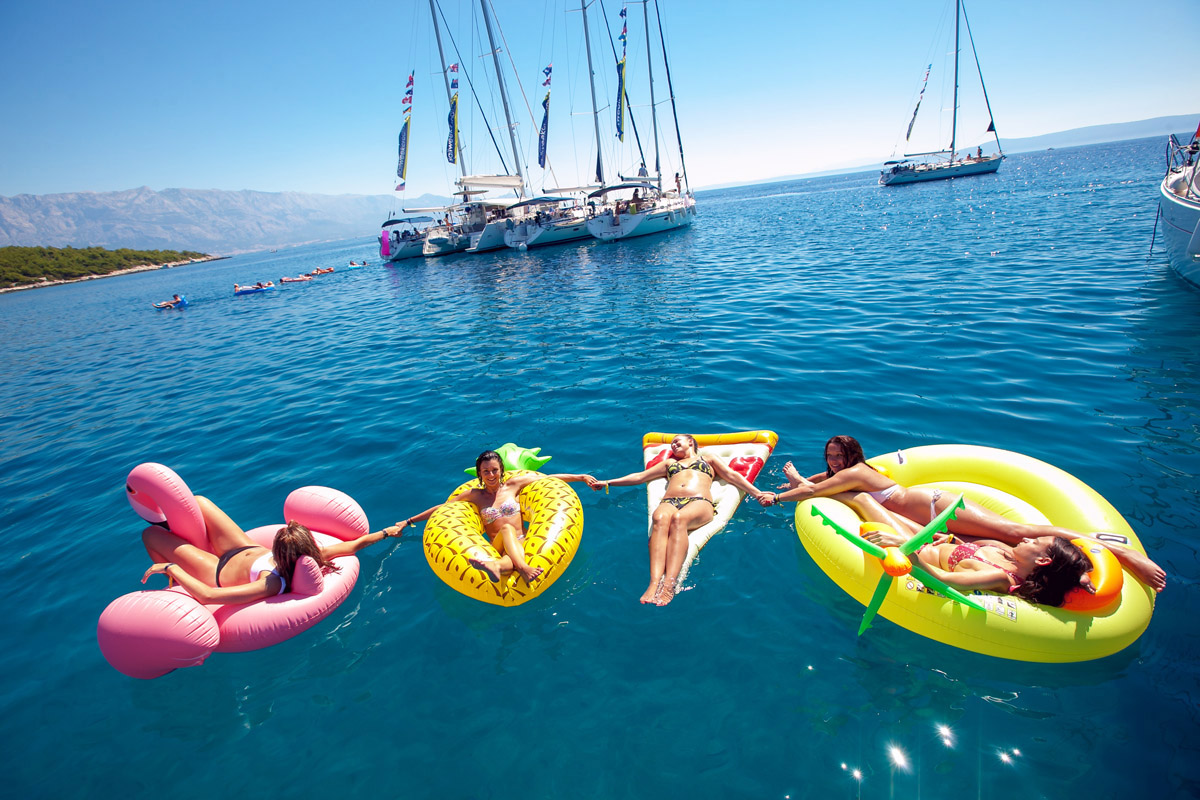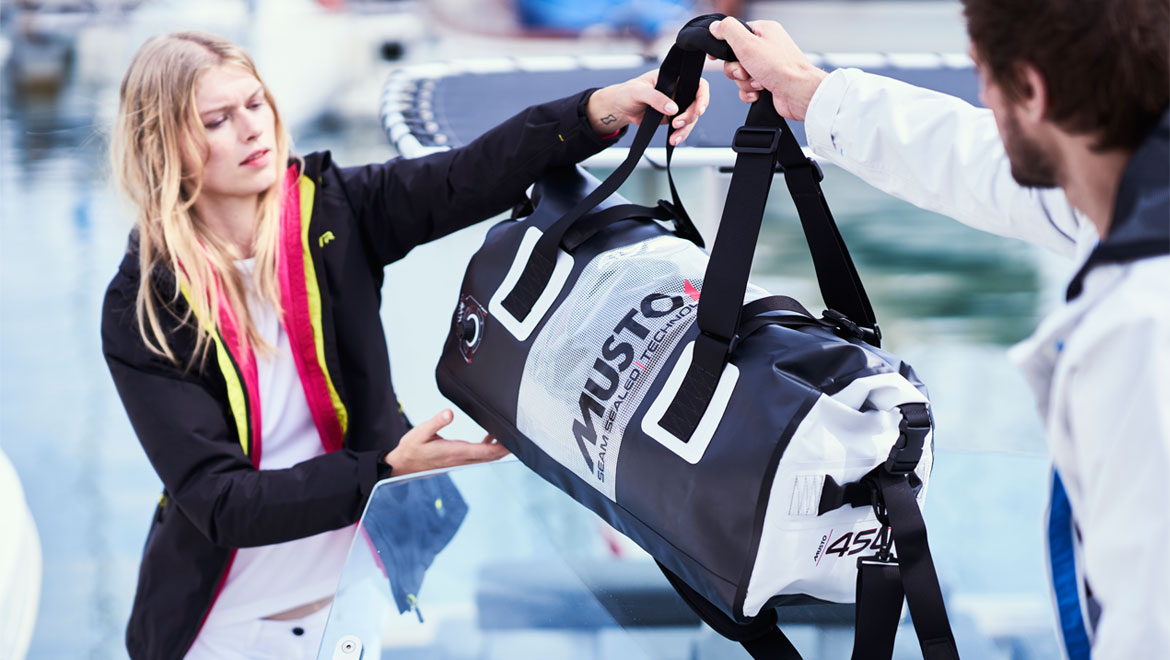 If you take your trip in June or September you will get the most of your vacation
So, when is the best time to sail in Croatia?
So basically high summer in Croatia might be busy, but the weather is simply glorious. Considering the Croatia weather conditions, you will hit the spot, if your book the trip in July or August. The strets are buzzing, traffic is heavy, but the weather is perfect. A bit hot, but there is always enough wind at sea to cool you down. It might get bit crowded in marinas and restaurants, but you can always find a quiet place to moor.
In my experience, I would definitively sail in Summer months between June and September. But considering all 3 basic factors mentioned above, my personal choice is June. Croatia weather in September is a skippers delight, but if you are a novice sailor or just looking for a relaxed sailing holiday I prefer June or summer months in general.
But after all - the final decision is still yours.
Here are some pros and cons for each month to narrow your choice
| | |
| --- | --- |
| + LONGER DAYS | - COLDER SEA App. 20C |
| + FEWER CROWD IN THE 1st. HALF | - MORE CROWD IN THE 2nd. HALF |
| + LOWER PRICES IN THE 1st. HALF | - HIGHER PRICES IN THE 2nd. HALF |
| + SETTELED WEATHER | - WARMER NIGHTS IN THE 2nd. HALF |
| + CALMER SEA AND LESS WAVES | - MORE HUMIDITY IN THE 2nd. HALF |
| + MODERATE WINDS | - MORE TEMPERATURE ETREMES |
| + MORE MOORING OPTIONS | |
| + CONSTANT AIR TEMPERATURE | |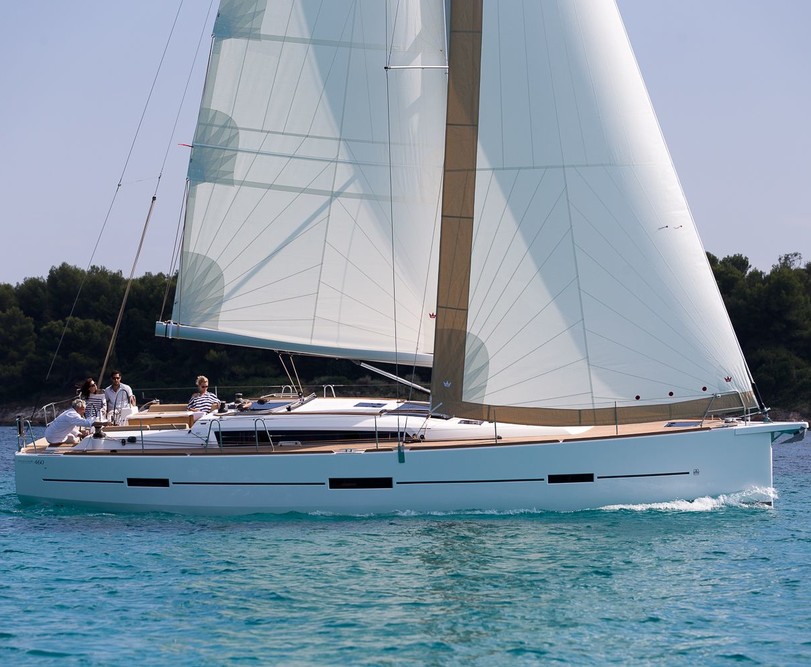 Sailing Croatia in September
| | |
| --- | --- |
| + WARMER SEA | - SHORTER DAYS |
| + LOWER PRICES | - STRONGER WINDS (can be a + also) |
| + LESS HUMIDITY | - UNSETTLED WEATHER |
| + MORE MOORING OPTIONS | - COOLER WINDS |
| + LESS TEMPERATURE EXTREMES | - MORE CHANCE FOR RAIN |
| + LESS CROWD IN RESTAURANTS | |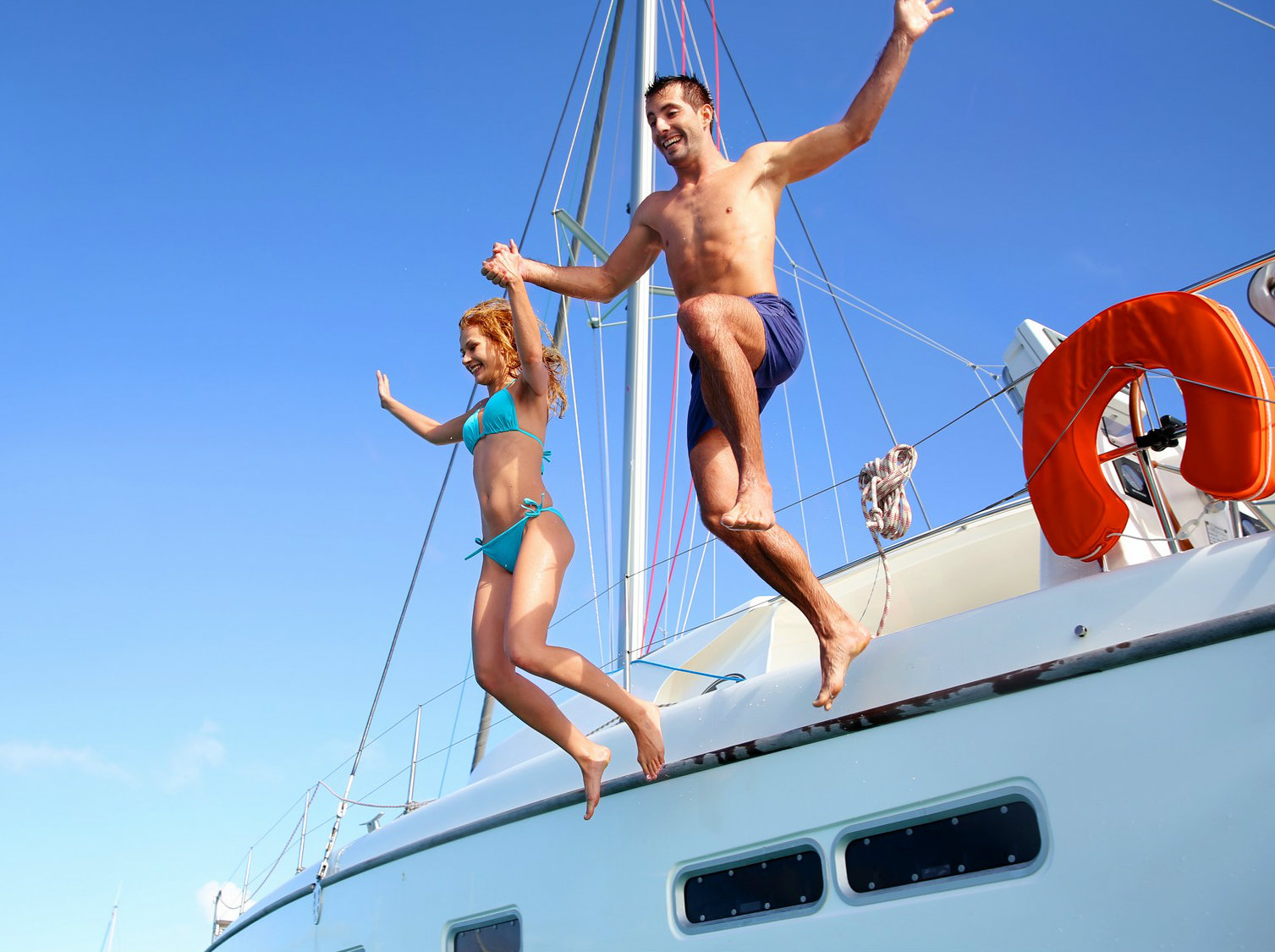 Blog by Janez Rupnik, Active sailing