10 Best islands to sail in Croatia
Unije - small isolated gem In Kvarner gulf, where time really stops
Silba - the island of love and intact emerald bays in northern Dalmatia
Dugi Otok - island's intact nature, cliffs and wildlife parks are amazing
Kornati national park - a secluded gurment paradise
Kaprije - one of the most welcoming islands for sailors in Dalmatia
Šolta - whatever you eat, try or buy here is local, fresh and tasty
Brač - "stone kingdom of Croatia" for leisure seekers and active explorers
Vis - mystical island rising from the middle of the Adriatic sea
Hvar - a perfect harmony between the old and the new
Korčula - the island of legends, rich cultural heritage and top Wines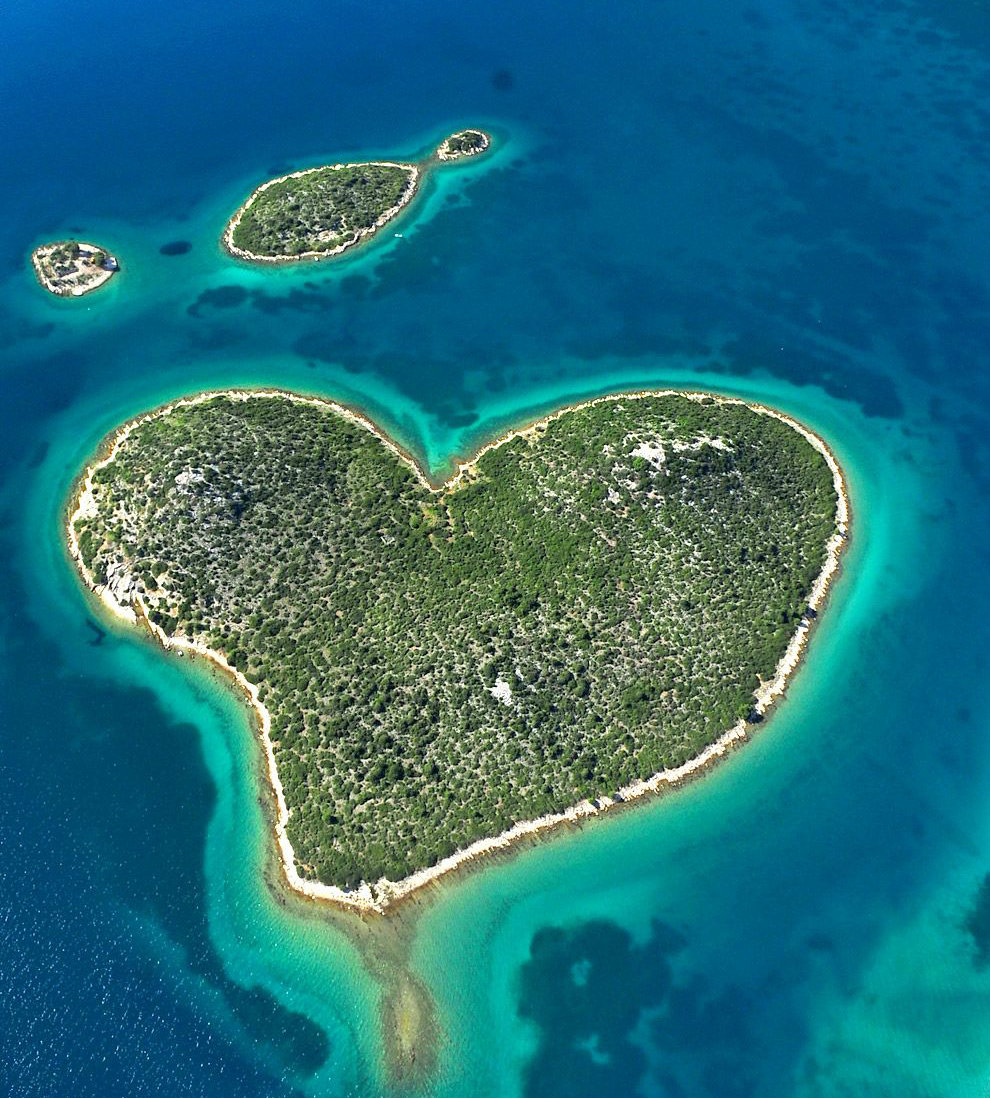 1. Unije -  forgotten gem in northern Adriatic
To visit this secluded island in the middle of the Kvarner gulf, rent Pula sailing yacht charter in Istra county. Unije is one of the most isolated, and idyllic Adriatic islands and a perfect place for a relaxing getaway from fast-paced world.
As you approach the island, you will soon smell the irresistible scent of rosemary and lavender. Emerald coves and crystal clear sea engulfing the green fruitful pastures create an amazing contrast. Anchoring is possible on the eastern part of isle in a well-protected cove Maracol. After securing your boat to a buoy, take a stroll and visit magnificent cliffs, shaped through the millions of years by the forces of sea.
Only village on this island is half a mile walk from your anchorage an definitively worth to explore. This small community of less then 100 mostly fishermen and farmers is nowadays mostly investing into eco production and trying keep up with the pace of outside world..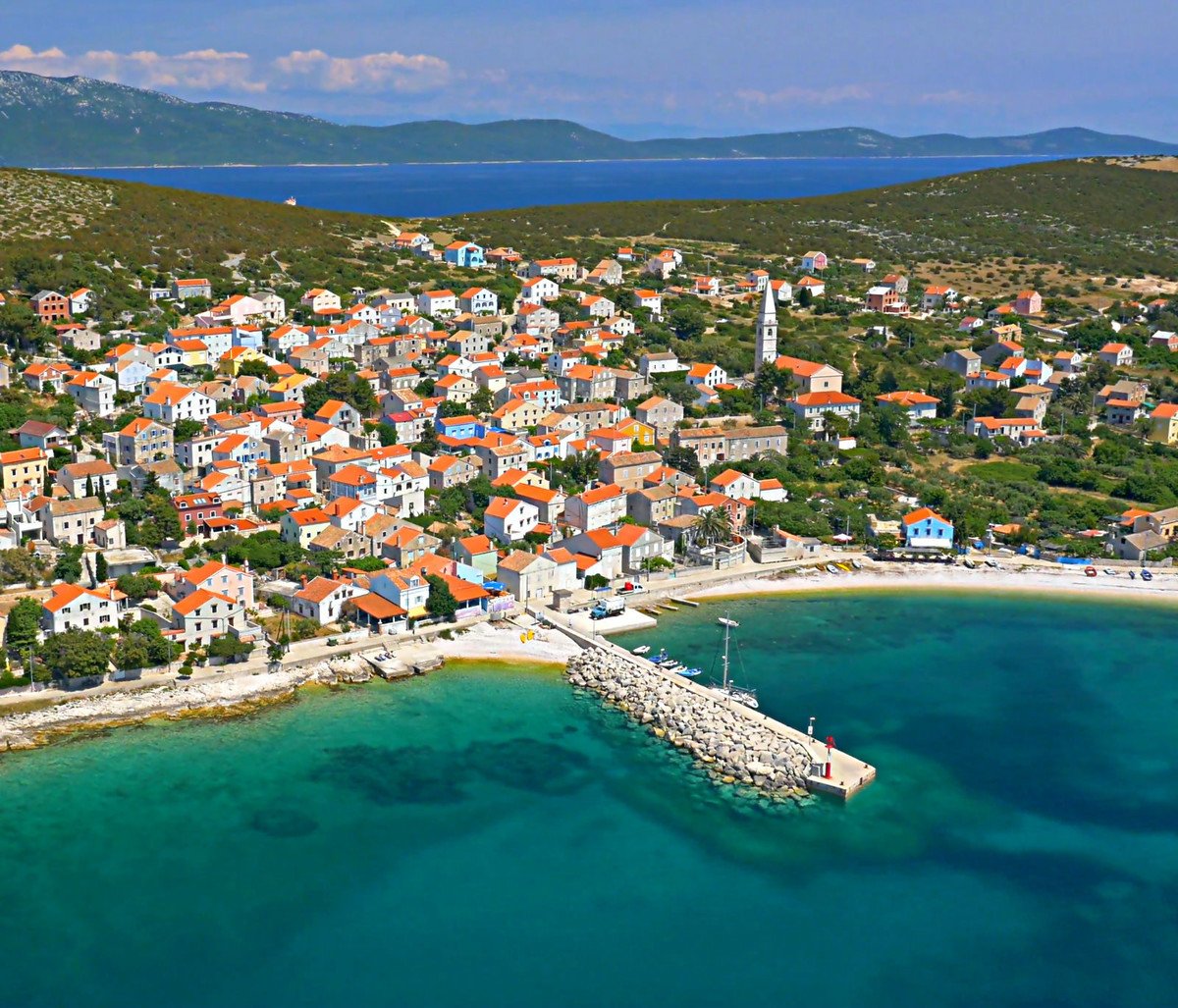 Beautiful contrasts on Unije island
With its white stone houses and blue window shutters, Unije village really makes an impressive site. One of the best places to stay in a quiet setting of densely forested surroundings watching the sun falling behind the horizont.
DON'T MISS OUT:
take a stroll to the village unije
visit the sky-high cliffs on the western side of the island (30 min. walk)
impressive sunset over Kvarner bay
to buy home-made bread from local bakery in the morning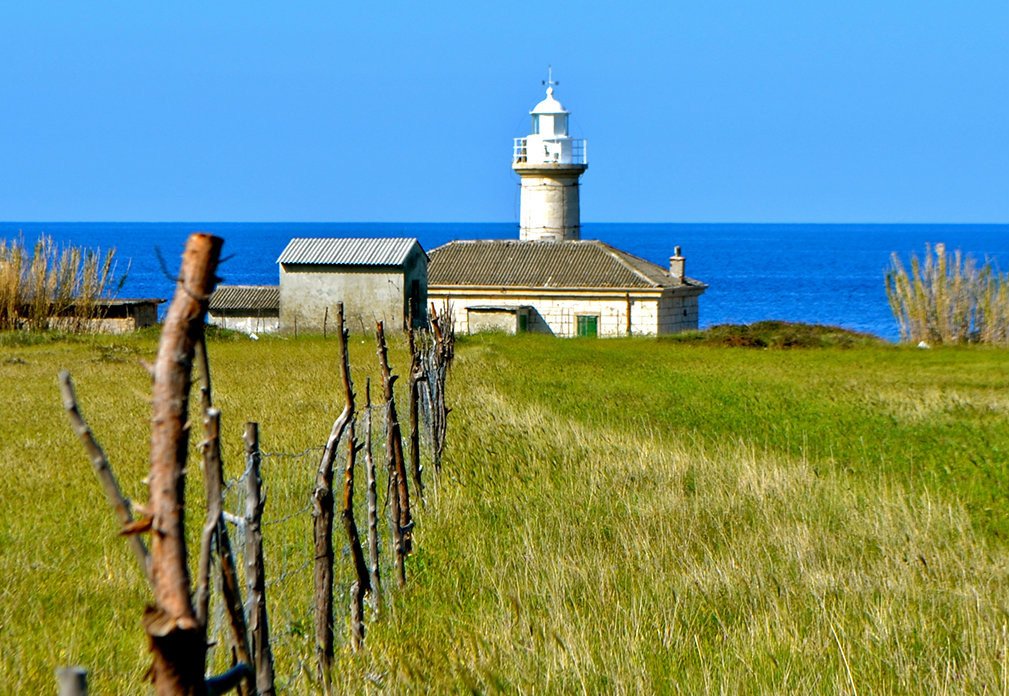 2. Silba - isolated romantic getaway
This secluded gem is off the standard Croatia yacht charter itineraries which is the preferct reason to drop your anchor in one of island's natural coves. "The Gates of Dalmatia" it is called, for it lays on the border of northern and central Adriatic.
A few centuries ago, Silba used to be the island of captains, sailors and farmers. Nowadays, this small community mainly survives on fishing and apartment rental. However, it's still considered an unknown destination for many boaters, is still largely dependable on yachting tourism.
The island is surrounded with romantic sandy beaches, where you can stop for the afternoon swim. I suggest to anchor in pristine coves Prapranica or St. Ante and take a short stroll through the pine forest to the town. All motorised traffic has been banned from the island, except for few agricultural vehicles, so the whole island is a pedestrian zone...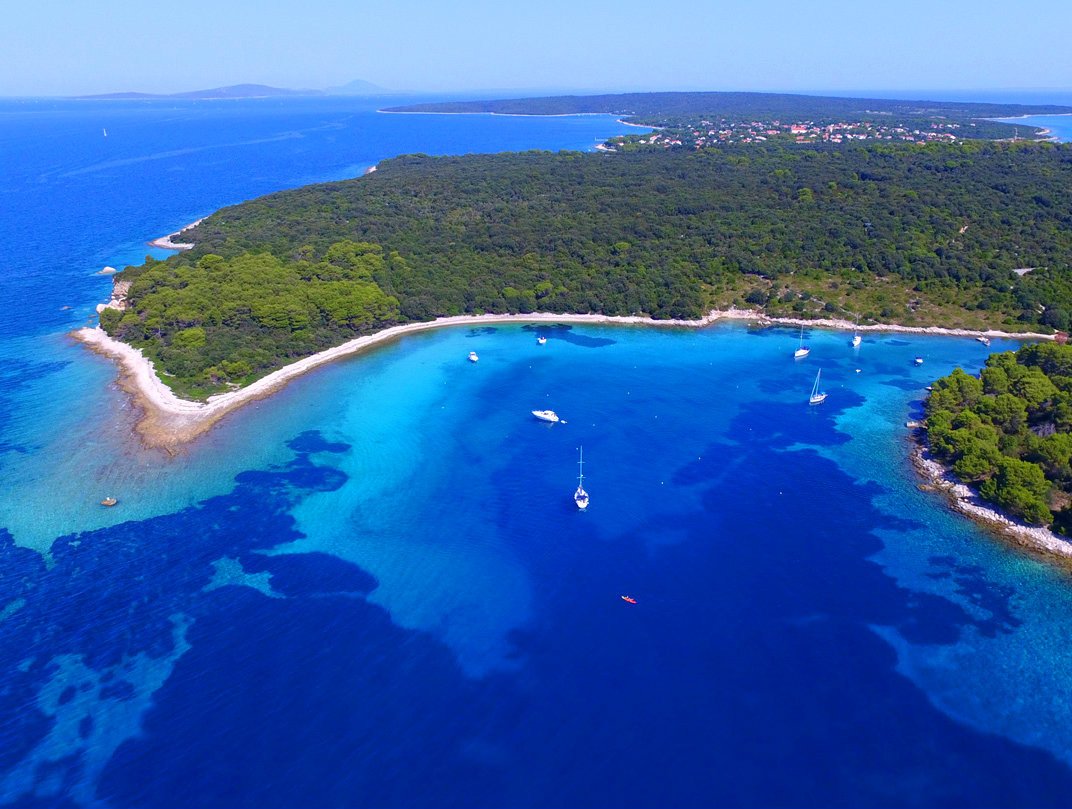 The tower of love on Silba
Make sure you climb up Silba's most popular landmark the Tower of love. An impressive octagonal lookout tower with a spiral staircase is a sad reminder on his unfulfilled love. It was built as a memorial by the island captain in the 19th. century As a wow to his fiance before he left at sea.
DON'T MISS OUT:
take a swim in St. Ante bay on the western part of Silba
discover the emerald bays around the island
ascend on the tower of love for an impressive view
drink a cup of coffee with home-made croissant at the local pastry shop by the town church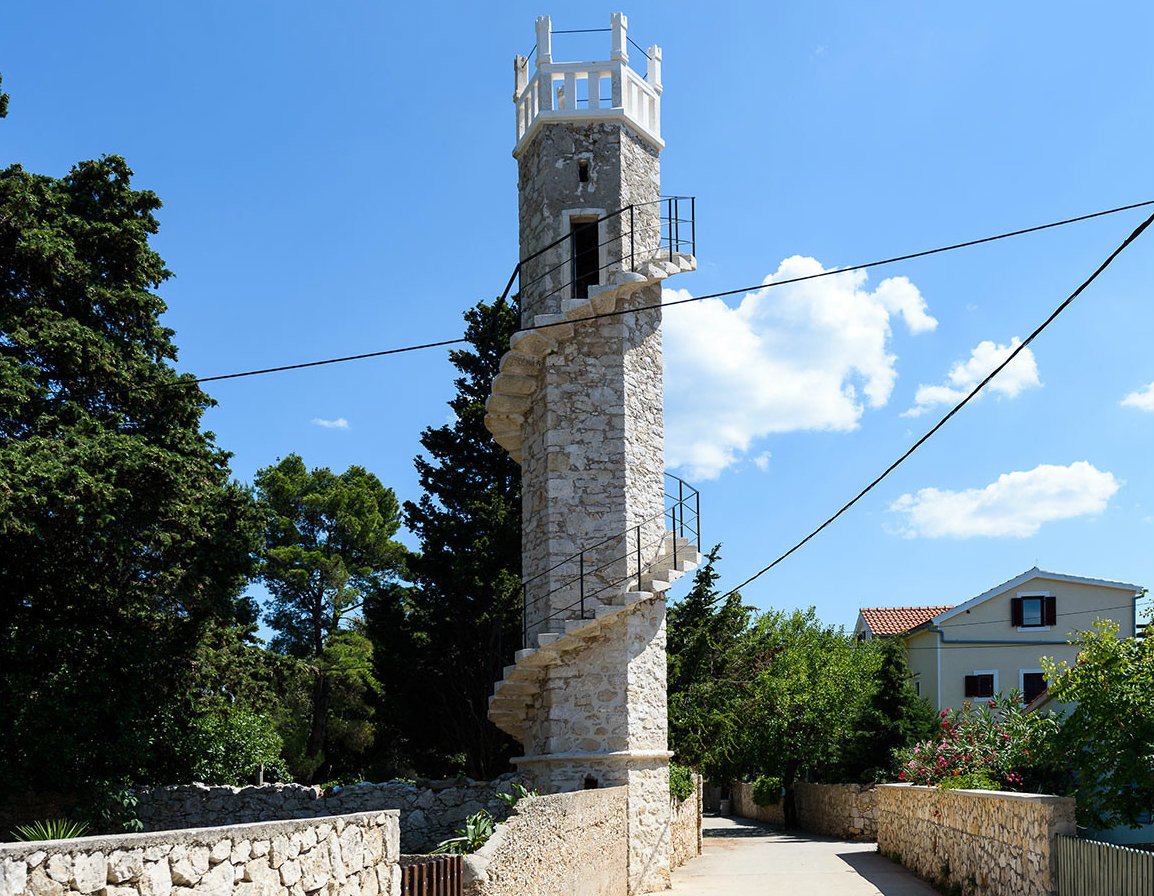 3. Dugi Otok - the pearl of northern Dalmatia
In translation "Long Island" is one of less populated and touristic areas in Dalmatia. It's a perfect place to charge your batteries and avoid the crowded coastal areas. When you start charter holiday in Croatia from second largest Dalmatian town Zadar, your best option is to rent a sailboat in Sukošan marina or Biograd town.
p>You will find best sailing spots, attractive coves and safe anchorages on the northern part of the isle, while southern part belongs to a national park and is ideal for a honeymoon trip or family yacht vacation.
Be sure to navigate to colourful fishing village of Sali - one of the most visited and "coolest" destinations for sailors and try best cocktails in iconic "Maritimo beach bar". In Sali you can also stock your boat lockers with provisions if your plan for the next few days is anchoring.
Drop your anchor to relax and enjoy the tranquillity of Telaščica national park. With no large cities around to spoil the night darkness with lights, this is your best opportunity to observe shooting starts from your yacht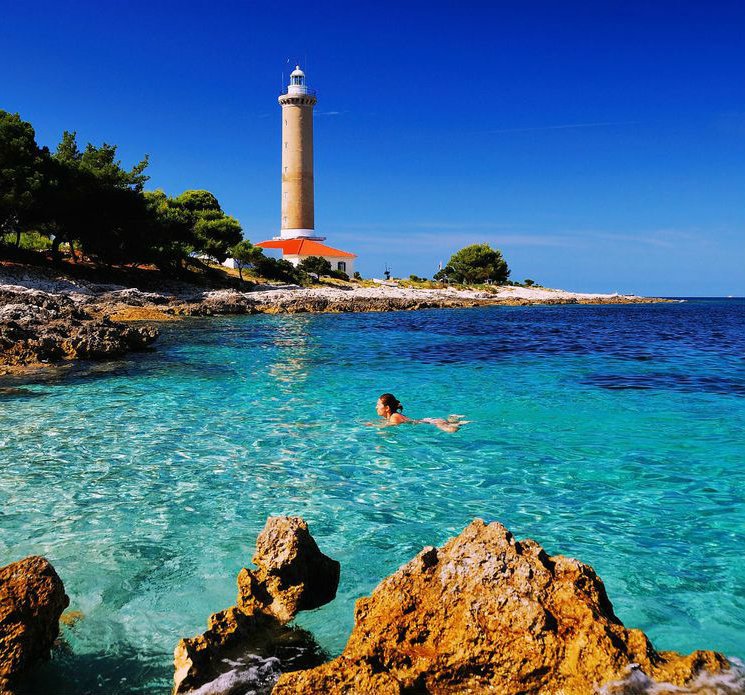 Sali - where sailors meet to share their stories
You can also opt and sail the northern route where you can visit well-protcted Pantera cove. Take a stroll through the pine aromatic forest and visit the highest lighthouse on Adriatic. This stunning scenery will make you want to stay here and extra day.
DON'T MISS OUT:
swim and snorkel in a azure blue Saharun beach
climb up to the Veli Rat lighthouse for spectacular view
check out the shipwreck in the north of the island
visit so called "nautical" village Sail and have drink in Maritimo bar
explore the wildlife of Telaščica national park in the south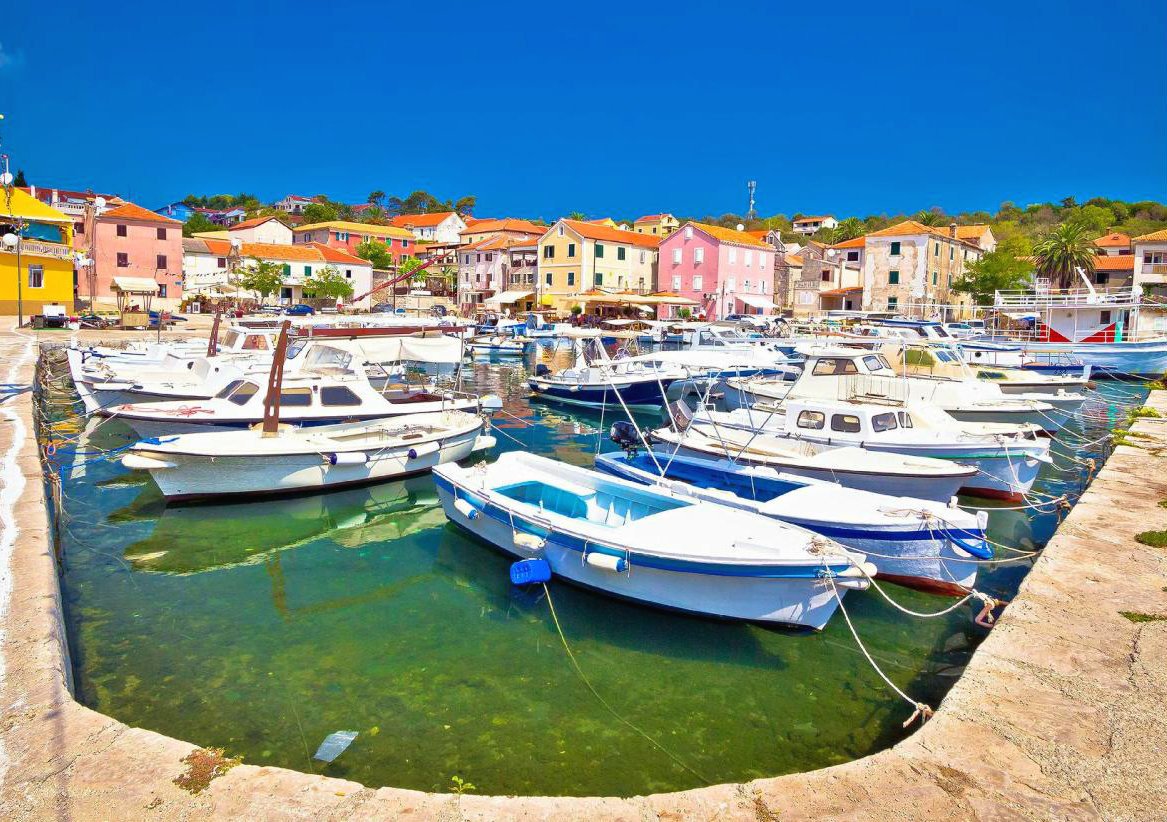 4. Kornati Islands, the perfect creation from gods
Kornati national park truly is a natural wonder of Croatia and one of the most iconic Adriatic destinations. Best chance to discover this island chain is to rent sailboat in Zadar and experience the park from a comfort of a private yacht. Cruising through the park between unique yellow-coned hill tops feels like you are on another planet.
The continental part includes only ¼ of the surface of the park, while the rest belongs to the rich marine ecosystem and is protected by the state authority since 1980. No shops or cars can be found in completely intact island chain which consists of over 100 islands islets and rocks.
So I suggest that you focus on 2 or 3 islands . My suggestion is Smokvica in the south, the Village Vrulje in the middle and Levernaka bay with one of the most beautiful beaches in Croatia - Lojena.
Overnight surrounded by a beautiful natural ambience in front of stone-made fisherman's house, where you can taste freshly caught fish and enjoy in a relaxing peaceful ambience.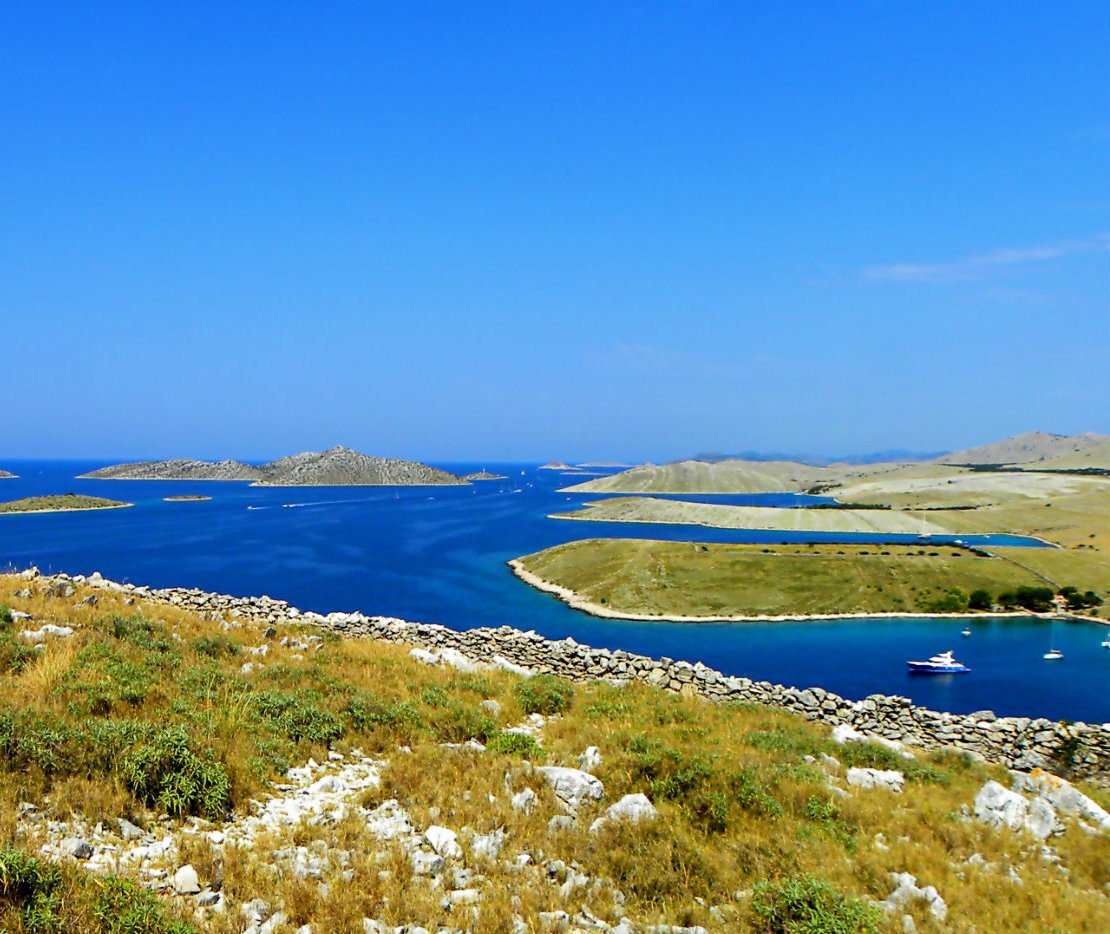 Here you can find some of the best local cuisine
I highly recommend to have a nice dinner in family-owned restaurant Piccolo (+385-22-643-688) on island Smokvica before entering the park.
Tip - You can buy much favourable entrance ticket for the park at the restaurant.
DON'T MISS OUT
snorkel or dive in the intact underwater habitat
the sky-high cliffs on Mana and Rasip Island
azure blue Lojena cove on island Levernaka
medieval ruins on the island Mana
the culinary highlights of traditional Dalmatian cuisine
ascend on Metlina hill (240m) for a spectacular view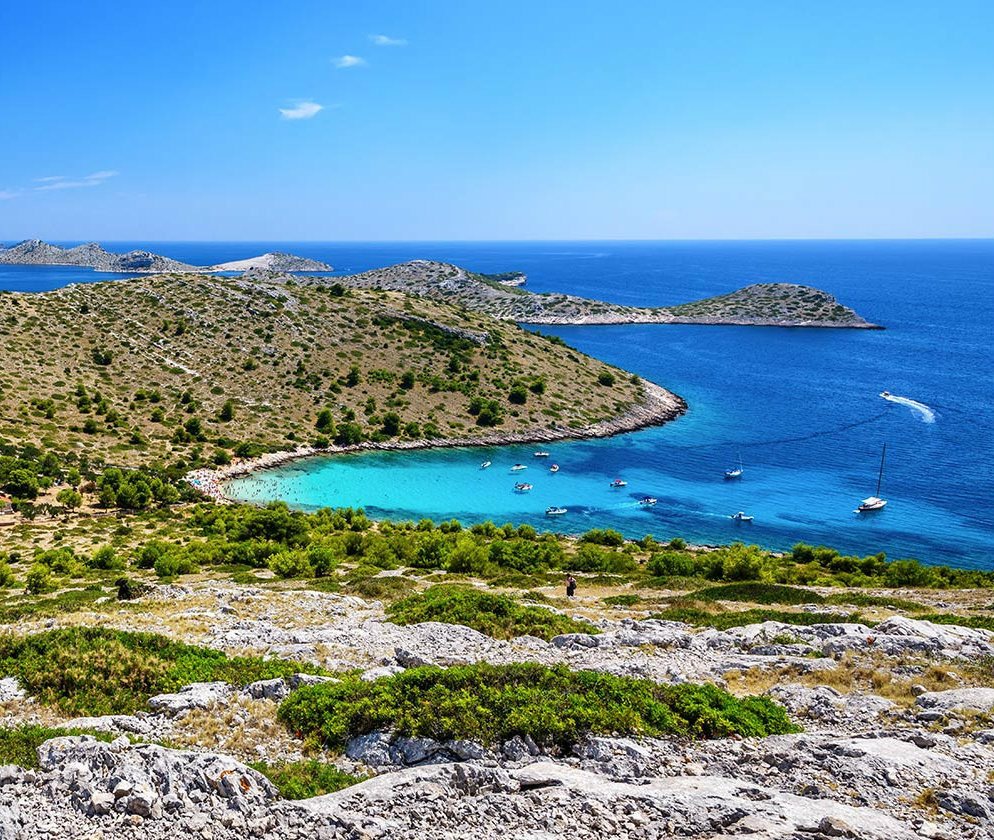 5. Kaprije - where time beats a different beat
One of the most authentic sailing destinations in Croatia is the village Kaprije on same-named little island. This Dalmatian gem is a part of Šibenik-Knin municipal close to the region's capital Šibenik - a popular UNESCO site. A small community of near 150 residents is only dependable by the ferry line delivering basic supplies twice a day. That is why this forgotten island developed a unique laid-back character.
Most of the maritime guests choose this island just to feel the real heartbeat of Dalmatia and to avoid the crowds in more popular and visited islands. You won't find any cars here, just a simple warmth of the island people living and enjoying in a leisurely life.
So join the locals in a fisherman's house or a near bar, hear their real-life stories of ancient sailors, embrace their unique philosophy and experience Mediterranean at its best.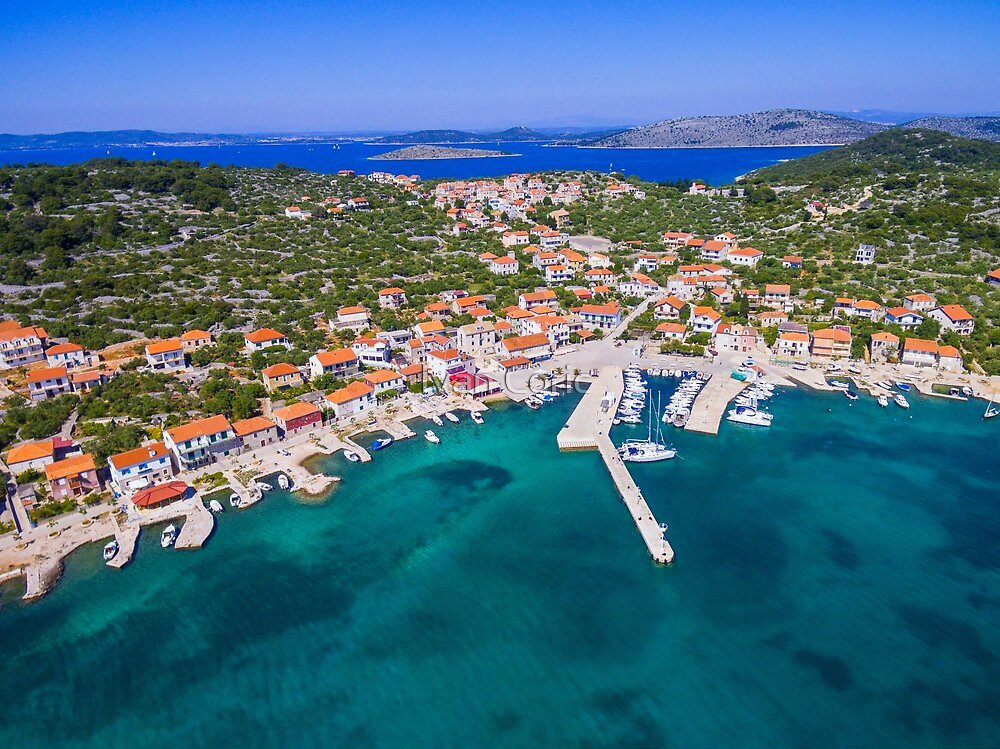 Be sure to taste the traditional island cuisine
I highly recommend a dinner in a typical restaurant "Kod Kate" app. 50 meters uphill from the main square. The grilled grouper or squid is fantastic. Or take a tour to the southern side of this small island to the cove Nozdra and experience G8 restaurant and traditional island dish "Octopus under the bell."
DON'T MISS OUT:
and visit at least 1 local family-run restaurant called "KONOBA"
typical fishing village with Mediterranean touch
beautiful coves on the southern side of the island
charming family-run restaurant "Kod Kate" or Restaurant G8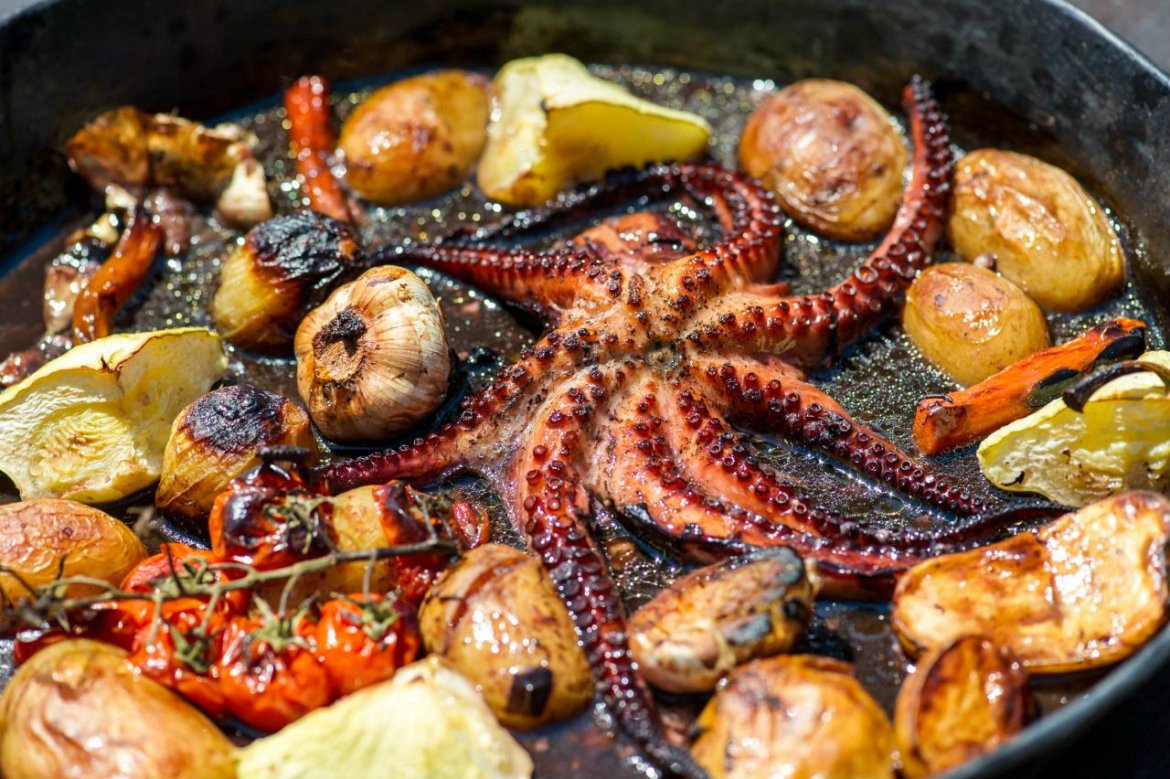 6. Šolta - the blue and the green at central Adriatic
Dense forests and azure blue seas create a perfect colour contrast of this charming island that is often missed out by the sailors. And it is not a coincidence that ancient Greeks named it "the green fig".
Before you make a berth in the evening, be sure to discover some of the most beautiful secluded bays where you can swim and snorkel in the crystal clear seas surrounded with pine forests.
If you prefer peaceful surroundings, I recommend to berth in a small port Rogač on the eastern side of the island and take a 30 minute stroll to the picturesque village Grohote. The view over the Split archipelago is really impressive. You can enjoy in a wonderful night view towards the mainland and a sight of a milion lights glittering in the city of Split.
But if you like more vibrant places, then visit a nautically very popular village Maslinica is the north. There is a completely new marina with impressive 18th. Century castle renovated into a luxury resort....
Maslinica village reflects the perfect contrast between the new and the old
With the exception of nautical guests, here, you will mostly meet chatty locals in front of the seaside pubs.
If you wish to truly feel the island spirit, keep exploring the rhapsody of flavours nurtured by the unspoiled nature. Whichever place on Šolta you decide to visit, do not forget to try their locally grown vegetables and fruit. Traditionally produced fragrant extra-virgin olive oil and honey are legendary. And so is the cuisine in some restaurants.
DON'T MISS OUT:
to taste the olive oil and a slice of carob cake
visit typical Dalmatian village Grohote
enjoy in a glass of wine in a romantic mansion in Maslinica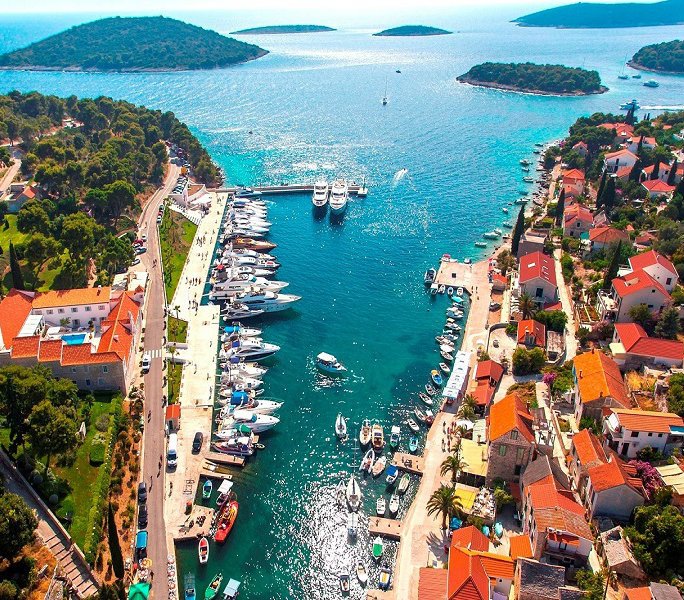 7. Brac - Dalmatia in small
Renting a sailing yacht in Split or Trogir charters I recommend you to follow an alternative Split itinerary and circle Brač from eastern side.
On the NE part of island lies the hidden village of Pučišča, also called "the stone kingdom of Croatia". Charming town at the end of a along bay is well-known of a unique white marble. The gleaming white stone, indigent to the island and a unique Renaissance architecture, make this village one of a kind. It is also called a "13 towers port" since it used to have 13 towers guarding it against repeated attack by pirates centuries ago. if you are looking for seclusion - this is it.
This picturesque village will embrace you in its laid-back beats and offer you the real pulse of Dalmatia. Spend one night surrounded by lush-green forests and a charm of this Romantic town. Next morning bear to the southern part of Brač and discover the famous beaches of Bol...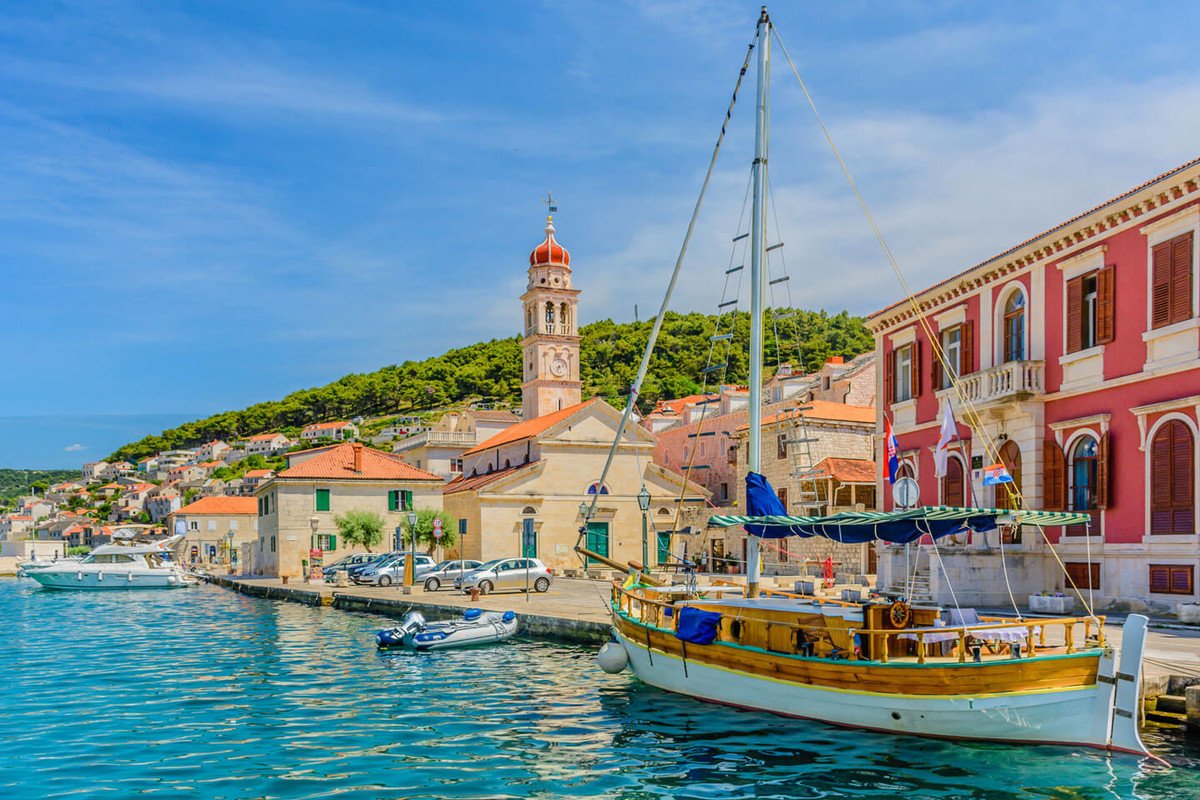 The "Golden Horn"Beach
Oooh, the famous "Golden Horn". A 450-meter long white pebble beach changes shape with the currents and prevailing winds. With population close to 1.500, Bol has a complete opposite character from Pučišća, but definitively a must-visit. After you moor your boat at the beautifully constructed new town port, feel free to take a walk along the town promenade and sto at one of the stylish beach bars...
Despite the tourist hustle and bustle at the shore avenue, you can still find quiet in the evening to enjoy the stunning sunset from your yacht.
DON'T MISS OUT:
try the local olive-oil, wine, sheep cheese and figs
taste traditionally prepared island lamb and fish "under the bell"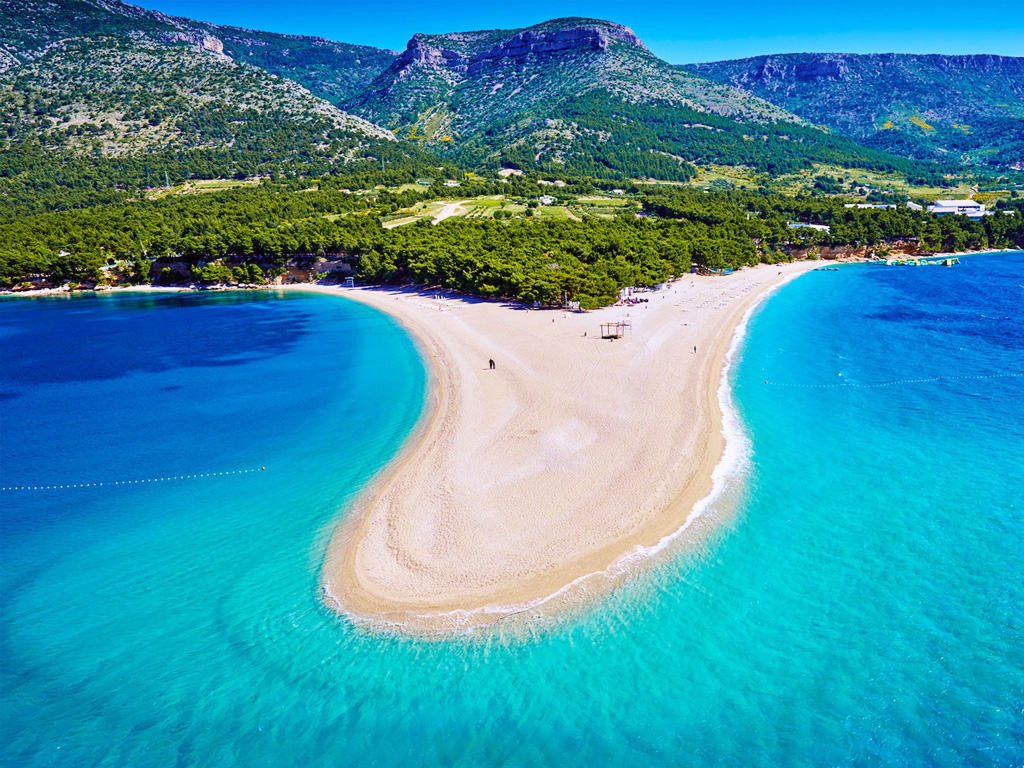 8. Hvar, the perfect harmony between old and new
Longest and the most famous island in Croatia is already enrooted in Croatia sailing itinerary.
The most stylish and unique way of discovering this charming islands is to rent sailboat in Split and try to visit the best parts of Hvar: Stari Grad, Jelsa village an of course the jet-set Hvar.
One of the oldest Croatian towns, the historic Stari Grad lies in eastern part of the island in a well protected natural bay surrounded with olive groves. You will soon be welcomed by the scent of lavender descending from sun-soaked hills and alluring coves.
The town itself is where medieval-meets-Mediterranean splendour. The collision of old Roman and Greek civilisations left a deep impact everywhere. Explore impressive cultural and architectural renaissance monuments and feel the laid-back pulse of this little gem. Be sure to walk the maze of stony streets and try some locally-grown products including one of the best wines in the island "Plavac".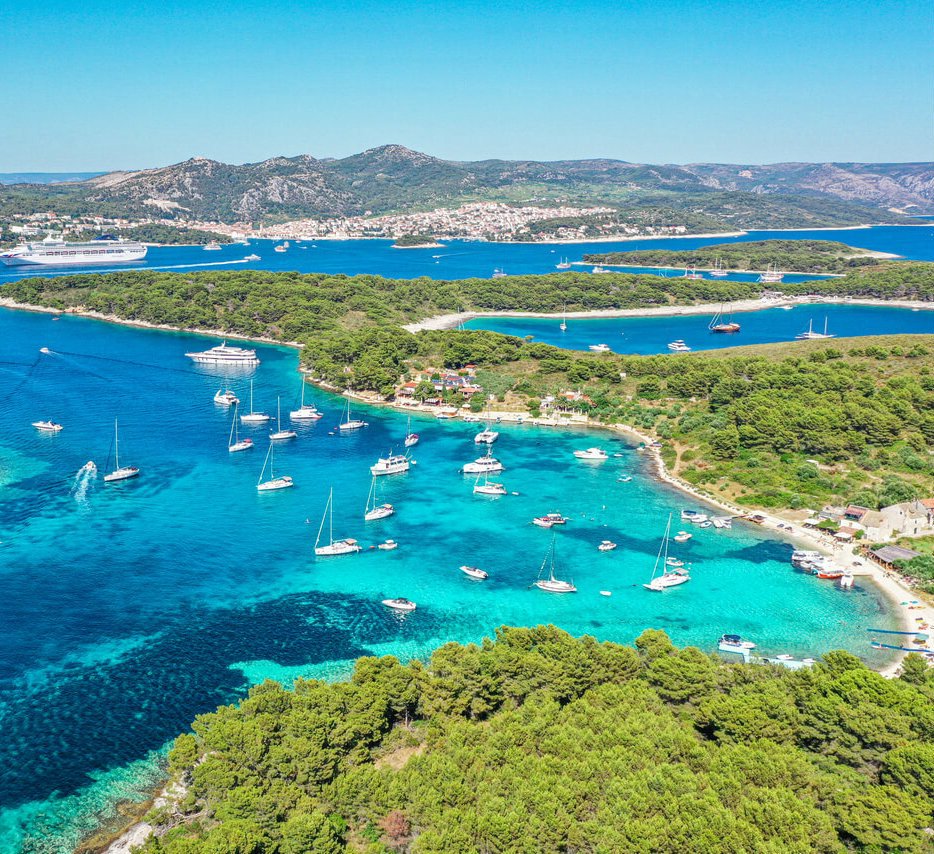 Hvar town should be on your bucket list
Only 3-hour sail north from Stari Grad you soon reach the famous Hvar town. I recommend to find safe anchorage on lovely Pakleni Islands. It is much easier and cheaper to take a 5-minute water taxi, then search for free moorings among the enormous super yachts in the town port.
You will soon get a chance to take a stroll along one of the most popular and enchanting towns in the world. This jet-set town is known for its buzzing nightlife and vivid streets where various world-known celebrities often come across. A spectacular view from the city fortres is rewarding after a short ascend. If you are looking for dance clubs and bars, this is the place that will keep you partying until dawn. This is the place to see and to be seen.
DON'T MISS OUT:
ascend for an incredible view from the town Hvar fortress
blend into nightlife and visit Carpe Diem or Hula Hula beach bar
taste the unique wines from Stari Grad in a local Winery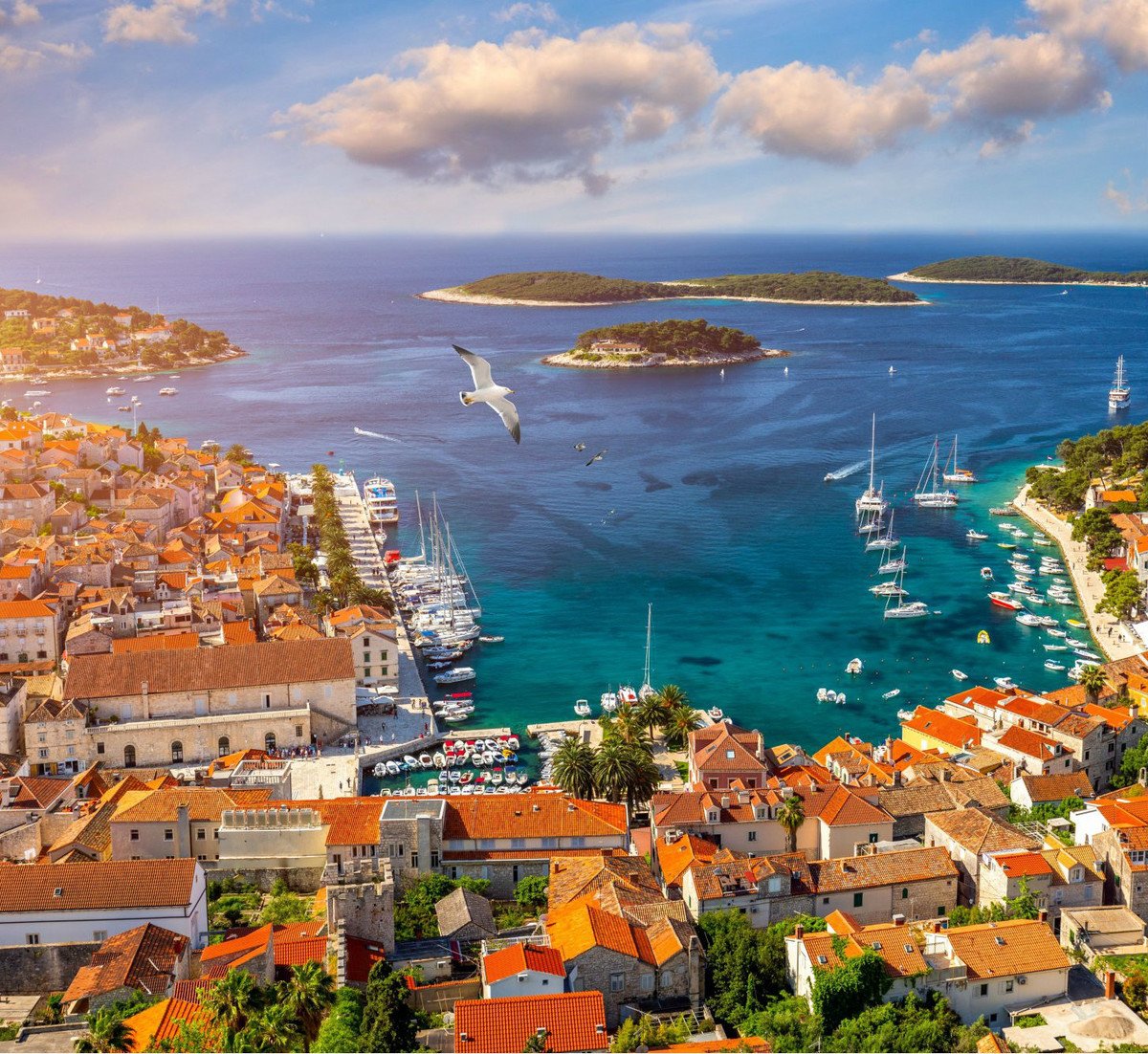 9. Vis - the legendary fortress of Croatia
You don't want to miss out this little gem during your Croatia sailing trip. Until recently the whole archipelago was forbidden area due to its military purpose. With only 2 towns (Vis and smaller Komiza) and no industry miles around, this is the place to go snorkelling and explore the underwater habitat.
The island was all through its war history a natural impregnable fortress claimed by Illyrians, Greeks, Venetians, Austro-hungarians, British and French. Set almost in the middle of Adriatic, this was strategically best natural defence location in Mediterranean. On a fair sunny day, you can see all the way to Italy from the hill top above Komiža town.
I recommend to overnight in a picturesque village Komiža. Characteristic local fishermen, typical wooden vessels in town port, narrow streets and exhibiting local artists, are completing the charm of this old village...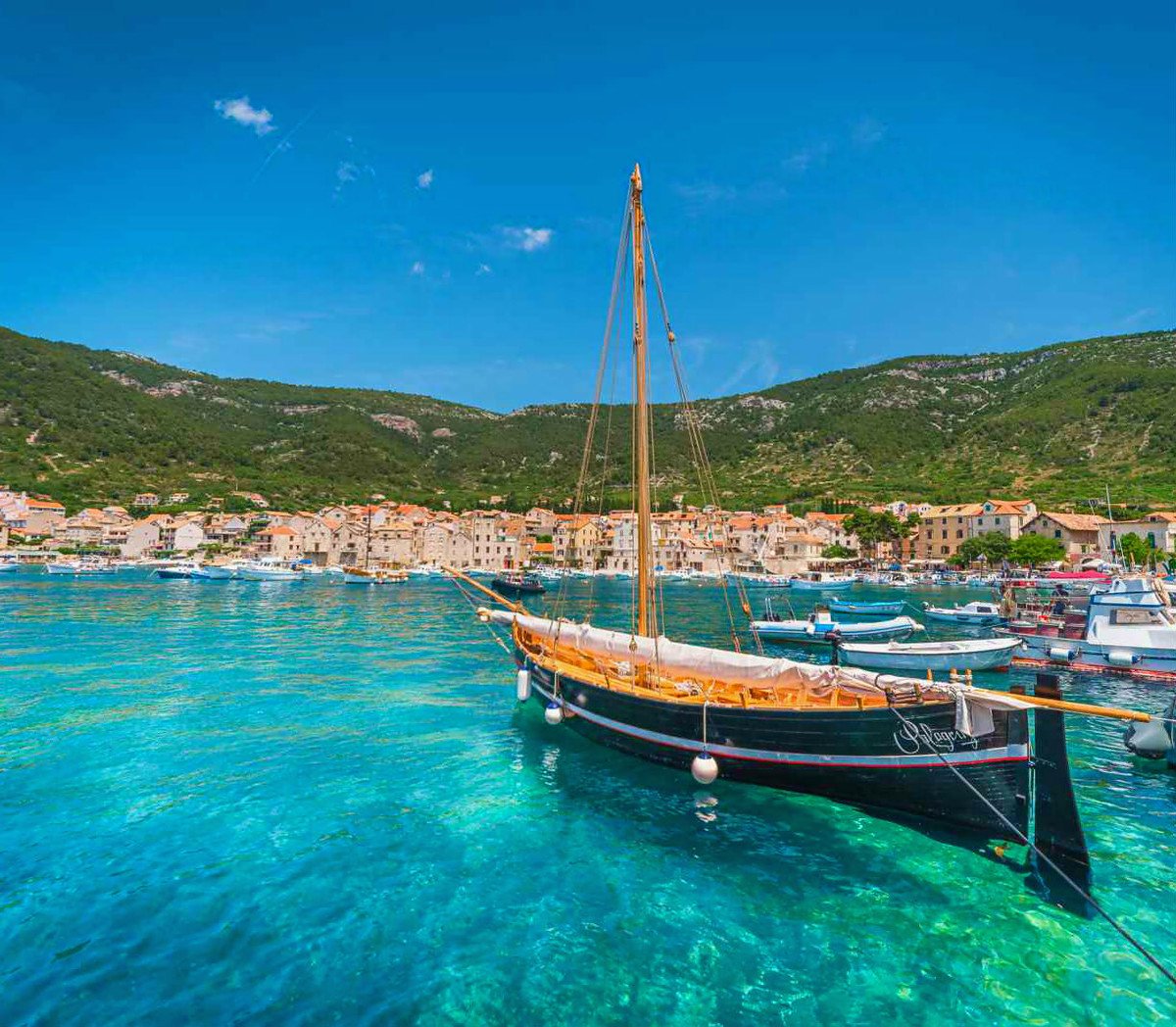 Take your time to discover the whole island
Please bear in mind that in the summer months you need to be early to get a free berth in the port. It might be easier to take one of the many buoys. To get ashore with the dinghy is also an adventure. Renting a beetle or a scooter is a great way to get around the island and also visit the capital of the island, the town of Vis.
DON'T MISS OUT:
please take your time and discover the whole island
visit the famous "Blue Cave"on Biševo island
try the local speciality "Komiža pie" and local Vugava vine
discover emerald coves Budikovac and Travna on the southern side of the island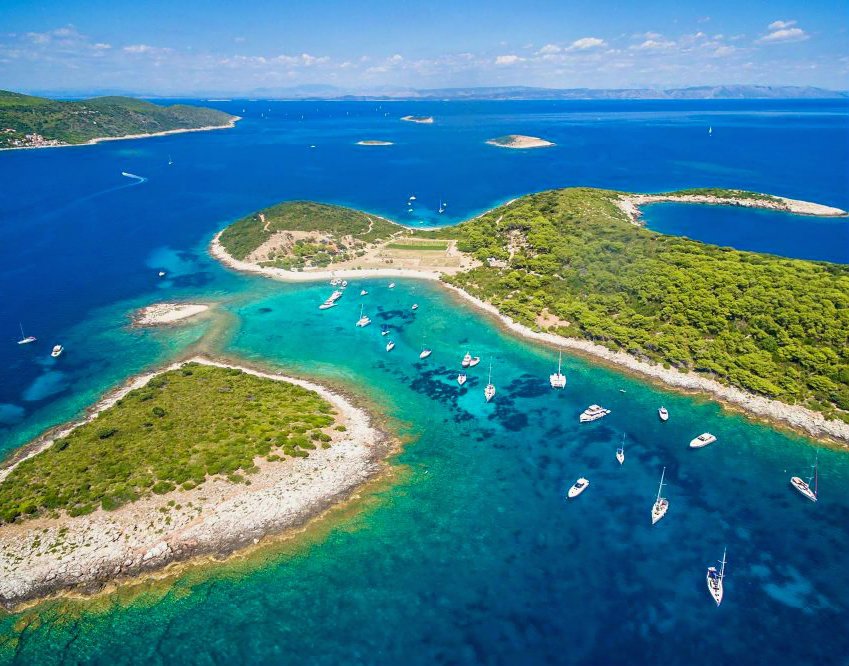 10. Korčula - island of merchants and wines
This is the island, that I could call the Croatian paradise for sailors. Ideal sailing conditions with soothing moderate winds, well protected bays, secluded villages, unique cuisine and 2 typical Dalmatian towns Vela Luka and Korčula to explore. Often called a small Dubrovnik, the town Korčula is mainly famous of being the birthplace, of the Venetian merchant Marco Polo.
Renaissance architecture, impressive fortresses and epic defence walls are building the unique character around this Adriatic pearl. This ancient town embodies everything that you took your vacation in Croatia for.
Here you'll find: colorful streets, monumental history and museums, rich cultural heritage, authentic cuisine, night bars and clubs, attractive stone houses and relaxed small-town atmosphere embedded in dense green forest and fig trees...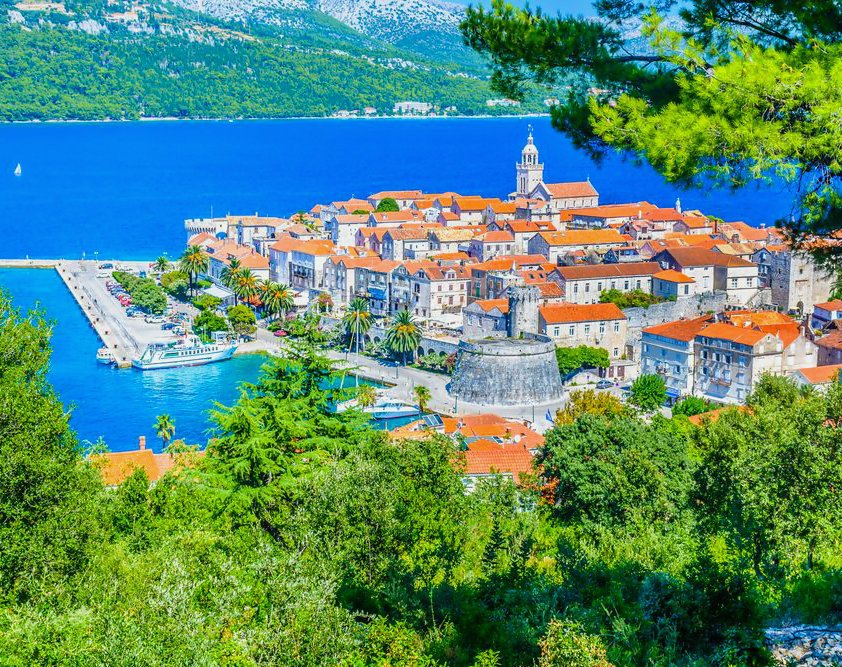 Perfect harmony between the green and the blue 
The island's sunny position is actually the main reason that the local community tries to promote their eco-oriented agriculture and traditional production. Numerous farms and wineries in the area are tempting enough to unwind and taste everything with a brand "produced locally".
If you don't like hustle and bustle you can berth in a small town Lumbarda and take a 5 minute taxi to Korčula town.
DON'T MISS OUT:
climb the Marco Polo Tower at the Marco Polo Museum
check out the sandy beaches and vines around Lumbarda village
explore the islands around Vela Luka archgipelago in the north
visit Zure restaurant in Lumbarda and and try home produced wines and freshly caught fish