10 Reasons To Go Sailing In Croatia
safest and most genuine destination for Yacht charter holidays

densely scattered islands and small distances between them

3000 miles of magnificent coast to explore

affordable yacht rental prices

amazing local food and culinary delicacies

natural coves and crystal-clear seas are ideal for various water activities

warm, welcoming and friendly local people

top sailing conditions are perfect for day sailors or family sailing vacation

pleasant sunny climate, moderate winds with no weather extremes

natural and relaxing Mediterranean ambience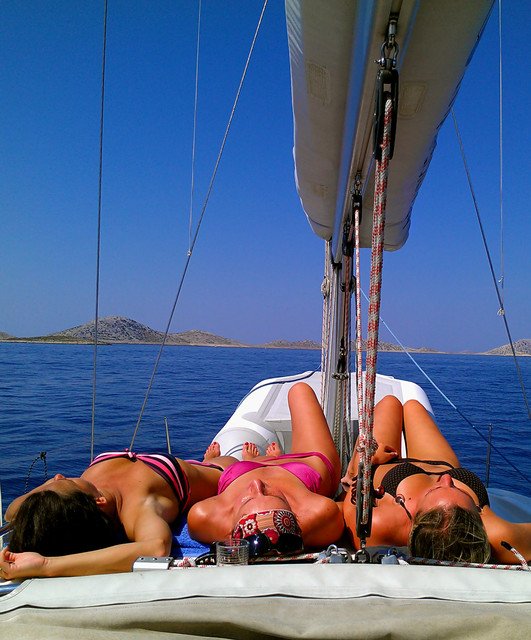 Top 6 Croatia Sailing Tips
Book your holidays early

Take the advantage of first minute prices and charter sailboat in Croatia at least 4-6 months before departure. Most of bareboat charters in Croatia are still available and you get to pay by 2-3 rates. Advanced sum is 20-50% and should be paid within 7 days after confirmation, balance 4 weeks before boarding.

Choosing reliable

Croatia yacht rental agency. Get the exact quote on what is included and what extras you need to pay at spot. Don't let unexpected extra costs surprise you

Pack rational

Don't over pack and try to take a soft duffel bag instead of a hard suitcase. Double cabins on yachts are bright and spacious, but they can get uncomfortable with 2 plastic suitcases inside. Find some useful Croatia sailing tips in our what to pack blog

Don't forget your personal items

Although you already pay most of the charter in advance, there are still some extras that you need to consider (fuel, provisions, tourist tax, marina fees, transfers,...).

Check the weather

Before your departure check weekly forecast for the region and pack accordingly. Especially if you plan to take your tour in early Spring or Autumn.

Stick to your embarkation hours

your yacht charter needs to be prepared and cleaned before your embarkation. If you arrive earlier, shopping is a good idea. Supply and stock the boat lockers at least next 2 days. There is a market in every marina. It is also expected to return the boat until Friday evening for underwater inspection. Check out Saturday morning.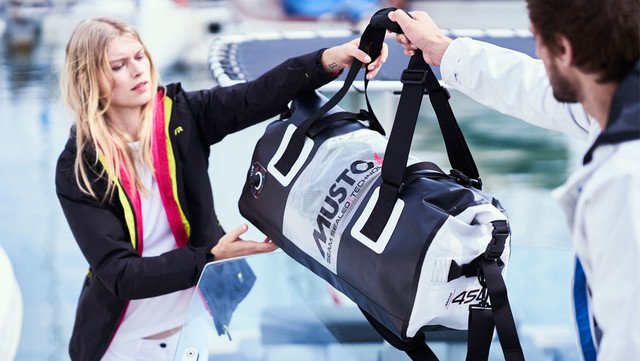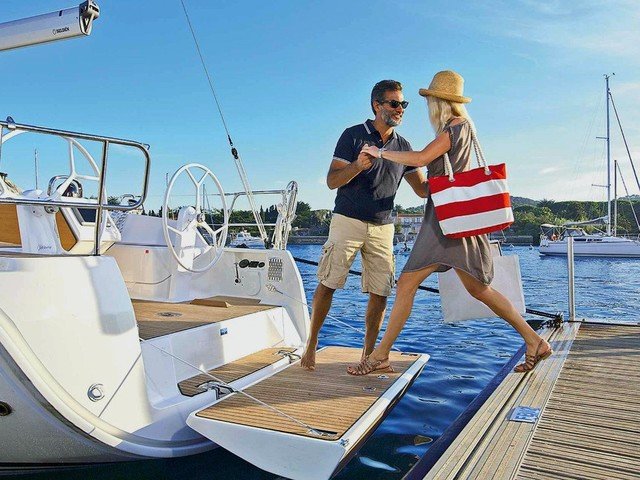 Where is the best sailing in Croatia?
1. The Budget and holiday expectations
First book a yacht charter that suits your traveling style and budget. You can opt between sailing boats and catamarans that are available for rental along the Adriatic coast.
In general, sailboat yacht delivers the most genuine and exciting cruising experience with sailing pleasures beyond compare. When you rent catamaran in Croatia you expect extra comfort, space and more privacy on board. Catamarans are generally 50% more expensive than sailing yachts.
2. Bareboat, skippered or fully crewed yacht charter?
Bareboat sailing in Croatia is certainly the most affordable and flexible option with most privacy on board. The only condition is, that someone on board has a corresponding boat license. If you are a day skipper, you can also opt for very popular flotilla holiday in Croatia.
If you don't own a valid boat license and a VHF station certificate, then a skippered yacht vacation is the best opportunity for a relaxing and genuine sailing trip with completely flexible itineraries.
Croatia catamaran holiday experience already includes a local skipper and sometimes a hostess. Not only they know best sailing areas, bays and top restaurants, but they are a treasury of useful internal tips. High rollers can go for luxury yacht charter, with fully catered exclusive on board services including the captain, stewardes and chef.
3. Choosing the right destination
3.000 miles of a stretching coastline between Istria in the north and Dubrovnik in the far south you have abundance of beautiful spots that you can explore. Over 1.200 islands and 8 marine national parks surrounded with crisp-blue Adriatic sea enssure some of the most unique sailing itineraries for a yacht vacation in Croatia. Ther are 4 major yacht charter destinations in Croatia from where you can start your sailing odyssey: Pula, Zadar, Split, or Dubrovnik
Sailing Northern Croatia
Croatian coast with Pula archipelago and Istrian peninsula is highly concentrated with iconic Venetian towns (Vrsar, Rovinj, Poreč). Italian influence on this county is immense, but the true charm of this region lies in its remarkable diversity. This region reflects Adriatic at its best; Well protected natural habitats on one side and rich cultural and historical heritage on the other.
A complete contrast to the buzzing streets of Pula city, Rab town or Pag is a secluded Kvarner bay. Where the crisp-blue seas meet lush-green unspoiled islands and a leisurely pace of picturesque ports and island villages reflects a distinctive Mediterranean charm. It is a true heaven for the sailors in search for peaceful surroundings. Here, you will get an excellent chance to witness the most beautiful sunsets relaxing any enjoying in a glass of best Malvazija wine.
The World-known Istrian gastronomy basing on traditionally prepared culinary delights served with best Croatian wines is another excellent reason for discovering this area. Rent skippered or bareboat sailboat at Pula yacht charters
Sailing in Zadar
Sailing from Zadar to the impressive Kornati islands and exploring their lunar landscapes should definitively make to your must-visit list. Zadar county is certainly the most popular sailing destination in Croatia with sailors. Well protected island ports, lush-green landscapes and charming fishing villages reflect a genuine laid-back maritime atmosphere. Small distances among myriad islands and secure anchorages are ideal for a family sailing trip or a honeymoon cruise.
Zadar archipelago is the densest island area in the Mediterranean counting near 500 small and mostly uninhabited scattered islands. Prevailing lazy "meastral" winds guarantee ideal sailing conditions allowing a safe and smooth sailing between these islands. Here you can always find well-protected bays and coves where you can moor your boat.
Surrender to a small-town pulse of Primošten village or sail up river passing the UNESCUO site Šibenik and reach one of Croatia's natural wonders the majestic waterfalls of Krka national park. You can find a safe berth in Skradin town and taste some of the most impressive Croatian culinary works of art. Grilled bream, sea mussels, octopus or a veal baked "under the bell". Rent sailboat in Zadar or charter yacht in Biograd port and get inspired with alternate Croatia sailing itineraries.
Sailing in Split
The world-known UNESCO heritage site Split is the heart of Dalmatia. Famous islands Hvar, Brač, Vis and Šolta are quite likely the most frequently mentioned destinations in tourist guidebooks.
This region is one of the sunniest places in Europe with hot dry summers and great opportunities for various outdoor activities. World-known town of Hvar is among the busiest sites of Croatia and definitively the most bohemian one and but absolutlely worth a visit.
You can say that Hvar islands reflects Croatia in small. It is a perfect blend of wild untouched landscapes, ancient towns and historic sites to explore, breathtaking bays, stylish beach bars and cworld-class restaurants. But above all, a welcoming maritime atmosphere. That is why Split is a beloved location where most of the sailors start thier sailing holiday in Croatia.
Discover amazing beaches, picturesque villages and remarkable architecture of stonemason's island Brač, sail to legendary Vis and feel the original pulse of a laid-back Dalmatian temperament, swim in emerald waters of Pakleni Islands or find a peaceful getaway surrounded by lush-green bays of Šolta island. Explore central Dalmatian islands and rent sailboat in Trogir old town or hire yachts at Split charters.
Sailing in Dubrovnik
When you begin your sailing odyssey in world-famous UNESCO site Dubrovnik you can expect one of the most diverse Croatia yacht charter routes. The old town's citadel is beset with impressive fortified walls from the 15. Century and absoultely worth exploring. Narrow paved streets and houses, all made of shiny white marble, reflect this town's unique charm. Ideal getaway from this town's hustle and bustle are sub-tropical Elafiti islands where you can anchor your sailing yacht.
Densely forested Mljet national park together remote Lastovo island are among last preserved and untouched oasis of Mediterranean. The saltwater green lakes of Mljet and curved bays, unique flora and fauna of Lastovo are exclusive locations with best snorkeling spots. Here you will find superb local family-run restaurants where you can always find fresh and tasty local delicacies.
Iconic Korčula is not only the home of Marco Polo but also the place to seek an authentic heartbeat of Dalmatia. The impressive historic legacy of this Renaissance town and its vibrant promenades in combination with surrounding pine forests, vineyards and olive groves complete the charm of this Dalmatian pearl. Some of the best Croatian wines originate from these fruitful landscapes. Charter yacht in Dubrovnik ACI marina and experience south Adriatic at its best.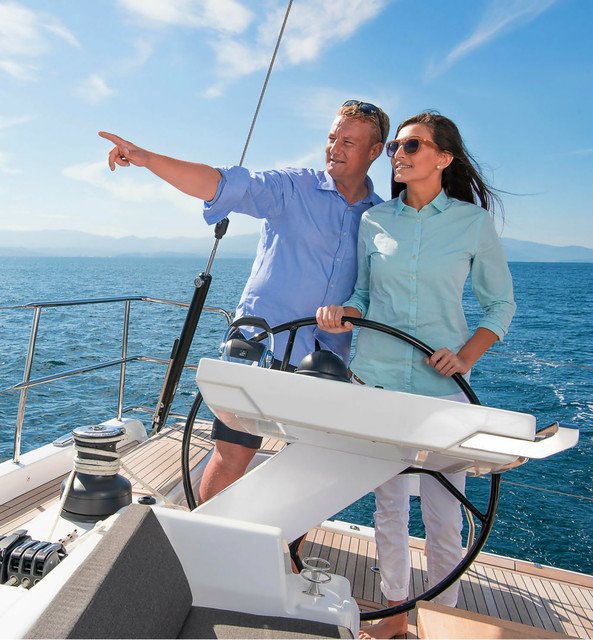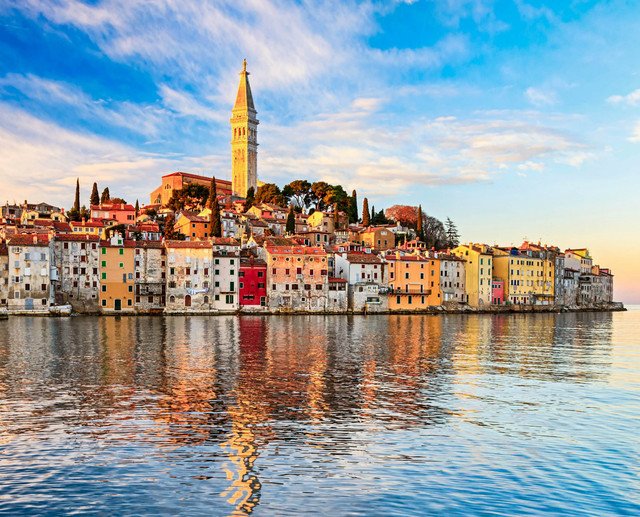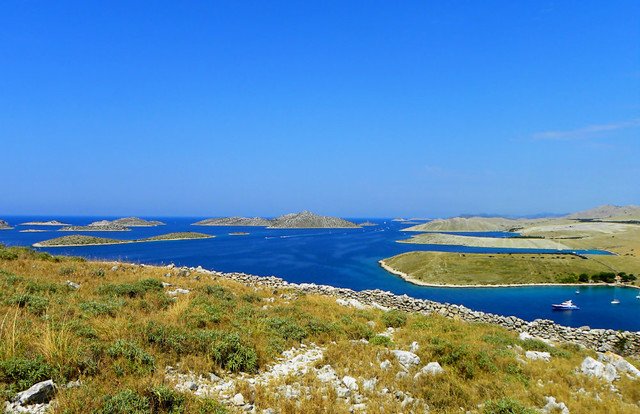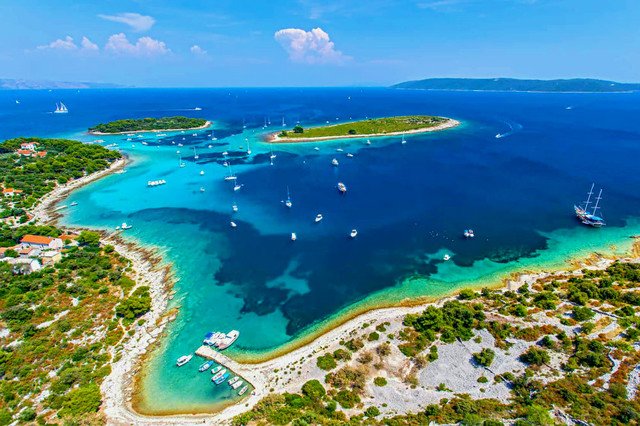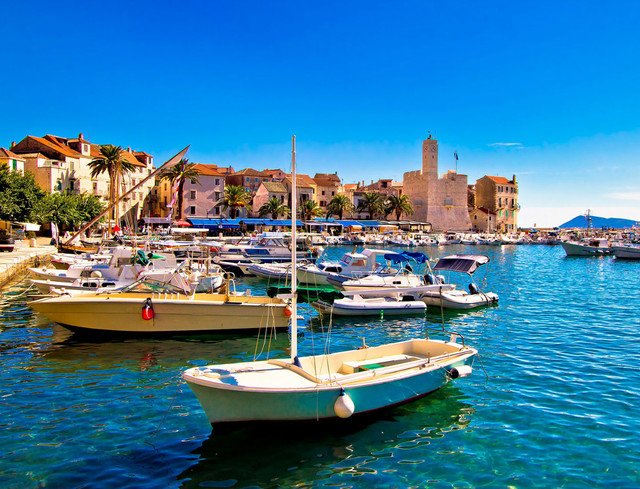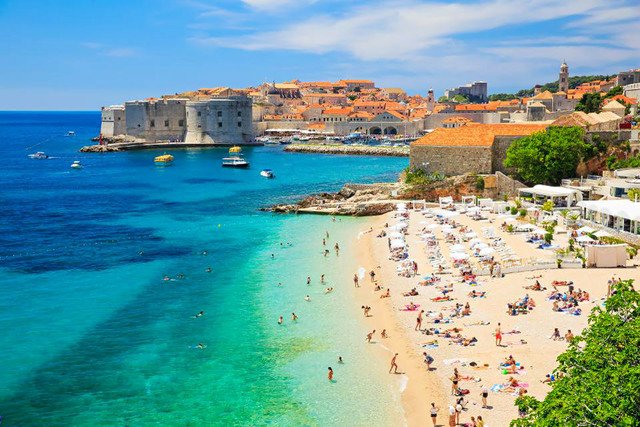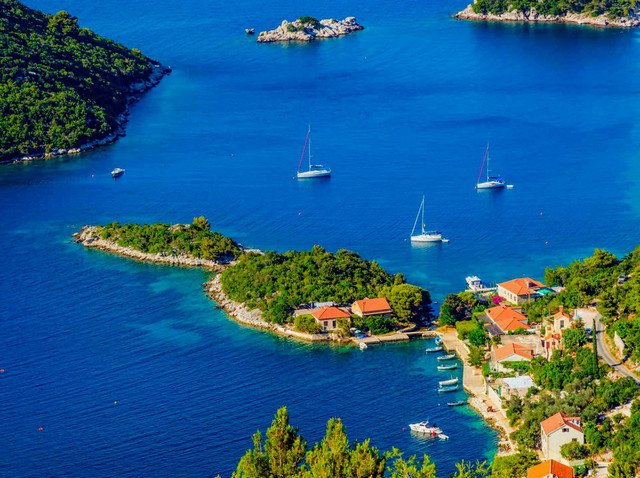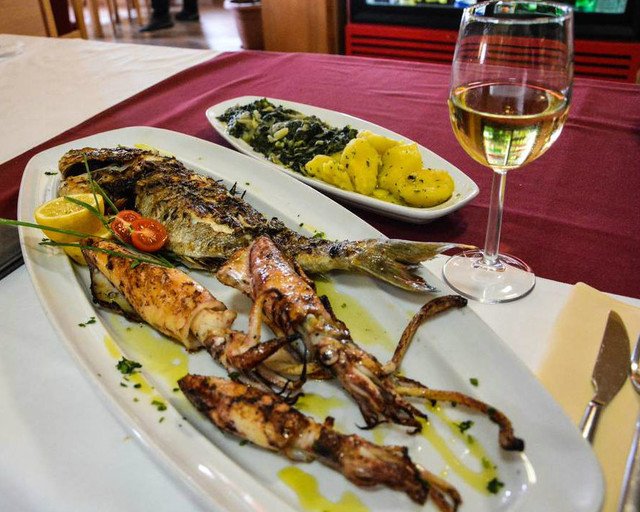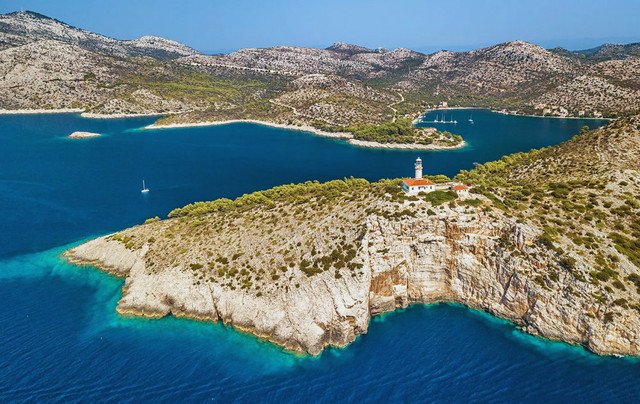 What is the best time to sail in Croatia?
Generally, if your dates are flexible, take a sailing trip in June or September. Prices are lower and there is less marine traffic. Yacht rental prices are lowest in shoulder season (April, May, October). The chance of variable weather is slightly higher in Fall, when the weather systems are moving faster over Europe. But it usually stays warm and pleasant until November. Including the sea that stays around 20o (68F).
Spring time in Croatia is glorious with pleasant weather and warmer air temperatures. Despite the low sea temperatures reaching 20o (68F) from middle May, sailing in June is a pure pleasure with lower crowds at sea and in ports.
High summer, starting from the last weeks of June, might be busy, but the weather is near perfect with fair winds and air temperatures often over 30o (86F). If you like summer heat, then book your sailing vacation in July or August. Croatia yacht charter prices in peak season months July and August are highest, but you can always find a affordable yacht charter in Croatia.
In August, most of the popular marinas are overcrowded with Italians crossing over and occupying the marinas until the evening. So it is better to play it safe with an early bird and catch your mooring early in the afternoon. The sun is shining 315 days a year at the Croatian coast, and you can consider yourself unlucky if you have a single rainy day within a 2-week vacation.
What type of yacht and Where to charter?
If you compare the prices in general, Croatia is still good value compared with Greece, Italy and Turkey. Charter prices are at their peak from mid. July till mid. August and most marinas add 10 to mooring fees. In June and September, expect 20-30% lower price that you pay in the peak season. In April, May or October, the rental prices can be even 50% lower.
A Sailboat or a catamaran?
It is also important what type of a yacht you rent. You need to be realistic about your expectation. There are numerous yachts for rental down the coast that provide several levels of comfort. From economy line sailboats to high-end luxury catamarans.
Your final decision depends on how far your budget can reach. Best option for a first-time sailor in is to book a yacht with skipper, while the high rollers can go for a crewed yacht charter.
Luxury yachts already include the hostess, chef, skipper and a full board service. The vessels are equipped with en-suite bedrooms, power, cooking gas, usually ample kitchen space, comfortable cabins and plenty of room on deck to socialise or bask.
4 destinations and 50 Marinas along the Adriatic coast
4000+ vessels are available in 50 marinas along the Croatian coast. From Istria in the north to Dubrovnik in the far south. Hire private yacht charter to discover Croatia from top destinations:
It is difficult to explore everything within a week, so focus your sailing vacation in Croatia on a single region and experience only one area at a slow "Dalmatian" pace. Follow my recommended Split sailing itinerary for newbies and set sail on the Best Croatia Sailing Tour
Sea you in Croatia!
Written by Susan Dempsey, Dublin IR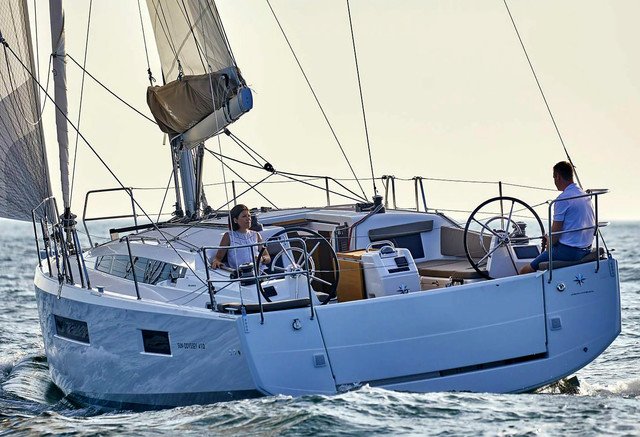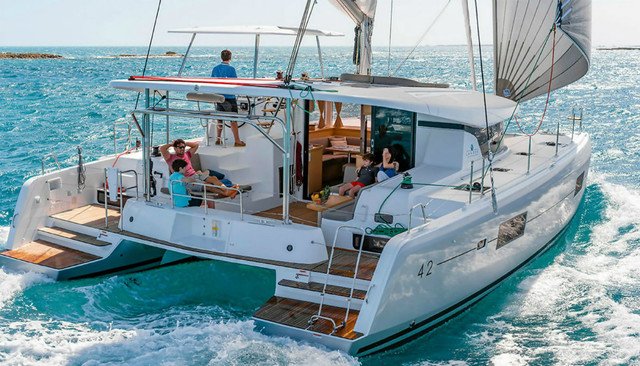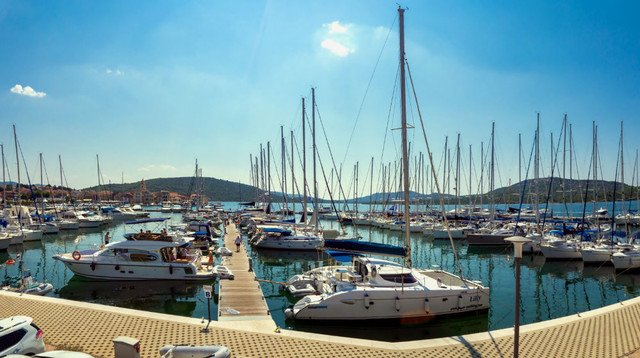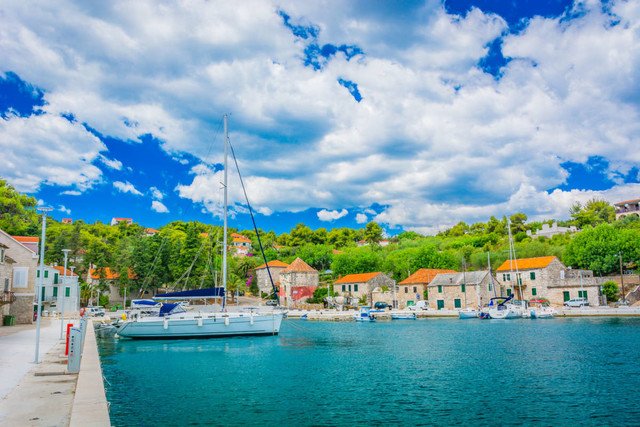 Sail around Croatian coast on these beautiful yachts