• Do you have limited time to visit Croatia? Simply take one of our short trips in Croatia and taste the real heartbeat of this amazing country
• Do you want to do a little bit of everything? You can always decide what to do during your trip. Your itinerary is completelly flexible
• Not sure if sailing really is your thing? Anyone who tried, came back the next year, so don't worry, just unwind and enjoy the ride.
Short sailing trips in Croatia from 3 - 7 days
Since this is a seaside country, taking a short getaway to explore Croatia is a decision you won't regret.Take your family or friends on a short sailing trip and discover Croatian coast from a private sailboat. Couple days of ultimate freedom on a skippered yacht, will reveal the scenes of this hidden Mediterranean gem, that you never thought existed.
Sailing is the ultimate alternative way of traveling around Croatia. The itineraries are flexible to suit your needs, so you can always decide what to do. Party, swim, chill or snorkel. All that our open-minded skippers can do, is give you some route tips and make your decision easier. Just unwind, open-minded and let the easy-going Croatian life philosophy crawl under your skin.
Sail away on our private 3 - cabin sailing yacht
Short sailing trips in Croatia are possible through the whole season with embarkation in Pula or Zadar. Our private sailing yacht Elan Impression 384 has 3 spacious cabins with fresh clean bedding, two bathrooms with electric toilets, cockpit cushions, solar panels, teak deck and 3 showers. It can accommodate up to 6 guests, but we recommend 4. It is perfect for 2-3 couples, group of friends or a small family with kids. A large bow cabin can easily accommodate 3 kids. Your skipper will take care of your comfort aboard and recommend suitable itinerary for your group.
Our Elan Impression 384 sailing boat
This 40-foot beauty with 6 berths and three spacious cabins with double beds is suitable for small group of friends or family with kids. This fully equipped yacht comes with many inclusions (see below), also with one dinner for the guests and on skipper's dinner.
skipper
fuel for the yacht
dinghy with outboard engine
clean bed linen and set of towels
basic supplies (spice, oil, salt, 6 X 1.5l water
skippers dinner
local tourist tax
deposit insurance for the yacht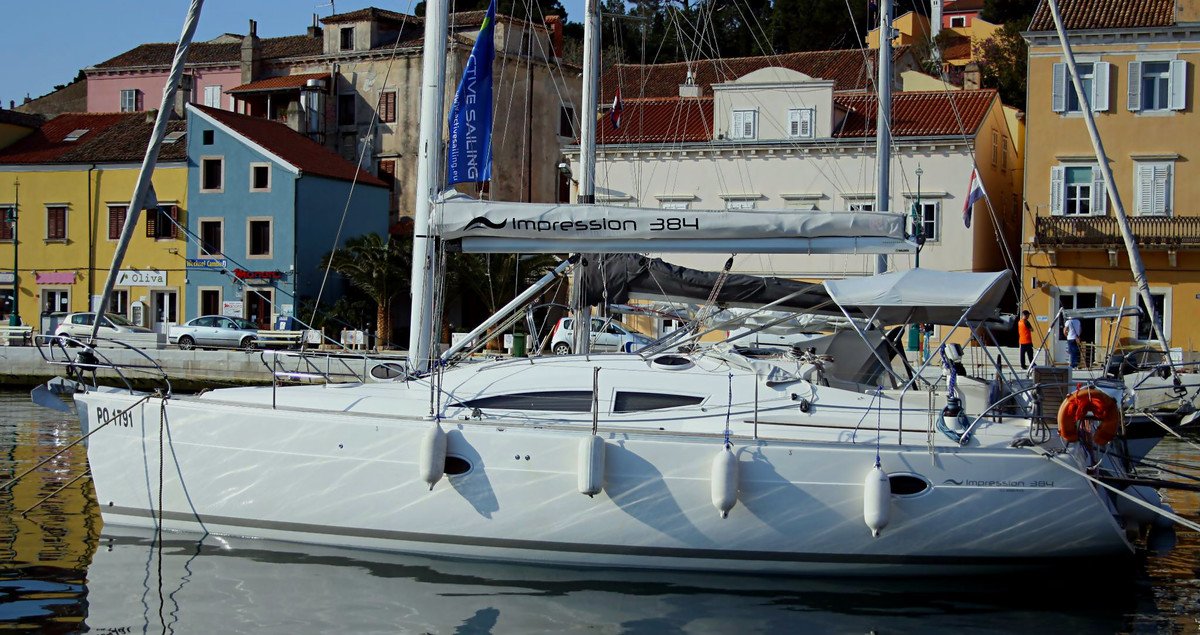 comes with friendly skipper
Skipper usually comes with the inventory of our yacht. Your itineraries are 100% flexible and can be at any time coordinated with your skipper. Always opened to your suggestions, he/she can first-hand recommend a unique tour to meet your needs.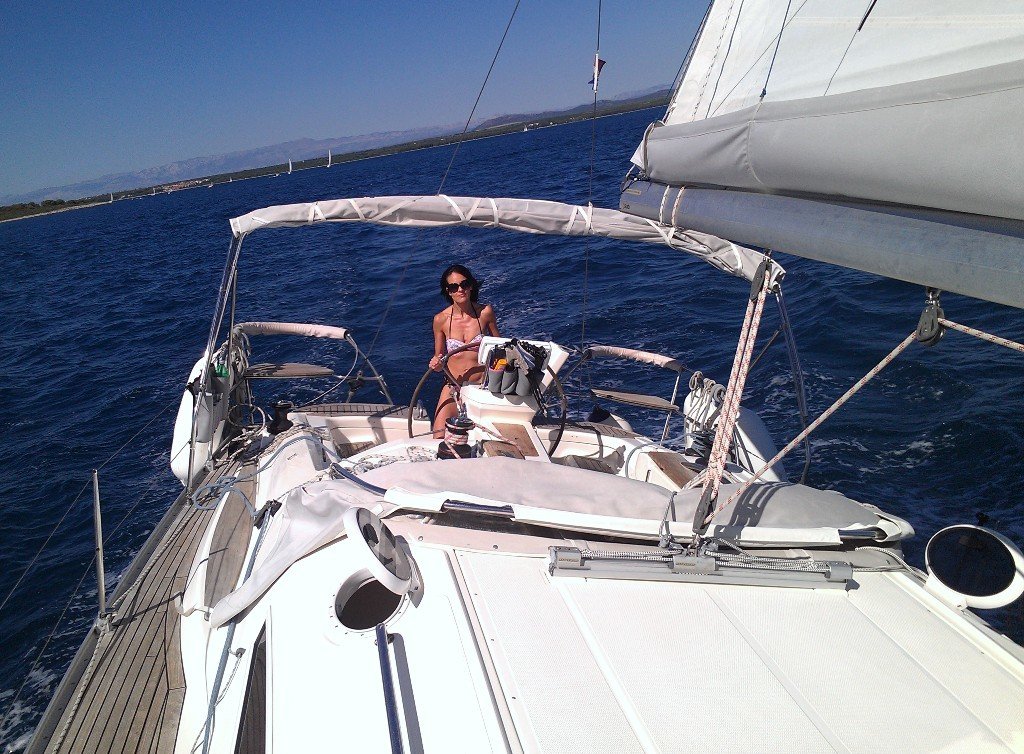 has plenty of space inside 
The salon can easily acoomodate a small group of friends or a family with kids at the dinner table. The rooms are wide and bright and always set with fresh bed linen.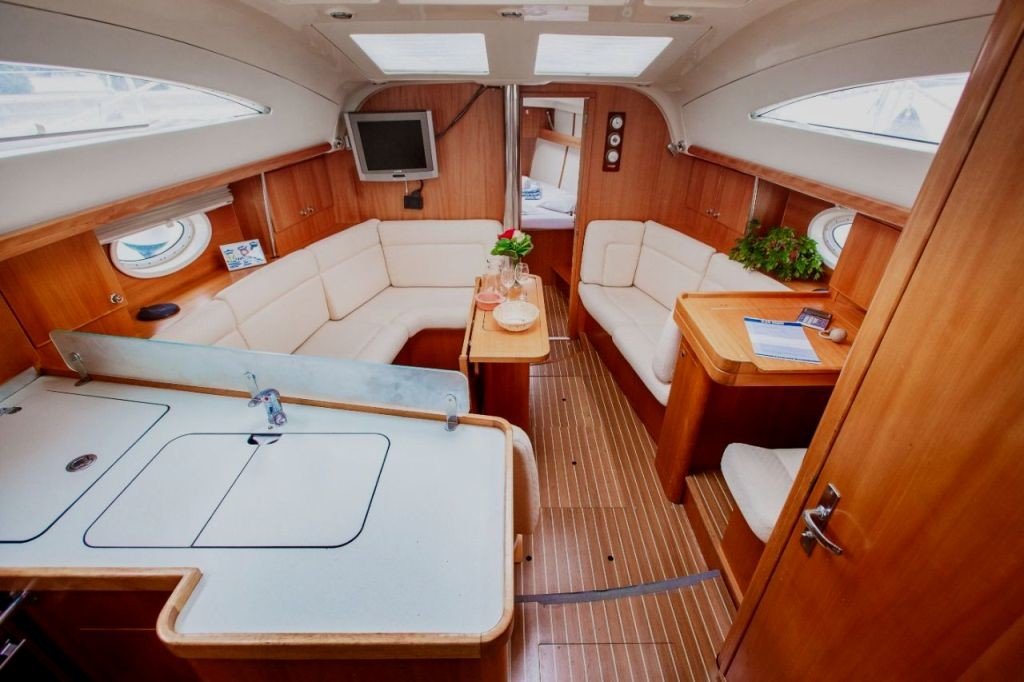 and outside
Cockpit can accomodate up to 6 persons behind the table. Although 4 is recommended for a better quality of living aboard.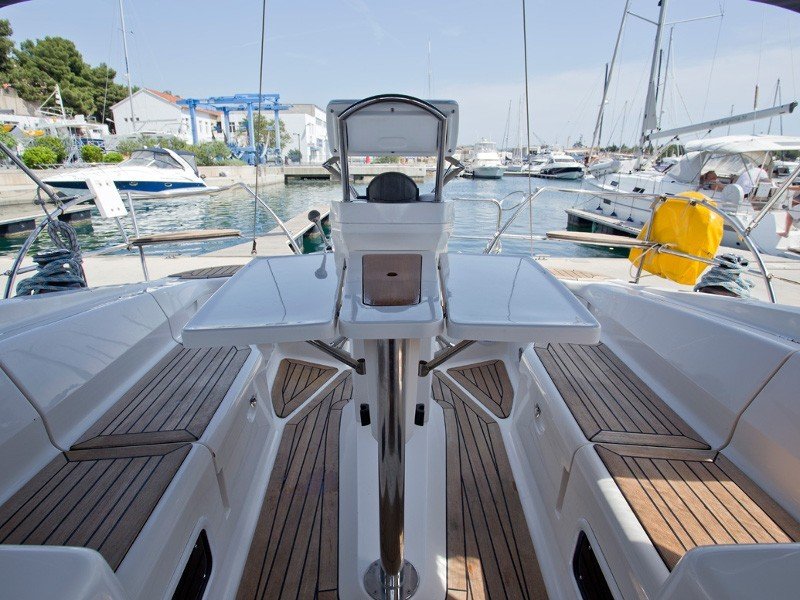 Elan 384 is an excellent choice for short sailing tour
You can find your place under the sun even when sailing. The bow of the can turn into a spacy sundeck.
Everything you need is already on the yacht:
fersh bed linen
sponges and kitchen towels
gas for cooking
freezer and refrigerator
cockpit cusions and pillows
basic supplies (spice, oil, salt,...)
welcome drink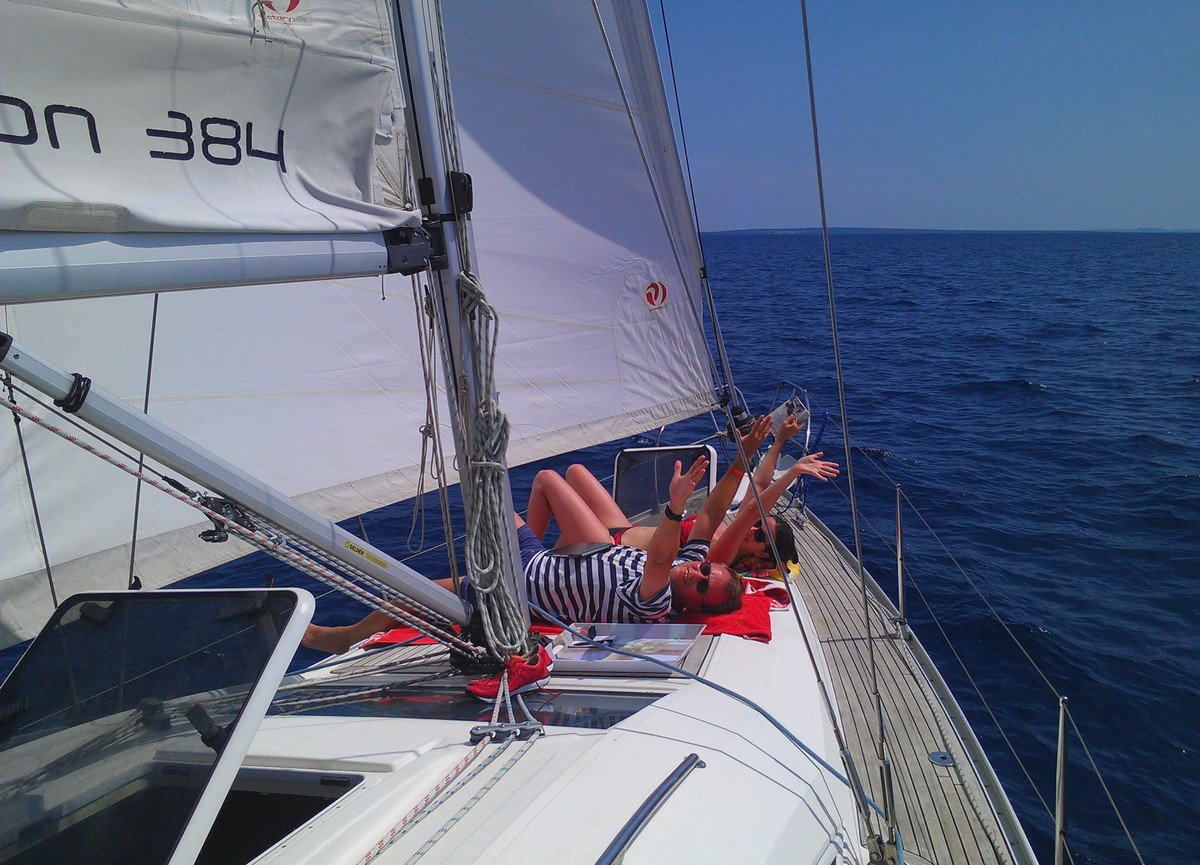 Completely flexible itineraries
Tailor your own route and explore the area highlights. Your route can be adjusted and customised regarding to your inquiry. At our private sailing tour the itineraries are flexible. Any trip can be adjusted considering your preferable destination, period of sailing and embarkation place and time. Here are some itinerary tips from our weekly yacht tours from Zadar Split and Pula. Also check out culinary sailing Croatia special package that can be arranged on ou private yacht.
Croatia Sail 2019 Dates
• 01.06. till 08.06. Istria (Rovinj) 5 - day price 1.750€
• 13.06. till 18.06. Istria, Rovinj 5-day price 1.850€
• 03.07. till 06.07. Istria (Rovinj) 3 - day price 1.150€
• 06.07. till 13.07. Istria (Rovinj) - Primošten, near Split ONE WAY special price 2193€ (2.580€ -15%)
• 13.07. till 20.07. Primošten, near Split, Weekly price 2.580€
• 27.07. till 31.07. Primošten, near Split, 4 - day price 1.790€
• 10.08. till 17.08. Zadar, Weekly price 2.580€
• 24.08. till 31.08. Zadar, Weekly price 2.480€
• 31.08. till 07.09. Zadar, Weekly price 2.380€
• 07.09. till 14.09. Zadar, Weekly price 2.280€
• 18.09. till 21.09. Zadar, 3-day price 1.180€
• 21.09. till 28.09. Zadar, Weekly price 2.090€
INQUIRE FOR YOUR DESIRED PERIOD
*All the weekly periods can be customised into short-term trips.
Start in one place, end in another
Starting in marina Sukošan near Zadar, our route will lead us through the magical Kornati national park - one of the most vivid and amazing natural treasures in the Adriatic. Over 100 uninhabited small islands and reefs are a home to numerous animal species and unique flora. And the only way to visit this island chain is with a sailing yacht. You will get to visit colorful villages, swim and snorkel inside the scenic coves, taste amazing traditional cuisine and enjoy in the most beautiful romantic sunsets.
Since this is our private yacht, we also give you the opportunity for one way tours or culinary sailing Croatia package. Start in Pula and finish in Zadar, or the other way around. This is how you get to see more coastline, visit more islands and you don't have additioal land transfer costs.
What if the group is larger then 6 persons?
No problem, we will find the yacht to suit you needs. Just fill the inquiry form below and tell us you preferences. Anything you want to know about sailing in Croatia is in FAQ's
Short sailing trips Croatia - Obligatory extras:
food and drinks for the trip (for your skipper also)
50€/person of refundable deposit in case of damage on the boat
port and marina fees on the tour (from 50€ - 90€ marina overnight, app. 30€ buoy)
Fill the inquiry form below